Mini Vegetable Uthapam – How to make mini veg uthapam recipe – breakfast recipes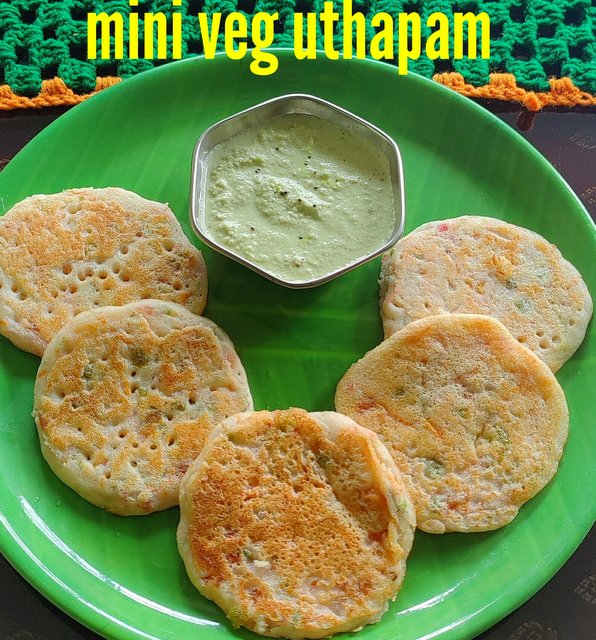 Mini vegetable uthapam is a thick and crispy pancake made from dosa batter, onions, tomatoes, carrot, green capsicum, green chillies and coriander leaves.  It is a very healthy breakfast dish which is also simple to make.  Uttapams are slightly thicker than dosas but made from idli or dosa batter.  Unlike a normal thin dosa, this is slightly soft and spongy in texture.  There are different varieties of uttapams like cheese uthapam, onion uthapam, tomato uthapam  or veg uthapams.  Uttapam is best served with coconut chutney and sambar.  It is best served hot or warm and immediately.
Dosa is a thin white coloured crepe without any vegetables added to it but there are variations like uthapam which has a mix of vegetables added to it.  You can add your own choice of vegetables for making uthapams.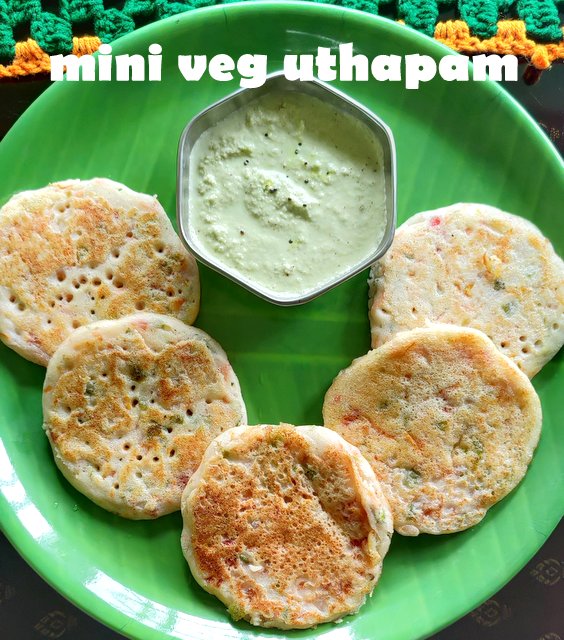 Prep Time : 15 mins
Cook Time : 20 mins
South Indian cuisine
INGREDIENTS
Dosa batter – 3 cups
Onion – 1  (chopped finely)
Tomato – 1 (chopped finely)
Carrot – 1  (grated)
Green capsicum – 1/2 (chopped finely)
Green chillies – 2 (chopped finely)
Curry leaves – 2 tablespoons (chopped)
Coriander leaves -2 tablespoons (chopped)
Salt to taste
Oil for making uthapams
HOW TO MAKE OR PREPARE MINI VEG UTHAPAM RECIPE
Take 3 cups of dosa batter in a bowl.  Add chopped onions, tomatoes, carrot and green capsicum.
Then add chopped green chillies, curry leaves, coriander leaves and salt.  Mix well.  Bring the batter to a medium consistency.
Grease the pan with little oil.  Sprinkle the mixture evenly all over the pan to make mini uthapams. Drizzle oil on top and cook on a medium flame.
Once the uttapam gets cooked on the bottom, flip over to the other side carefully and cook for a minute. Press lightly for the veggies to get roasted.
Once cooked, remove the uttapam in a serving plate.
Serve mini veg uttapam hot with sambar or chutney of your choice.
NOTES/TIPS
Adding ghee gives a good taste to the uthapams.
You can add chutney powder or molaga podi on top of the uthapams too.
You can add veggies on top of the batter instead of mixing it with the batter.
Add vegetables of your choice to the batter to make it more nutritious.