Oats banana smoothie recipe – How to make oats banana smoothie recipe – oats recipes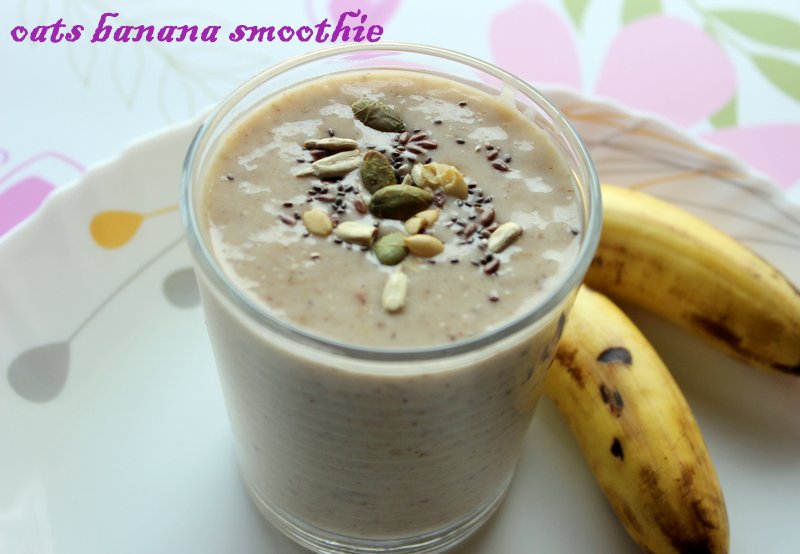 Oats banana smoothie – a nutritious and delicious smoothie  made with the goodness of oats, banana,dates, milk and nuts.  This smoothie makes up for a wholesome breakfast to start your day on a healthy note.  Oats used in this recipe is full of fibre and hence keeps you full for a longer period of time, thus also aids weight loss. Addition of bananas and a mix of seeds like flax seeds, chia seeds, pumpkin seeds and sunflower seeds increase the nutrient value of this smoothie.  Bananas are rich in carbohydrates and potassium and gives good energy to the body. This smoothie is also an ideal recipe during summers, as it helps to low down  the body heat.
This smoothie can be easily made at home and good for all, elders as well as kids.  Do try this healthy and quick smoothie as a breakfast beverage or as an healthy snack option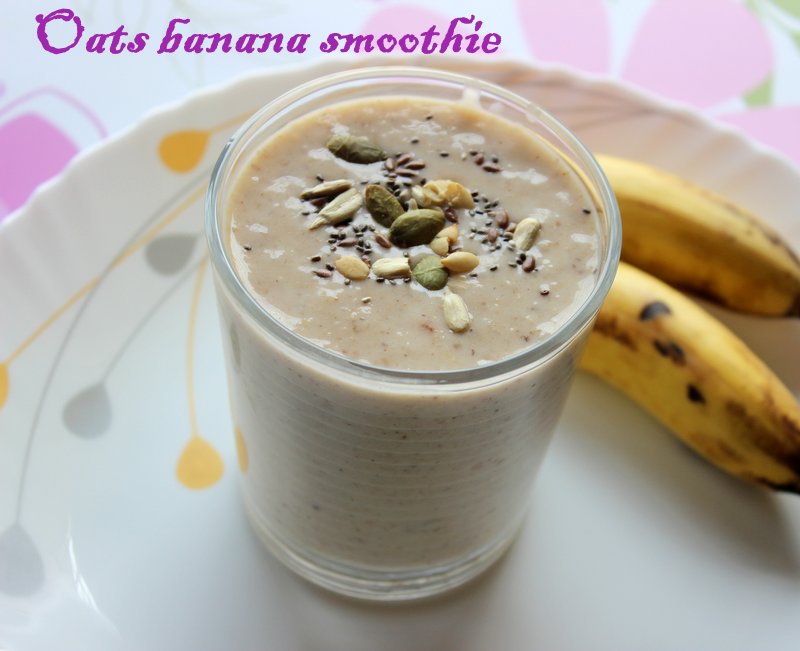 Prep Time : 10 mins
Indian cuisine
Servings – 1
INGREDIENTS
Oats – 1/4 cup
Banana – 1 no
Dates – 2 nos (seedless)
Milk – 1 cup
Mix seeds – 1 tsp (chia seeds, flax seeds, sunflower seeds and pumpkin seeds)
HOW TO MAKE OR PREPARE OATS BANANA SMOOTHIE RECIPE
Take a blending jar and add the chopped banana.  Then add 1/4 cup of oats to it.
Add 2 seedless dates (dates bring sweetness to the smoothie) and 1 tsp of mixed seeds.  Finally add 1 cup of milk to it.
Blend all the ingredients till smooth.  Sprinkle with few mix seeds or chopped almonds.
Pour in a serving glass and serve immediately.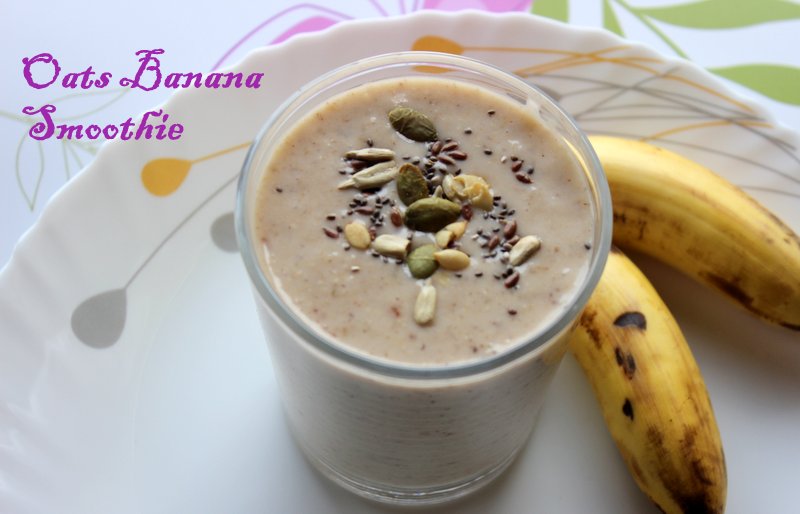 NOTES/TIPS
Add 1/2 tsp of cinnamon powder to enhance the taste of the smoothie.
You can use almond milk or soy milk instead of regular milk for making this smoothie.
You can sweeten the smoothie with jaggery, honey or sugar as desired by you.
Use 1/2 cup of yoghurt and 1/2 cup of milk instead of 1 cup milk.
You can substitute mixed nuts with chopped almonds and peanuts.
For a smoothy texture, first grind the ingredients with little milk to get a smooth paste and then add rest of the milk.
You can also add fruits like mango, papapa, figs or apples for making this smoothie.  But avoid using citrus fruits.