Onion rava dosa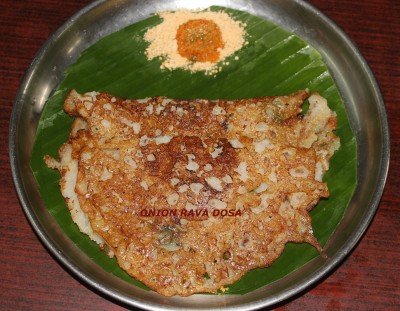 Onion rava dosa is made with semolina/rava, rice flour and spiced with onions and green chillies.  It does not require any soaking, fermentation or grinding and can be done instantly.  Onion rava dosa is especially made with Bombay rava which you get easily in any provision stores.  A very tasty and crispy dosa, it is one of the most popular breakfast dishes in South India.
Ingredients
Semolina/rava - 1 cup
Rice flour - 1/2 cup
Cumin seeds - 1/2 teaspoon
Green chilly - 1 (chopped finely)
Onion - 1 no (finely chopped)
Curd - 2 tablespoons
Salt to taste
Chopped coriander leaves - 2 tablespoons
Cooking oil/ghee
Method
Step 1
HOW TO MAKE ONION RAVA DOSA Take a mixing bowl. Add semolina, rice flour, cumin seeds, green chilli, onion, curd, salt, coriander leaves and mix together.
Step 2
Add water to the mixture and prepare a thin batter. Set aside for half an hour.
Step 3
After half an hour, check for the batter consistency. The batter tends to become little thick. Adjust water accordingly and bring the batter to thin consistency. The batter consistency should be thinner than the regular dosa batter.
Step 4
Heat a tawa or dosa pan on a medium flame. Smear the dosa pan with oil.
Step 5
Take one ladleful of batter and pour the batter into small circles filling the gaps in between. (Do not press with the ladle)
Step 6
Pour oil around the dosa. When the lower side of dosa is cooked to a golden brown, take off the dosa and flip it to the other side. Add oil around the dosa.
Step 7
Cook the dosa till crisp.
Step 8
Serve onion rava dosa hot with coconut chutney or dosa chutney powder
Step 9
NOTES: You can add whole pepper seeds, ginger or cashew nuts to the batter according to the taste desired. If the batter is too sticky and gets stuck to the tawa, add little rice flour to batter and make dosas. Ghee enhances the taste of dosa. Non stick tawa gives better dosas.