Palak kadhi (spinach yoghurt curry) recipe – How to make palak kadhi recipe – palak recipes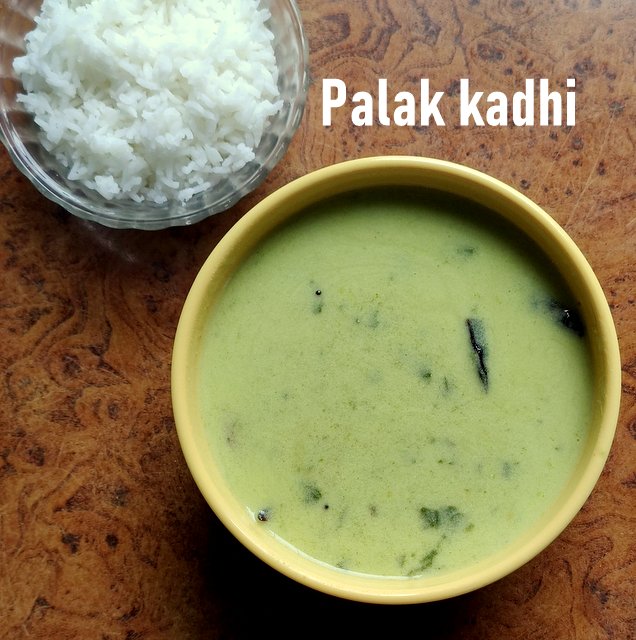 Palak kadhi is a popular North Indian dish that goes well with rotis as well as rice.  This recipe has the goodness of spinach, curd and garlic.  Palak kadhi is a healthy and light dish which can be had at any time of the day.  The main ingredients in this dish are spinach, besan, curd and spices.
Spinach is an excellent source of other antioxidant nutrients — including vitamin C, vitamin E, vitamin A (in the form of carotenoids), and manganese —as well as a very good source of the antioxidant zinc and a good source of the antioxidant selenium—it's no wonder that spinach helps lower risk of numerous health problems related to stress.Palak or spinach is considered to be rich in iron and also has high calcium content    Spinach curry is a very healthy curry made with spinach, yogurt and gram flour.  Do try to include in your daily diet for a more healthier you.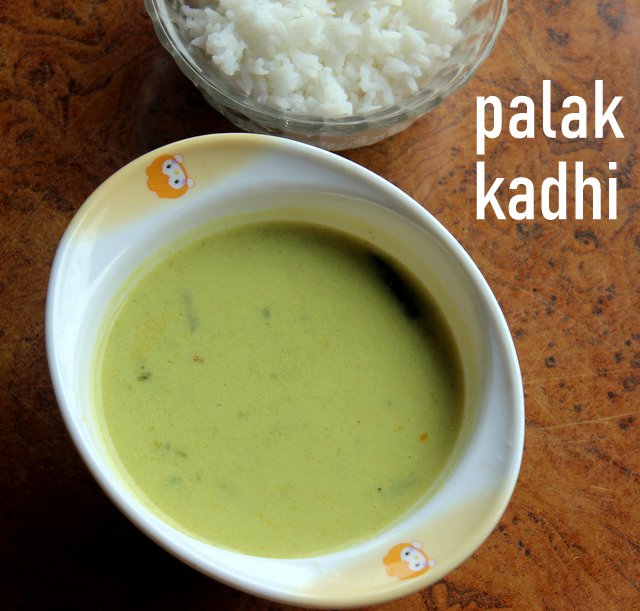 Prep Time :  15 mins
Cook Time : 20 mins
Servings : 4 persons
North Indian cuisine
INGREDIENTS
Curd/yoghurt – 2 cups
Gram flour (besan) – 3 tablespoons
Turmeric powder (haldi) – 1/2 teaspoon
Sugar – 1 teaspoon
Salt to taste
TO GRIND TO A SMOOTH PASTE
Palak leaves – 15 nos
Garlic cloves – 5
Ginger – 1 inch (chopped into small pieces)
Green chillies – 4
FOR TEMPERING/SEASONING
Oil/ghee – 2 tablespoons
Mustard seeds/rai – 1/2 teaspoon
Cumin seeds/rai – 1/2 teaspoon
Methi seeds – 1/2 teaspoon
Chopped palak leaves – 1/2 cup
A pinch of asafoetida or hing
Red chillies – 4 nos
HOW TO MAKE OR PREPARE PALAK KADHI RECIPE
Clean the palak thoroughly and immerse them in water for 10-15 minutes.  This helps to remove the mud, if any, from the leaves.  After 15 minutes, drain the water completely from the palak leaves.
Chop the palak leaves finely. (Keep 1/2 cup of chopped palak leaves separately for the seasoning.)
Take a mixer grinder. Add the chopped palak leaves, green chillies, garlic cloves and ginger.
Add very little water to make a smooth paste.  Keep the palak puree or paste aside.
Take a wide vessel.  Add 2 cups of curd, turmeric powder, 3 tablespoons of gram flour, sugar and salt.
Mix well with the help of a whisker till it combines.
Add 4 to 5 cups of water and give a good mix.  Keep this besan curd mixture aside.
Heat 2 tablespoons of oil or ghee in a pan or kadai on medium flame.  Once hot, add mustard seeds, methi seeds, cumin seeds, hing and red chillies.  Allow it to splutter for few seconds.
Then add 1/2 cup chopped palak leaves and saute for a minute on low flame, till it shrinks in size. Add the besan curd mixture and mix well.
Now add the palak puree and salt and mix again.  Cook on a medium flame and bring it to a nice boil.
Once it reaches to a good boil, switch off the flame.  Serve palak kadhi hot with rotis or rice
NOTES/TIPS
You can add few chopped coriander leaves at the time of making palak puree. It gives a good flavour to the kadhi.
Add water accordingly and adjust the consistency of the kadhi as required by you.
Use little sour curd if possible.  It goes well with this kadhi.
Ghee gives a nice aroma and flavour to the kadhi.