Palak khichdi recipe – How to make spinach or palak dal khichdi recipe – khichdi recipes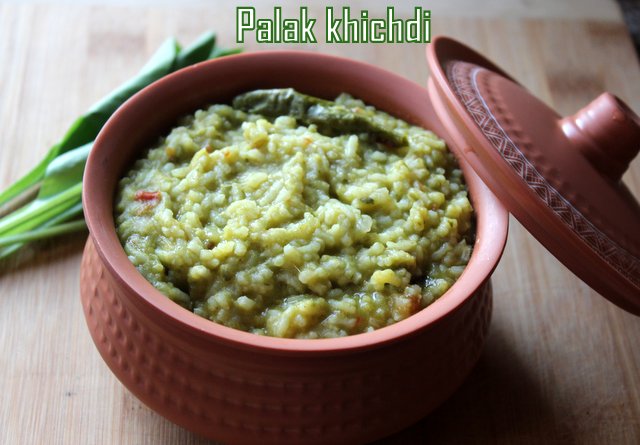 Palak khichdi is a very healthy and tasty khichdi made with rice, moong dal and spinach leaves.  Spinach gives a good flavor to the khichdi.  Palak khichdi is very similar to the traditional khichdi.  Except that spinach is added to make it more nutritious and to get all the nutrients from it.  Spinach not only gives  good green colour to the khichdi but also helps in indigestion problems.  This khichdi is very light on the stomach too.  Rice, dal and greens makes this dish a sumptuous meal.  Palak khichdi goes well with plain curd, raita, papad or pickle.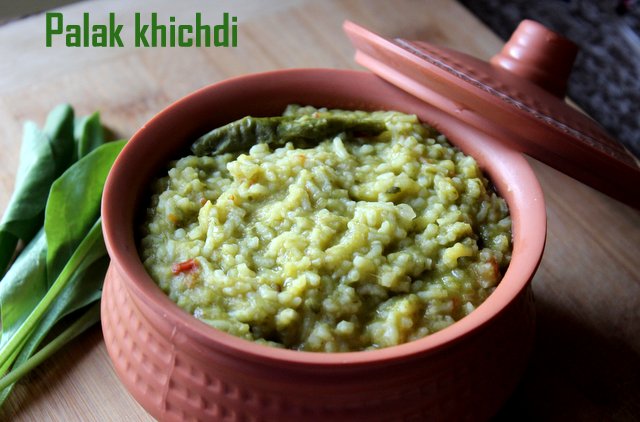 Prep Time : 20 mins
Cook Time :  15 mins
Servings : 2 to 3 persons
Indian cuisine
INGREDIENTS
Raw rice – 1/2 cup
Yellow moong dal – 1/2 cup
Handful of palak or spinach leaves (2 to 3 cups of palak leaves)
Ghee or oil – 2 tablespoons
Cumin seeds – 1/2 teaspoon
Tej patta or bay leaf – 2
Cloves – 2
A pinch of asafoetida
Cardamoms – 2
Onion – 1 (chopped finely)
Tomato – 1 (chopped finely)
Green chillies – 2 (chopped finely)
Ginger-garlic paste – 1/2 teaspoon
Turmeric powder – 1/4 teaspoon
Red chilli powder – 1/4 teaspoon (optional)
Salt to taste
Water – 3.5 to 4 cups of water
HOW TO MAKE OR PREPARE PALAK KHICHDI RECIPE
Rinse and soak the rice and dal together in enough water for half an hour.  Clean and rinse the palak leaves thoroughly.  Put them in a mixer grinder.
Grind to a smooth puree by adding very little water.  Keep it aside. Heat ghee or oil in a small pressure cooker on medium flame.  Add hing, cumin seeds, tejpatta, cloves and cinnamon.  Stir fry till they give a  nice aroma.
Add ginger-garlic paste, green chillies and chopped onions and saute till the onions become light golden in colour.  Then add chopped tomatoes and mix well.  Cook till the tomatoes become little soft.  Then add turmeric powder, red chilli powder and salt.  Mix well.
Once the tomato mixture is fully cooked, add the palak puree and mix well.  Saute on low flame for 3-4 minutes.
Strain the  rice and dal and add to the palak mixture.  Add salt, if required. Mix everything well.
Add 3.5 to 4 cups of water.  Stir well.  Pressure cook on medium flame for 5 whistles.
Once the pressure is cooled down, check for consistency.  Add hot water if the khichdi is too thick.  If the khichdi is thin, then simmer on low flame to get the required consistency.  Serve palak khichdi hot or warm with 1 teaspoon of ghee added to the top of the khichdi.
NOTES/TIPS
Khichdi tends to thicken once it gets cooled.  So adjust the consistency according to your taste.
Add a teaspoon of ghee at the time of serving for better taste and flavor.
Palak khichdi is best served hot or warm.
You can  also add grated ginger or finely chopped garlic for an enhanced flavor.