Ragi ladoo recipe – How to make ragi ladoo / nachni laddo recipe – ragi recipes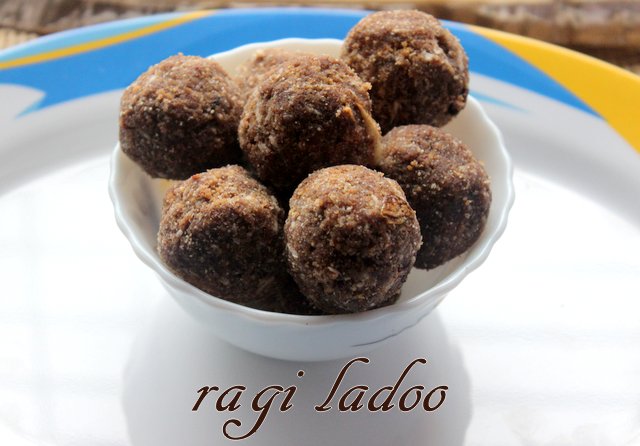 Ragi is a wonderful ingredient and a rich source of calcium, protein and iron.  Ragi is also called as nachni, finger millet or red millet and an extremely nutritious millet.  It resembles mustard seeds in appearance.  Nowadays, after realising the importance of ragi in our diet, people have started mixing ragi with other grains for preparing dishes like idli, dosas, upma etc. 
Ragi is called as finger millet in English, ragi in Kannada, nachini in Marathi and mandika in Hindi.  The consumption of ragi is believed to help women in osteoporosis.  It also helps in weight loss, reduces cholesterol, indigestion or constipation.  
Ragi (finger millet) ladoo is a very healthy sweet dish made from ragi flour, jaggery and nuts. They are good and nutritious for all, especially during winter time. Ragi ladoo is also nutritious since ragi is rich in iron, fibre, protein, calcium and different minerals and jaggery is rich in iron.  This ragi ladoo is a quick and easy ladoo recipe made with few ingredients and prepared in less than half an hour.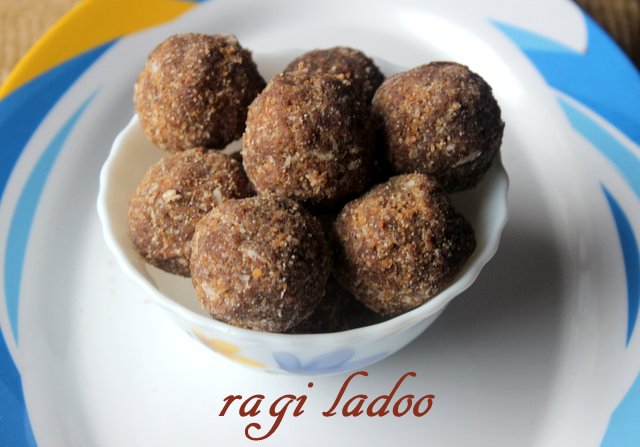 Prep Time : 15  mins
Cook Time :  15 mins
Servings :  12 ladoos
South Indian cuisine
INGREDIENTS
Ragi flour – 3/4 cup
Fine rava or semolina – 1/4 cup
Dessicated coconut – 1/2 cup
Powdered jaggery – 1 cup
Cardamom powder – 1/2 teaspoon
Ghee – 5 tablespoons
Milk – 2 tablespoons or as required
Almonds and raisins – 2 tablespoons
HOW TO MAKE OR PREPARE RAGI LADOO / NACHNI LADOO /FINGER MILLET LADOO RECIPE
Heat 2 tablespoons of ghee in a pan.  Add 3/4 cup of ragi flour and 1/4 cup of fine rava.
Stir fry on a low to medium flame for upto 10 minutes, till you get a nice aroma and there is a slight change in the colour.  Meanwhile, heat another 1 tablespoon of ghee in a tadka pan. Add cashewnuts and raisins and fry till the cashewnuts become slightly golden in colour and raisins puff up.  Keep it aside.
Once the ragi flour and rava changes colour, add the powdered jaggery and dessicated coconut.  Fry for a minute on low flame.
Add fried cashewnuts, raisins and cardamom powder.  Lastly add 2 tablespoons of ghee to the mixture.  Mix well and switch off the flame.
If the mixture is too dry, add 2 tablespoons of milk and give a good mix.  Add more milk if required.  Let the mixture cool down a bit.
Make ladoos to a round shape. If ladoos tend to break down, add little more milk as required, for making ladoos.  Milk helps to bind the mixture and enables to make ladoos.  Make the ladoos while the mixture is little warm.  Ladoos will be little soft initially, but becomes firm once it cools down.
Once cooled down, store ragi ladoos in an airtight container or jar.
NOTES/TIPS
Increase the jaggery content, according to sweet taste desired by you.
You can try making this ladoo with sugar or cane sugar too instead of jaggery.
You need not add rava, instead take full 1 cup of ragi flour or  take 1/2 cup ragi flour and 1/2 cup rava.  It still tastes great.
Bind the ladoos when the mixture is slightly warm, else it becomes difficult to make the ladoos.
You can store this ladoo for a week in an air tight container in the refrigerator.

Ensure to roast the ragi flour well to remove the rawness.