Palak puri/poori or spinach puri recipe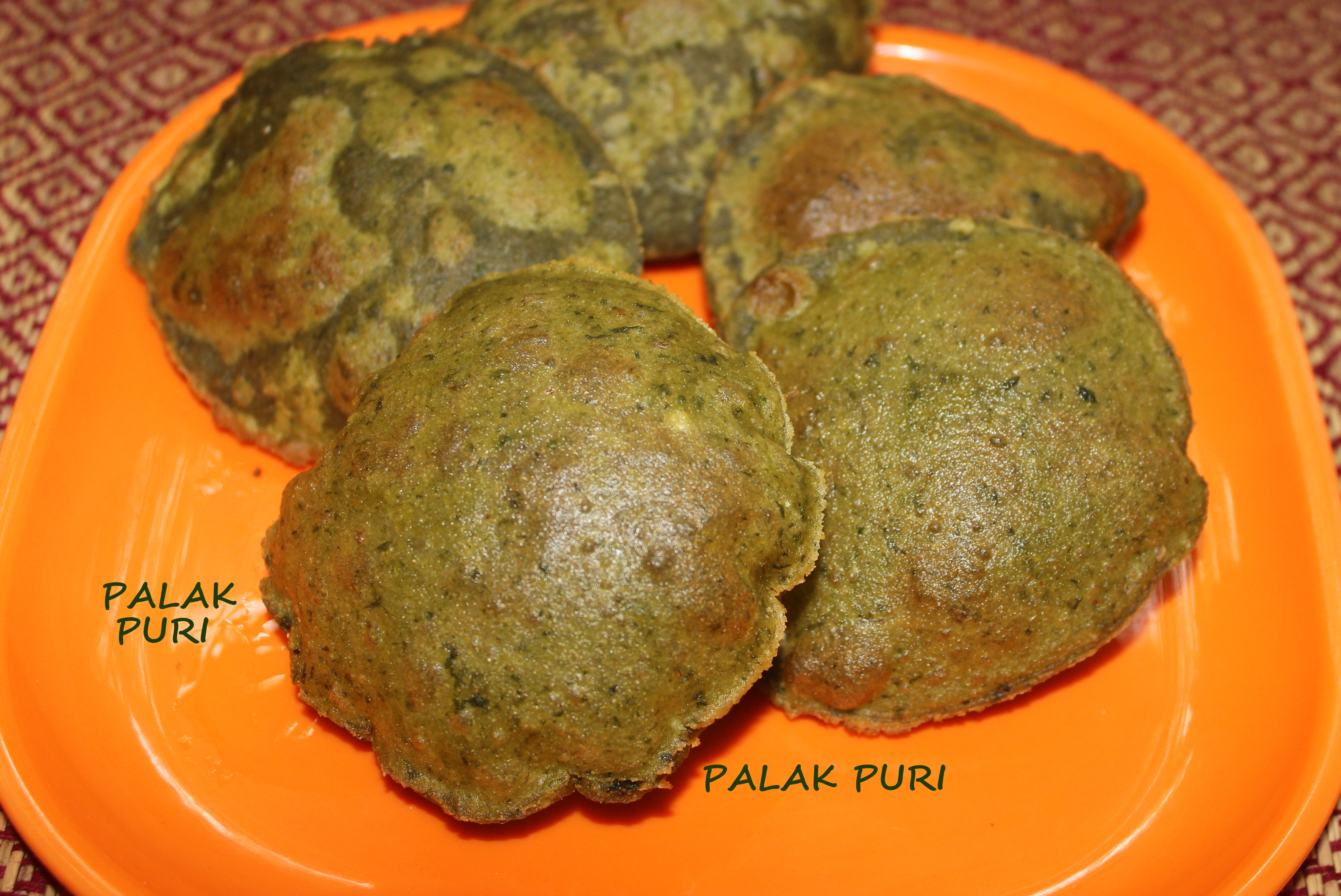 Palak puri is a very delicious breakfast dish made with spinach leaves, wheat flour and mixed with spices. It is best served with curd or any gravy dish. Palak puri is a healthy combinations of spinach leaves and wheat flour and kids love this puri because of its green colour and yummy taste.
Ingredients
Wheat flour - 21/2 to 3 cups
Ajwain or carom seeds - 1/2 teaspoon
Oil to deep fry
TO GRIND
Spinach or palak leaves - 3 cups (chopped finely and blanched)
Green chillies - 3 to 4
Garlic cloves - 8
Cumin powder - 1 teaspoon
Garam masala powder - 1/2 teaspoon
Ginger - 1 inch small piece
Salt to taste
Method
Step 1
HOW TO MAKE PALAK OR SPINACH PURI RECIPE Wash the spinach leaves thoroughly. Roughly chop the leaves and boil the spinach with sufficient water.
Step 2
Once cooled down, drain the water completely. Grind the boiled spinach leaves alongwith green chillies, garlic cloves, ginger, cumin powder, garam masala and salt to make a smooth paste. Keep the ground paste aside.
Step 3
Take a mixing bowl. Add wheat flour, ajwain seeds, ground paste and 2 tablespoons of oil and mix well. (No need to add water, add only if required). Knead into a smooth but firm dough.
Step 4
Cover the dough with a muslin cloth and keep aside for 20 minutes. Divide the dough into small round balls
Step 5
Roll them into small circular shape neither too thick nor too thin.
Step 6
Heat oil in a deep kadai. Once the oil becomes hot, drop the rolled puri gently into the oil. Press the puri slightly with the ladle so that it puffs up. Turn the puri on the other side and deep fry till golden green in colour.
Step 7
Place the puris in an absorbent paper to remove excess oil and then transfer to a serving dish.
Step 8
Serve palak or spinach puris with curd or pickle or any gravy dish.