Ragi idli recipe – how to make ragi (finger millet) idli recipe | Ragi recipes |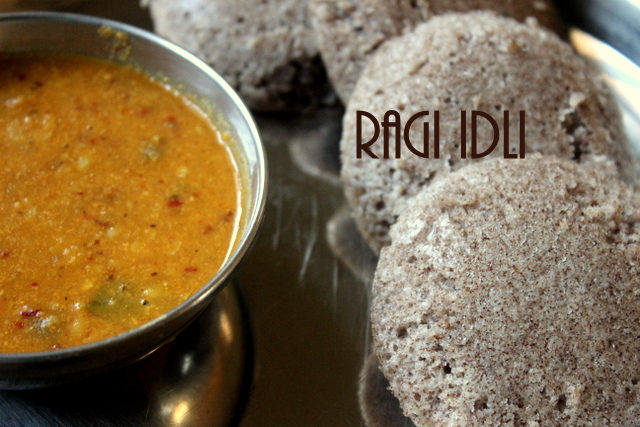 Ragi idlis are healthy idlis made with idli rice, ragi flour and urad dal.  Ragi also known as finger millet is a healthy crop that is  easily grown throughout the year and an important crop in India.  Ragi is a remarkable source of protein, making it perfect for vegetarian diets. It is a rich source of minerals, controls diabetes, keeps you young, reduces bad cholesterol amongst other benefits.  Ragi is also rich in calcium and an excellent source of  iron.  Ragi idli is an ideal breakfast dish and is suitable for kids as well as elderly.  Include this healthy dish in your daily diet and make it more nutritious for your family.
If you are looking for ragi recipes, do check these recipes :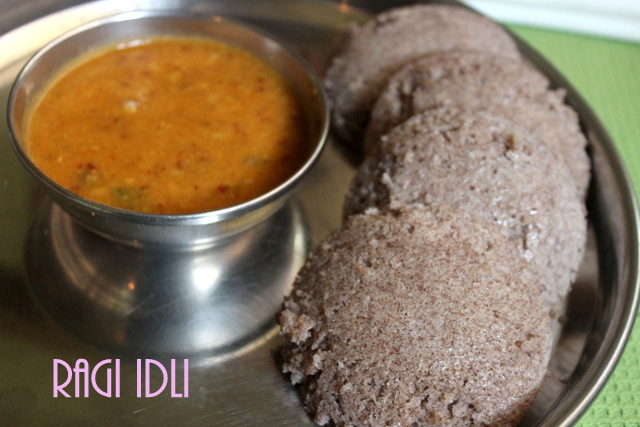 Prep Time :  25 minutes (soaking time of 4-5 hours and fermentation time of 7-8 hours)
Cook Time :  25 mins
Servings : 4 persons
South Indian cuisine
INGREDIENTS
Idli rice – 1 cup
Ragi flour – 1 cup
Urad dal – 1/2 cup
Fenugreek/methi seeds – 1/4 teaspoon
Salt to taste
HOW TO MAKE OR PREPARE RAGI (FINGER MILLET) IDLI RECIPE
Take idli rice in a bowl and urad dal and methi seeds in a separate bowl.  Wash and soak separately for 4 to 5 hours.
First grind the soaked urad dal with little water till you get a  smooth and fluffy batter.  Remove the batter in a bowl or vessel.
Next add the soaked rice to the grinder jar and grind to a slightly coarse batter.  Keep adding water little by little at the time of grinding, till you get a coarse consistency of the batter.
Add the rice batter to the urad dal batter in the bowl and mix both the batters well.
Take 1 cup ragi flour in a bowl and add 1/2 a cup of water to make a smooth consistency or paste of the ragi flour.  Add this ragi paste or batter to the idli (rice and urad dal)  batter. Add salt.  Mix everything well and ensure that no lumps are formed in the batter.
Cover the vessel with a lid and allow it ferment for 7-8 hours or overnight.  Use a big vessel for fermenting to prevent the batter from overflowing, as the batter tends to swell after fermenting.  Next day,  the batter would have swelled up as shown in the pic below.
Take an idli mould and grease them with little oil. Pour the ragi idli batter to the moulds and place it inside the steamer or idli cooker and steam cook for 10-15 minutes.  Alternatively, you can also steam the idlis in a pressure cooker but without putting the whistle to the lid of the pressure cooker.
Once the steamer is cooled down, remove the idli moulds and run a butterknife or a spoon and slid through the idlis.  Keep the idlis in a warm container.  Serve delicious ragi idlis  hot with sambar or any chutney of your choice.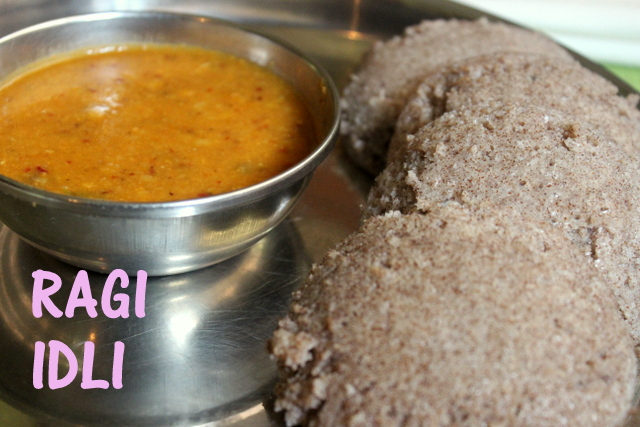 NOTES/TIPS
You can use the same batter for making ragi dosas or ragi uttapams, the next day.
Add chopped capsicum, carrots or beans to the batter,  to make it more healthier and tastier.