Poha modak recipe – How to make poha/flattened rice modak recipe – Ganesh Chaturthi recipes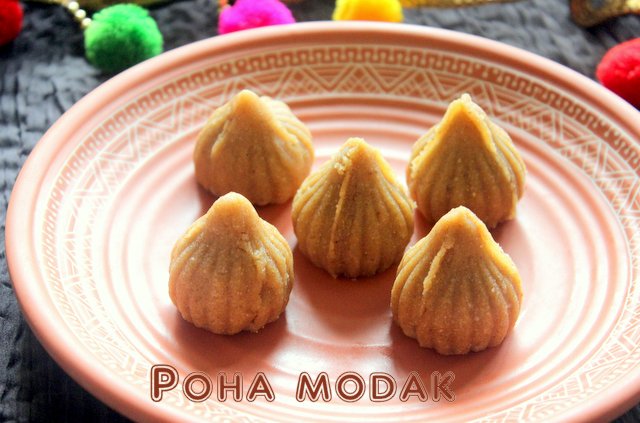 Maha Ganapathi, the elephant headed God, is the best known and the most revered God in Hindu religion who is offered prayers first before any other God.   Ga means Buddhi (intellect),Na meansVignana (wisdom) and Pathi means the Lord. Ganapathi means the one who is the Lord of intellect and wisdom.  Lord Ganesha is not just worshiped on this day, but is worshiped first on all occasions as he is considered to be the remover of all obstacles and the one who brings good luck on new endeavours.  Ganesh Chaturthi is celebrated with great devotion all over India.  It starts with the installation of the Ganesha statues in colorfully decorated homes or specially erected temporary mantapas/pandals in every locality.  Coconut, jaggery, modaks, durva  blades of grass and red flowers are offered.  Beautiful idols of lord ganesha are installed in almost every house and worshipped with great devotion for 1,3,5,10 and in some cases 21 days. In Karnataka modaka, laddoos, akki kadlebele payasa (rice chanadal kheer), idlis, kadubu or karanjis are the specialities offered to Lord Ganesha. 
Poha modak is a delicious and easy modak recipe made with flattened rice or poha and jaggery.  It is also a healthy modak recipe as it is made with jaggery.  Poha modak is one of the varieties of modak recipes which can be made during Ganesh Chaturthi.
Pls click on this link  http://charuscuisine.com/ganesh-chaturthi-recipes-vinayak-chaturthi-recipes/   for more Ganesh Chaturthi recipes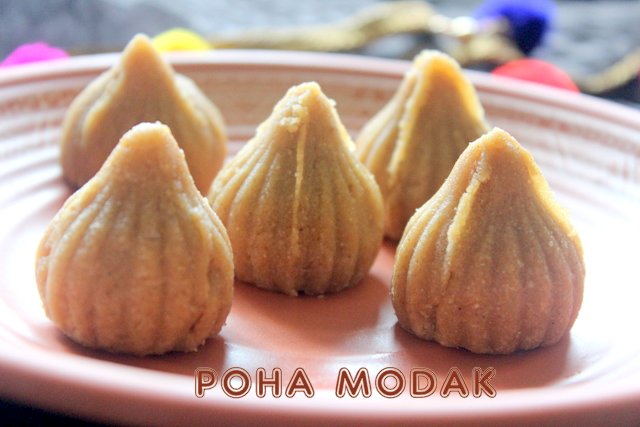 Prep Time : 15  mins
Cook Time :  5-6 mins
Yield :  5 to 6 small modaks
Indian cuisine
INGREDIENTS
Poha/flattened rice – 1 cup
Jaggery – 1/2 cup
Cardamom powder – 1/4 tsp
Nuts- 2 tablespoons (cashewnuts, almonds and pistachios)
Ghee – 2 tablespoons
Milk –  2 tablespoons
HOW TO MAKE OR PREPARE POHA MODAK RECIPE
Heat a pan or kadai on medium flame.  Once hot, add 1 cup of poha and dry roast for 5-6 minutes,  till the poha becomes little crisp.
Once the poha turns slightly light brown colour, switch off the flame.  Let it cool down completely.  Take the roasted poha to a mixer grinder.
Add 1/2 cup of jaggery, 1/4 tsp of cardamom powder and 2 tablespoons of nuts to the roasted poha.  Grind all the ingredients to a fine powder.
Transfer the mixture to a mixing bowl.  Add 2 tablespoons of ghee to it and mix well.
The mixture will become coarse and little dry.  Add 2 tablespoons of milk to the mixture.  Milk helps to bind the mixture.
Make a smooth dough out of the mixture.  Grease the mould with little ghee.
Take a portion of the dough and stuff the mould with it.  Press on all the sides to give a good shape.  Close the mould gently and remove any excess mixture from outside the mould, if any,
Open the mould gently and remove the modak to a serving plate.  Repeat the process with the remaining dough.
Delicious poha  modaks are now ready to be offered to Lord Ganesha as prasad or neivedyam.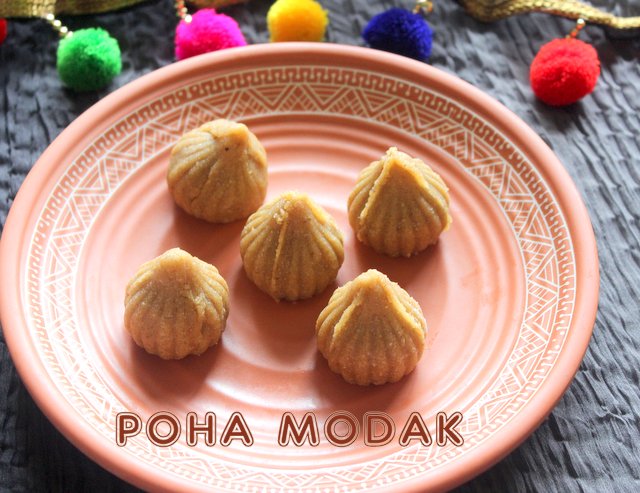 NOTES/TIPS
Grease the mould everytime with little ghee, for making modaks.
Milk helps in binding the mixture.  Add very little milk so that you are able to make modaks out of the mixture.  Too much milk will make the modaks too soft and difficult to make too.
You can use sugar instead of jaggery for making this poha modak.  In that case, modaks will be white in colour.
Ensure to roast the poha well till it becomes crisp.  If it is crisp, you can grind to a fine and smooth powder. This makes the modak soft in texture.