Quick shahi tukda or tukra recipe or Indian bread pudding recipe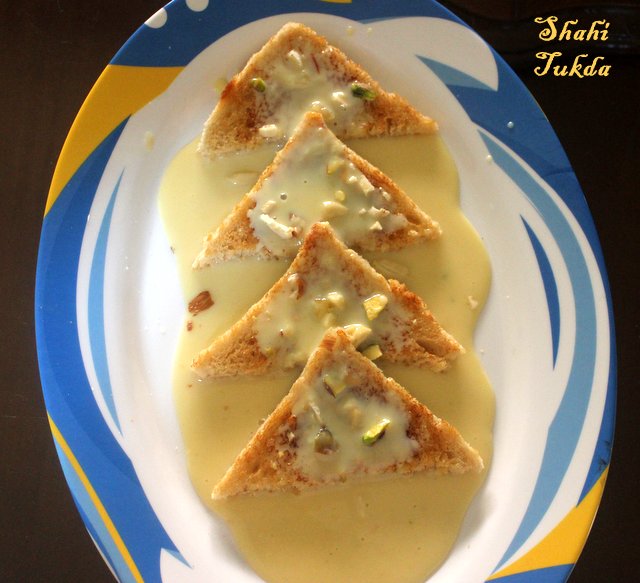 Shahi tukda or tukra is a rich bread pudding flavoured with cardamon and garnished with dry fruits.  It is a bread pudding dessert of fried bread slices soaked in warm milk with saffron strings and cardamom.   The name 'shahi' itself suggests means royal dessert, an exotic rich bread pudding.  This dessert is said to have its origin in Pakistan and is widely regarded as a rich cuisine propogated during the Mughal era.  The traditional version is soaking the fried bread pieces in a rose/saffron-flavored sugar syrup and then pouring the rabdi or sweet milk sauce over it and then garnishing it with silver foil and nuts.   It is a little similar to the double ka meetha, a popular Hyderabad dessert of fried bread slices soaked in hot milk with spices and garnished with khova and dry fruits.  Shahi Tukra or double ka meetha is a festival dish and is part of the Eid Al Adha or Bakri id menu. Shahi Tukra can also be made instantly by using condensed milk instead of evaporating the sweetened milk to half its volume.  Shahi tukda is not only an easy and simple recipe but also quick to make recipe too.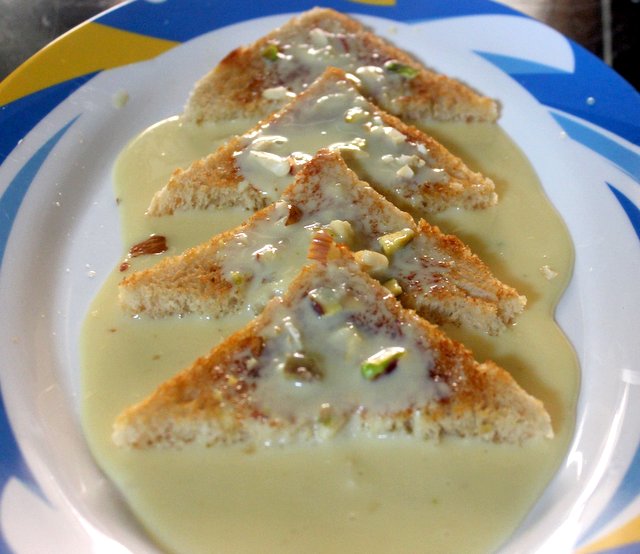 Prep Time : 15 mins
Cook Time : 30 mins
Servings : 4 persons
Total time – 45 mins
INGREDIENTS
White bread or brown bread – 4 slices
Milk – 2 cups
Condensed milk – 1/4 cup
Sugar – 3 tablespoons
Cardamom powder – 1/4 teaspoon
5-6 saffron strings
Almonds – 1 tablespoon
Pistachios – 1 tablespoon
Cashewnuts – 1 tablespoon
Ghee – 4 tablespoons (for shallow frying)
HOW TO MAKE OR PREPARE SHAHI TUKDA OR TUKRA RECIPE
Preparation
Take the bread slices and remove the crust from all the sides of the bread.  Cut each slice into 2 triangular pieces and keep it aside.
Chop the almonds, pistachios and cashewnuts into small pieces and keep it ready for use.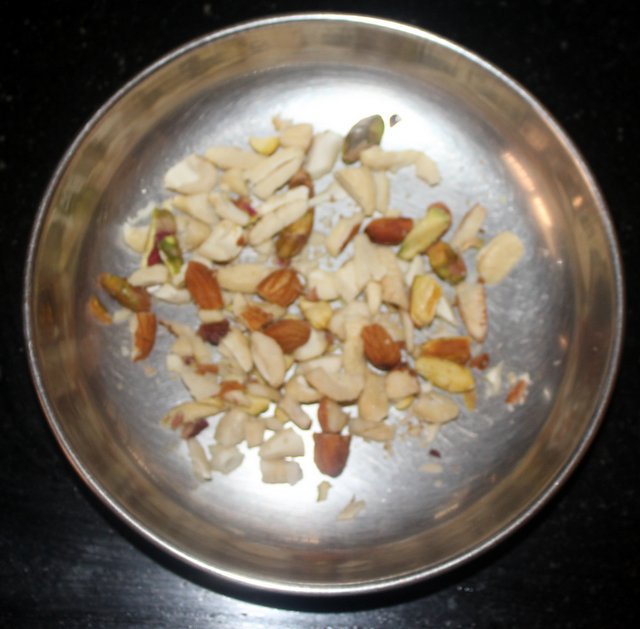 Method
Boil 2 cups of milk in a heavy bottomed pan on a medium flame.  Once it reaches a boil, lower the flame and boil for another 20-25 minutes stirring occasionally, till the milk becomes thick and  reaches around 1  cup.
Now add condensed milk, sugar, cardamom powder, few chopped nuts and saffron strings and mix well.  Boil for another 3-4 minutes, stirring occasionally.  Switch off the flame.  The thickened milk mixture or the rabdi is now ready.  Let it cool down and reach room temperature.
Brush the bread slices with ghee on both the sides.  Heat a non-stick pan or tawa on a medium flame.  Shallow fry or toast the bread slices on both the sides till golden brown and crispy.  Transfer them to a plate.
In a serving plate, arrange the fried bread slices.  Pour the condensed milk or rabdi over bread covering all the sides.  Garnish with the remaining chopped pistachios, almonds and cashewnuts.
Shahi tukda is now ready to be served.  It can be served as a hot snack in the breakfast or as chilled dessert.
NOTES/TIPS
In case you do not want to use condensed milk, boil the milk for a longer period and increase the amount of sugar.
You can deep-fry the bread slices for more better taste. But if you want a low calorie dessert, toast the bread slices in an ovnr or toaster.
Keep stirring the milk continuously while boiling, to prevent sticking and burning of milk.
You can keep the fried bread slices and rabdi ready.  Assemble just before serving, otherwise the bread gets soggy.