Semolina (rava) cake/basbousa recipe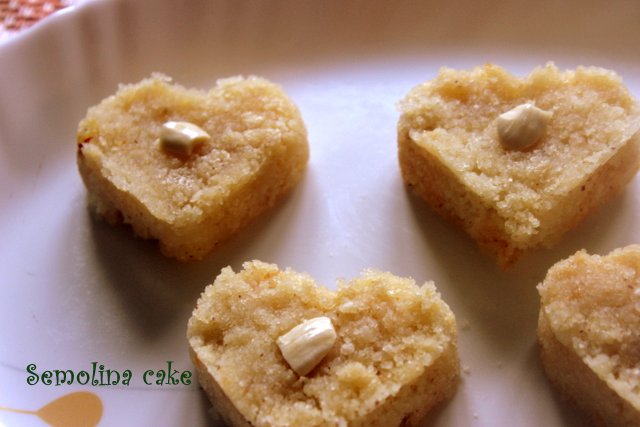 Semolina cake or basbousa are small cakes which are made from semolina, milk, all purpose flour and coconut which are the main ingredients and soaked in sugar syrup.  They are very easy to make and delicious too.  Basbousa or semolina cakes are traditional desserts from Turkish cuisine.  Basbousa or sweet semolina cake flavoured with rose water and lemon syrup is very popular in Egypt. I came across this cake recipe in Vahrevah video website and tried to make this in my kitchen.  It is really a simple and yummy cake and can be had with a nice  hot cup of tea in the evening.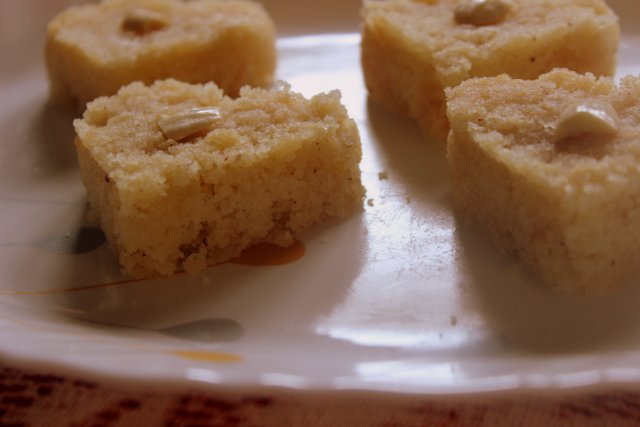 Prep Time :  15 mins
Cook Time : 40 mins
Yield : 16 pieces
Total time – 55 mins
INGREDIENTS
All purpose flour (maida) – 1/2 cup
Semolina/rava –  1 1/4 cup
Milk – 1 cup
Melted butter – 100 grams
Dessicated coconut – 1 1/2 cups
Egg – 1
Sugar – 3/4 cup
Baking powder – 1 teaspoon
Saffron strings – a pinch
FOR THE SUGAR SYRUP
Sugar – 1/2 cup
Water – 1/2 cup
Lemon juice – 1/2 teaspoon
Rose water – 1 teaspoon
FOR GARNISHING
Almonds – 12 to 15 nos
HOW TO MAKE SEMOLINA/RAVA CAKE OR BASBOUSA RECIPE
Take a mixing  bowl and  add all purpose flour, semolina, dessicated coconut, milk, melted butter, egg, sugar, baking powder and saffron strings and mix well.
Mix all the ingredients thoroughly to make a soft dough.  Pour the batter gently into the cake pan and spread it evenly by  gently  tapping the pan.  Lightly pre-cut the top of the cake with a knife as per your desired shape.
Soak the almonds in boiling water for half an hour.  Then remove the skin and keep it aside.
For the sugar syrup, heat a pan and add sugar, water and lemon juice and boil for 5 minutes.  Switch off the flame and then add rose water.  Keep it aside.
Preheat the oven at 180 degree C and meanwhile grease the cake pan with butter.  Bake the semolina cake for 30 minutes.  After 30 minutes, pour the sugar syrup on top of the cake pan and cut through the scored lines.
Garnish with almonds on each piece of cake and bake them again for 10 minutes.  Remove the cake from the oven and let it come to room temperature.  Basbousa is now ready to be served.
Serve them with a cup of tea.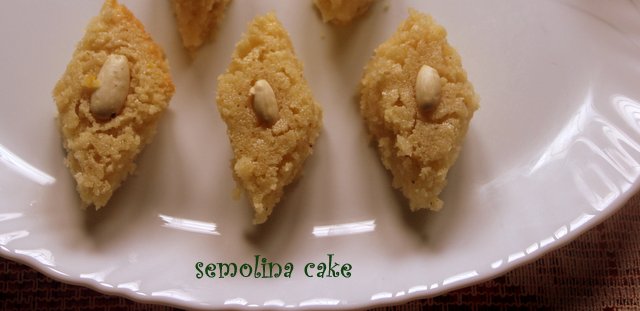 NOTES/TIPS
You can also add vanilla essence to the sugar syrup instead of rose water.
Pour the sugar syrup on the cake evenly so that it spreads all over the cake and helps the cake to be more juicy.
Baking time depends on the oven you are using.  It took nearly 35-40 minutes for me to bake the cake.
You can adjust the quantity of sugar according to your taste.