Stuffed baingan/brinjal (eggplants) recipe – How to make stuffed brinjals (bharli vangi) recipe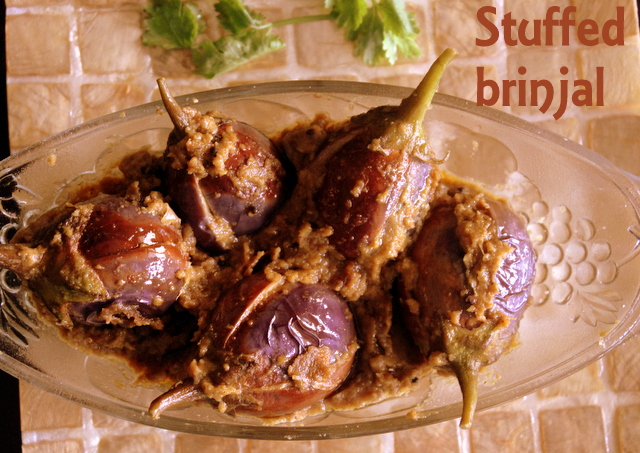 Stuffed brinjal or baingan (bharli vangi) is a delicious and a popular Maharashtrian dish made with eggplants stuffed with Indian  spices.  It is known for its unique taste as  peanuts, sesame seeds, jaggery, goda masala  is used for this recipe.  Here small brinjals are slit and then stuffed with spicy masala and cooked as a whole, which gives a nice flavour to the dish.  Stuffed brinjal fry is best served with rotis, chapatis, bread or rice.
Other brinjal recipes :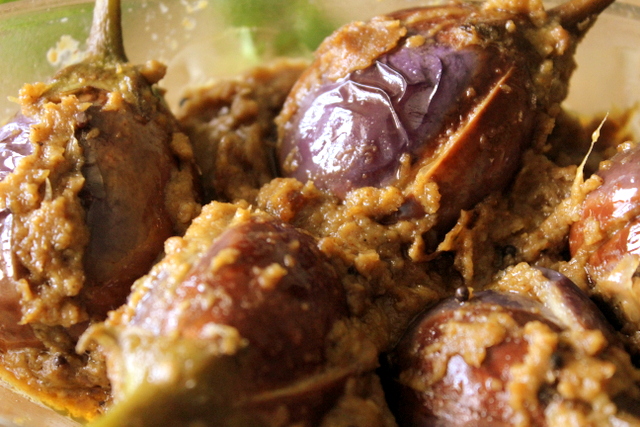 Prep Time : 25 mins
Cook Time : 30 mins
Servings : 3-4 persons
Maharashtrian cuisine
INGREDIENTS
Small tender purple brinjals (eggplants) – 10 to 12 nos
Coriander powder – 1 teaspoon
Red chilli powder – 1 teaspoon or as per spicy taste required
Turmeric powder – 1/4 teaspoon
Goda masala or garam masala – 1 teaspoon
Powdered or grated jaggery – 2 tablespoons
Tamarind juice – 2 tablespoons
Mustard seeds – 1/2 teaspoon
Cumin seeds or jeera – 1/2 teaspoon
Cooking oil
Salt to taste
To fry and grind to a paste (ground masala)
Peanuts – 4 tablespoons
Sesame seeds – 3 tablespoons
Dessicated coconut or dry coconut – 4 tablespoons
Onion – 1 (roughly chopped)
Garlic cloves – 10
Ginger – 1 inch small sized
HOW TO MAKE OR PREPARE STUFFED BRINJALS OR BHARLI VANGI RECIPE
Heat a pan on medium flame and dry roast peanuts, sesame seeds and coconut, separately, one by one.  Fry the peanuts till light golden brown and crisp and sesame seeds till it starts to sizzle and  coconut till light brown.  Once cooled down,  take the these ingredients to a mixer jar.
To the same pan, add the chopped onions, garlic cloves and ginger and saute till the onions become translucent.  Take these sauteed ingredients to the same mixer jar.  Now add coriander powder, turmeric powder, red chilli powder, goda masala, tamarind juice, grated jaggery and salt to the same mixer jar.
Now grind all these ingredients together with little water to a smooth paste.  Wash the brinjals and pat them dry with a dry cloth.  Make 2 partial vertical slits, keeping the bottom part intact.  Trim the green leaves without cutting the stem. Soak the slit brinjals in salted water for 15-20 minutes.
Stuff the brinjals with the ground masala.  Heat 4 tablespoons of oil in a pan or kadai.  Add mustard seeds and allow it to splutter.  Add cumin seeds and saute till light brown.
Add the stuffed brinjals to the pan.  Saute for 3-4 minutes on medium flame. Then cover the pan with its lid and cook on low to medium flame 10-12 minutes.
The brinjals will start turning light brown in colour.  Keep stirring occasionally.  Add the remaining ground masala.
Combine everything well.  Add little water and cover the pan and cook for another 15-20 minutes till the brinjals are well cooked and masala is well blended with the brinjals.  Keep stirring occasionally.  Once the moisture is reduced and appears like a dry saute, switch off the flame.  Transfer the dish to a serving bowl.  Garnish with chopped coriander leaves.
Serve stuffed brinjals hot with rotis, chapatis or with rice and dal.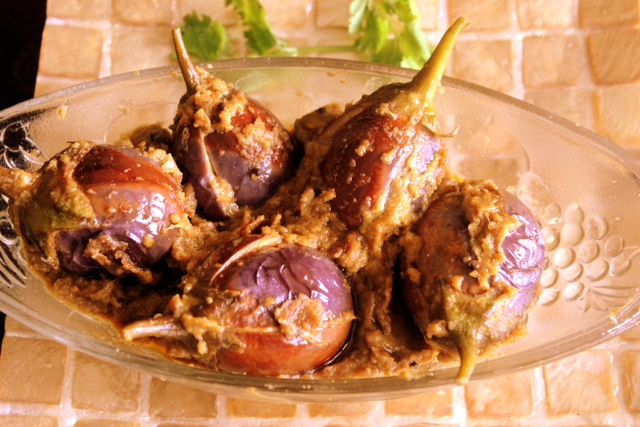 NOTES/TIPS
If you do not have the small eggplants,  you can use the regular brinjals and chop them into pieces and prepare with this recipe.
Ensure not to make the paste too watery or liquidy.
You can use garam masala instead of goda masala.