Stuffed karela or stuffed bittergourd recipe – how to make stuffed karela fry recipe – Indian recipes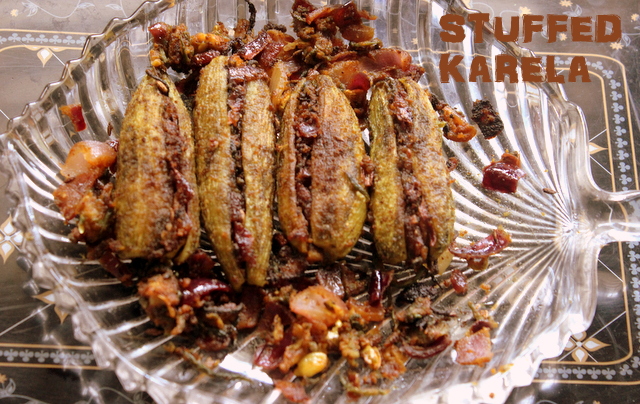 Stuffed karela fry is a delicious Indian dish made by stuffing the bittergourd with Indian spices amd then stir-fried with the masalas.   It goes well with rotis, naans or phulkas.  Karela or bittergourd vegetable is not liked by many as it is very bitter in taste.  But it is very healthy, as it has lot of health benefits, especially for people having diabetics, as it helps to regulate blood sugar.  To remove bitterness, if you  rub salt and lemon juice to the bittergourd and let it remain for an hour, it helps to take away the bitterness.  Spices then added to it while cooking makes it all the more delicious.
Bittergourd recipes :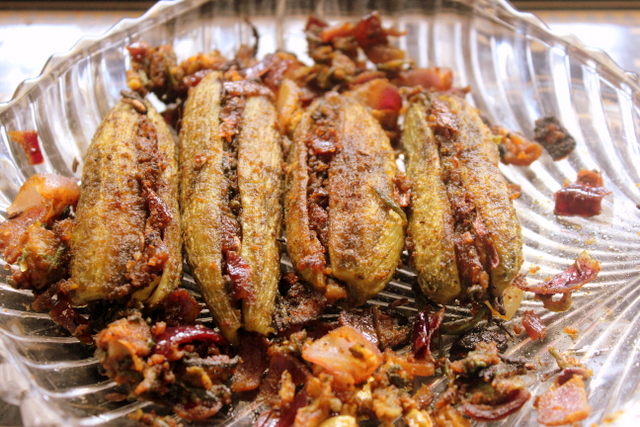 Prep Time : 45  mins
Cook Time : 20 mins
Servings : 2-3  persons
INGREDIENTS
Bittergourd or karela – 6 nos
Salt to taste
Lemon juice – 2 tablespoons
Thread to tie/wrap the stuffed karelas
FOR THE STUFFING OR FILLING
Oil – 2 tablespoons
Onion – 2 nos (medium sized chopped finely)
Karela or bittergourd scrapings and seeds
Gram flour or besan – 2 tablespoons
Red chilli powder – 1 teaspoon
Turmeric powder – 1/4 teaspoon
Coriander powder – 2 tablespoons
Cumin or jeera powder – 1 teaspoon
Garam masala – 1/2 teaspoon
Amchoor or mango powder – 1 tablespoon
FOR COOKING
Oil – 2 tablespoons
Cumin seeds or jeera – 1/2 teaspoon
HOW TO MAKE OR PREPARE STUFFED KARELA FRY RECIPE
Wash the karelas thoroughly in running water. Wipe them dry with a clean cloth.  Scrape the skin of the karelas with the help of a knife and keep the scrapings aside.  These scrapings will be used for stuffing the karelas.
Slit the karelas lengthwise from the centre and remove the seeds.  Keep the base intact.
Collect the scrapings and seeds in a bowl.  Add the slit karelas to it.  Add salt and sprinkle lemon juice to it.
Rub well and allow it to marinate for 1 hour.  Then squeeze the karelas to remove the moisture from  it.  Heat sufficient water and bring it to a nice boil.
Once the water comes to a nice boil, lower the flame and add the karelas to it.  Cook on medium flame till the karelas become little tender or soft in texture.
Drain and keep the cooked karelas aside.  For the filling, heat 2 tablespoons of oil in a pan on medium flame.  Add chopped onions and saute till onions become translucent.
Then add the scrapings and seeds  from the karelas and mix well.  Cook for 2 minutes on a low flame till they become little soft.  Add gram flour, chilli powder, turmeric powder, coriander powder, cumin powder and garam masala.  Saute for 2-3 minutes on a low flame and then switch off the flame.
Combine everything well.  Lastly add amchoor powder and mix again.
Filling is now ready to be used.   Stuff the split karelas with this spice mixture and press it tightly with your thumb to avoid mixture coming out while cooking.  If there is any excess mixture left, keep it aside as it can be used later.
You can also tie the stuffed karelas with a thread string to avoid mixture coming out, during cooking.  Heat 2 tablespoons of oil on medium heat, in a separate pan.  Add cumin seeds and allow it to splutter.
Once the seeds stops spluttering, place the stuffed karelas in the pan and sprinkle little salt.  Cover the pan with its lid and cook on low flame.
Turn the sides occasionally so that they get cooked from all the sides.  It will take a minimum of 15-20 minutes to get fully cooked.
Lastly add the remaining spice mixture over the karelas and gently mix.  Cook on a low flame for another 2 minutes.  When done switch off the flame.  Transfer the stuffed karelas to a serving bowl.
Serve delicious and healthy stuffed karela fry hot with rotis, naans, phulkas or as a side dish to any meal.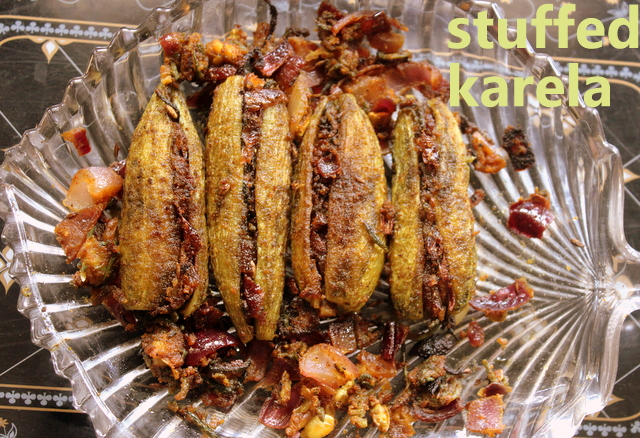 NOTES/TIPS
Add little grated jaggery or sugar to the spice mixture, if you prefer a sweet taste to the karelas.
It stays good for upto 2-3 days at room temperature and hence an ideal food, during travelling.
Ensure to cook on a low flame and not to stir too much.