Tendli Aloo (ivy gourd with potato) subzi recipe- Tindora sabzi recipe – Tindora aloo masala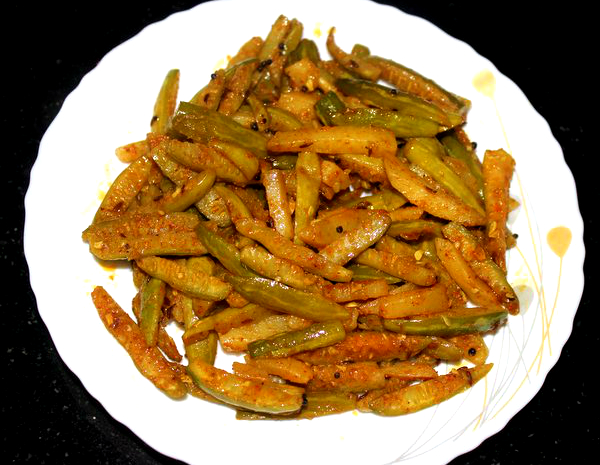 Ivy gourd or tendli  vegetable is regarded as an excellent source of protein and fiber and high content of vitamins.  Ivy gourd has the ability to control blood sugar levels in a natural way. Hence it is highly recommended for diabetic patients to assist them in a strong way. Tindora aloo subzi is a very quick and easy subzi to make with minimum spices added to it.  It is a mildly spiced dry vegetable made with ivy gourd and potatoes and goes well as a side dish for rotis and rice.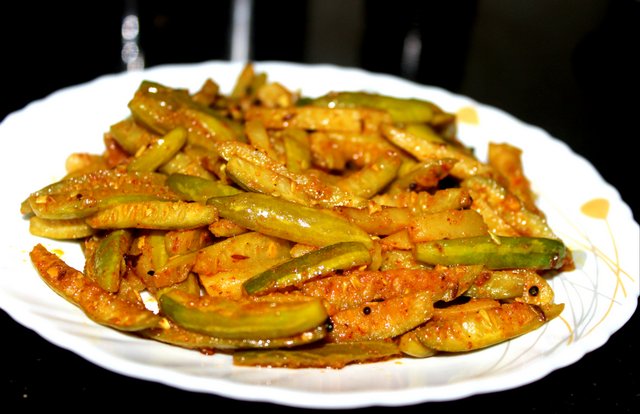 Prep Time : 20 mins
Cook Time : 25 mins
Servings : 4 persons
Total time – 45 mins
INGREDIENTS
Ivygourd/tendli/tindora – 3 cups (sliced vertically)
Potatoes – 1 cup (sliced vertically)
Cooking oil – 2 tablespoons
Mustard seeds – 1/2 teaspoon
Cumin seeds (jeera) – 1/2 teaspoon
Turmeric powder – 1/4 teaspoon
Red chilli powder – 1 1/2 teaspoons
Coriander powder  – 1 teaspoon
Garam masala – 1/2 teaspoon
Salt to taste
Few chopped coriander leaves for garnishing
HOW TO MAKE OR PREPARE TENDLI ALOO SUBZI OR TINDORA SUBZI RECIPE
Wash the tindoras thoroughly under running water.  Drain the water and pat the tindoras dry with a clean cloth.  Chop the extreme ends (head and the bottom part) and discard them.  Chop them into vertically thin slices and set them aside.
Wash and peel the potatoes with the help of a slicer.  Chop the potatoes too into vertically thin slices and immerse them in a bowl of water to avoid changing of colour of the potatoes.
Heat oil in a pan on a medium flame.  Add mustard seeds and allow them to splutter.  Once the mustard seeds stops spluttering, add cumin seeds and stir fry for half a minute till the seeds turn light brown.  Add turmeric powder and immediately add the tindora and potato slices.
Mix well.  Then add red chilli powder, coriander powder, garam masala and salt and mix well so that the veggies are well coated with the masala.
Sprinkle 2 tablespoons of water and cover the pan with a lid.  Cook on  a low to medium flame for 15-20  minutes or until it is cooked. Keep stirring once or twice in the middle by lifting the lid carefully.
If the tindoras and potatoes become tender and break easily without any effort, it means they are cooked.  Switch off the flame.
Add chopped coriander leaves and combine together.
Serve tindora subzi hot with rotis or phulkas or steamed rice.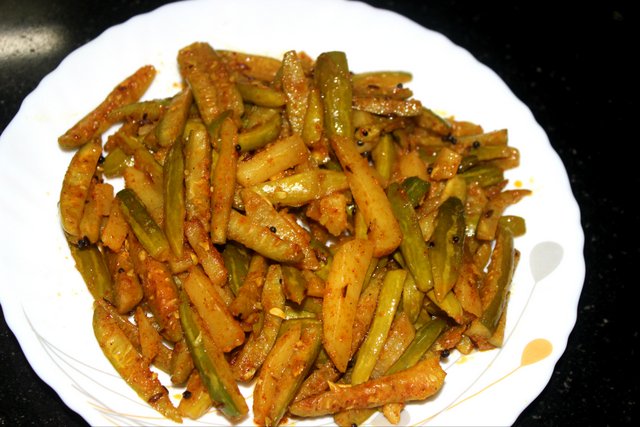 NOTES/TIPS
You can also chop the tindoras in rounds and potatoes into small cubes.
Adjust the ratio of tindoras and potatoes as desired by you.