Rajgira ki puri recipe or vrat ki puri recipe- Navratri recipes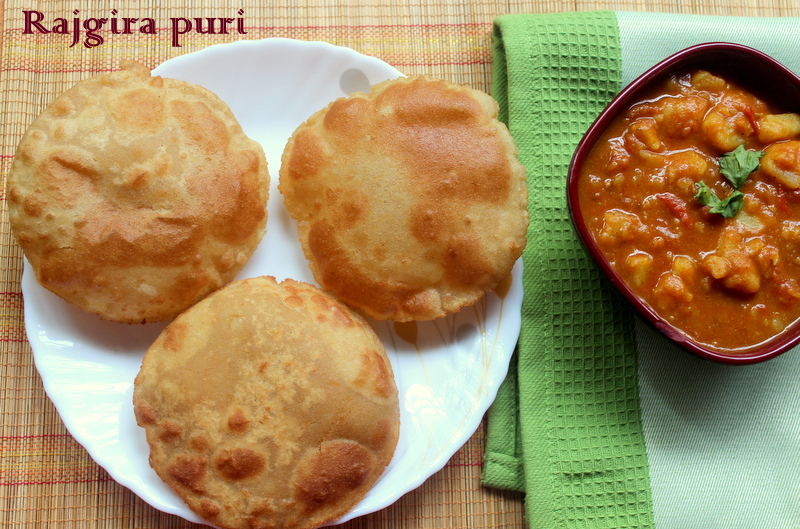 Rajgira or amaranth contains more than three times the average amount of calcium and is also high in iron, magnesium, phosphorus, potassium and it is the only grain which contains Vitamin C.  Also as it is easy to digest and they are perfect for people on fasts,  Rajgira puris are prepared during Navratri or fasting days from amaranth  or rajgira flour and boiled potato.  They are ideally had during vrat days.  Rajgira puris can also be made with sweet potato.  But it will have a sweet taste to it.  Rajgira puris goes well with any vegetable gravy or dahi aloo or any paneer dish.
If you are looking for navratri recipes, also try these recipes –  sabudana khichdi, sabudana kheer,aloo tamatar, aloo jeera and cucumber raita.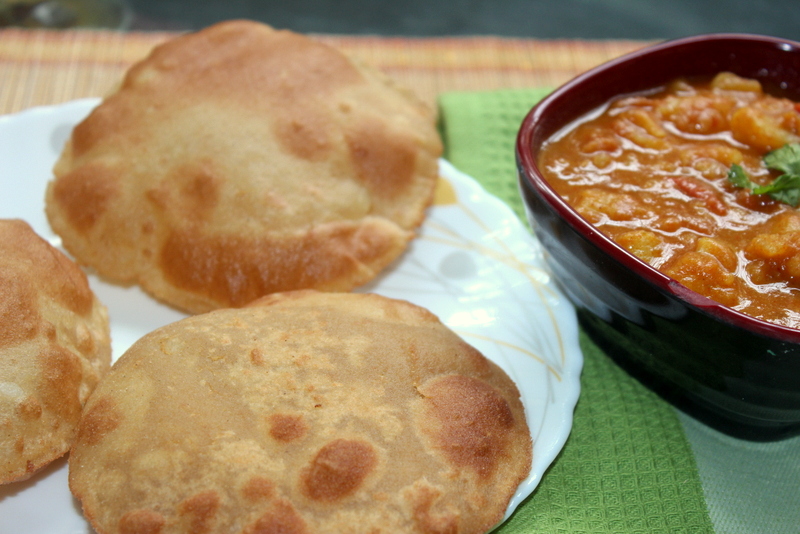 Prep Time :  15 mins
Cook Time : 20  mins
Servings :  2 persons
North Indian cuisine
INGREDIENTS
Rajgira atta – 2 cups
Potato – 1
Rock salt as per taste
Water as required
Cooking oil for deep frying
HOW TO MAKE OR PREPARE RAJGIRA PURI OR AMARANTH PURI RECIPE
Boil the potato.  Once cooled down, mash the potato and keep it aside.
Take a mixing bowl.  Add  rajgira atta, mashed potato and salt.  Mix it thoroughly using your fingertips and make a dough out of it.  Add just 1 to 2 teaspoons of water to make a dough.  Boiled potato already has moisture in it.  Hence depending on the moisture content, add water and knead the atta to make a stiff dough.
The dough should not be too sticky.  If it is too sticky, add some more rajgira atta and knead again.  Keep the dough aside for 15-20 minutes.
Divide the dough into equal portions and make small round balls out of the dough.  Roll the balls into regular medium sized puris.    If you are not able to get round regular puris,  just roll into big round puri.  Cover with a round sharp lid and break the edges and get a round puri.  Remove the excess flour by patting it with hand. Keep aside for deep frying.
Heat sufficient oil in a frying pan on medium heat.  Slide the puris gently and deep fry till golden brown.  Once cooked, drain the puris in an absorbent paper to remove the excess oil.
Serve rajgira puris hot or warm with aloo gravy, aloo jeera or  matar paneer or  any vegetable curry.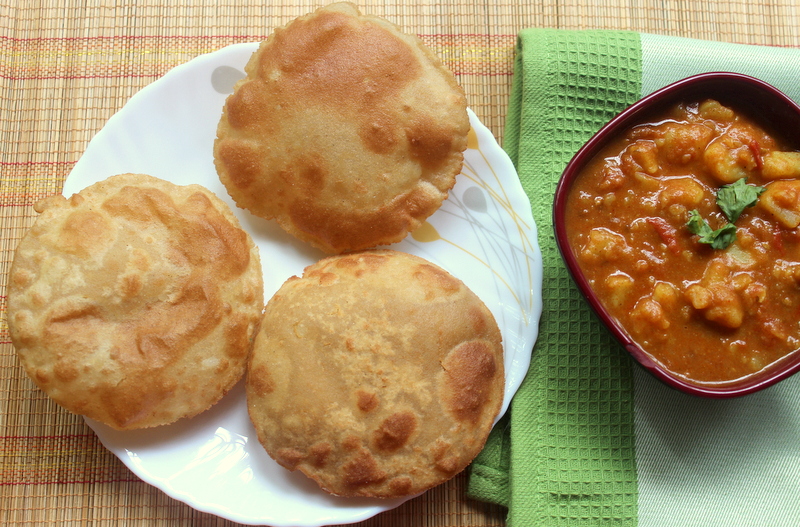 NOTES/TIPS
Deep fry the puris on medium heat.  If the oil is not hot. it will absorb too much oil and if the oil is too hot, it tends to become dark brown in colour.
Rajgira puris  tend to be little heavy.  So you can have it as a full fledged meal along with a vegetable curry or any gravy.
You cannot easily roll like regular puris with this dough.  Hence you can take a thin plastic sheet and pat it with your fingers to a round puri or use a sharp lid to get a round puri.