Thenkuzhal murukku recipe – Indian vegetarian food – Easy to make deepavali/diwali recipes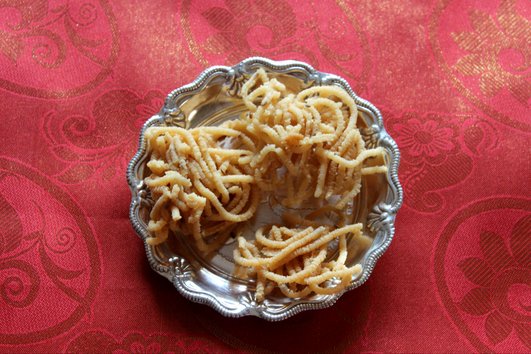 Thenkuzhal murukku is one of the favourite snacks prepared especially during Diwali festival. It is an important snack for Diwali menu in many South Indian homes. It is a very tasty and crisp snack made from rice and urad dal flour. All you needs is thenkuzhal press and mould and it can be prepared quickly at home itself. If you have time, you can also make murukku flour at home itself. Soak rice for upto 2 hours and dry it in the sun or shade. Fry urad dal lightly in a pan. Grind both rice and urad dal together by giving to a flour mill. Murukku flour is ready. Otherwise it is also a good option to opt for readymade rice flour. Just sieve the flour before making it.
Ingredients
Rice flour - 1 cup
Urad dal - 2 tablespoons
Cumin seeds (jeera) - 1/2 teaspoon
A pinch of asafoetida (hing)
Butter - 1 tablespoon (melted)
Salt to taste
Cooking oil for frying
Method
Step 1
HOW TO MAKE THENKUZHAL MURUKKU RECIPE Grind the cumin seeds in a mixer for just 2 seconds to a very coarse powder. Keep it aside
Step 2
Dry roast the urad dal lightly in a pan on low flame. Grind them to a fine powder. Set aside
Step 3
In a mixing bowl, add rice flour, urad dal powder, cumin seeds powder, salt, hing and melted butter and mix well.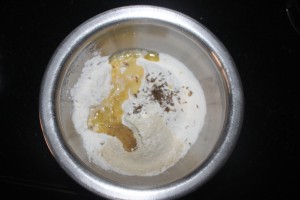 Step 4
Add hot water little by little and make a soft dough. Ensure there are no cracks in it.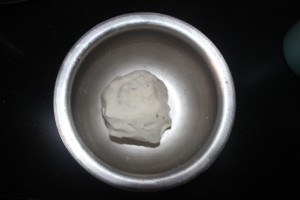 Step 5
Heat oil in a heavy bottomed pan or kadai on a medium flame. Once the oil is hot enough, add a small piece of dough to check the hotness. If the dough rises to top immediately, it means now the oil is hot enough for deep frying.
Step 6
I have used a mould with a plate having multiple round holes.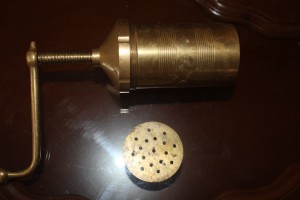 Take a thenkuzhal mould and put a handful of dough and close it with the help of the mould.
Step 7
Now make a circle with the mould directly into the oil and deep fry till golden brown on both the sides.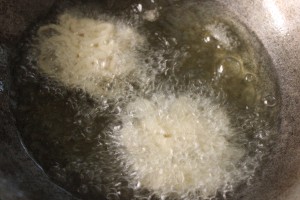 Alternatively, you can make a circle of dough on the back of the ladle and slide it gently into the oil.
Step 8
Remove the murukkus in an absorbent paper to remove the excess oil. Once it cools down completely, store them in an airtight container. It stays crisp for a fortnight.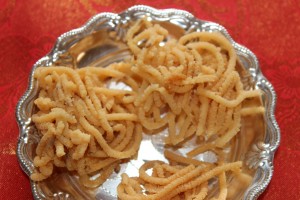 Step 9
NOTES : You can also add white sesame seeds instead of cumin seeds while mixing. I made murukku with the mould plate having mutiple holes. You can also use the plate having 3 round holes. Dry roasting urad dal is optional. You can grind urad dal directly and then use for mixing. Grinding the cumin seeds lightly before mixing, gives a nice aroma and flavour to murukkus. Ensure to sieve both rice and urad dal flours to get a smooth murukku.