Masala paniyaram or paddu or kuzhi paniyaram recipe – snacks recipe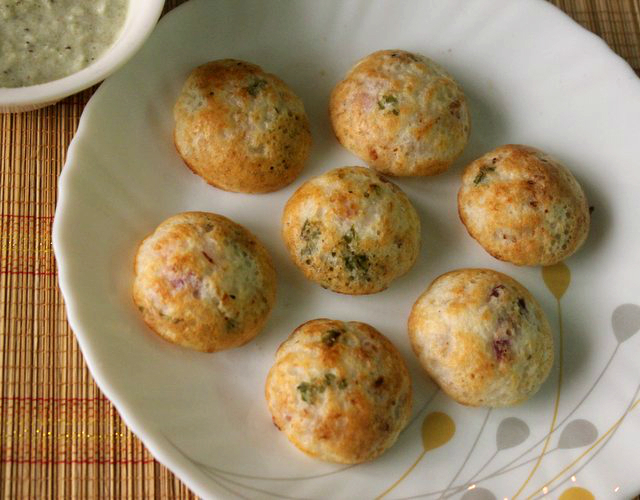 Paddu or kuzhi paniyaram or masala paniyaram is a popular south indian snack recipe made with idli batter and mild spices mixed to it. They are spiced dumplings  which are crisp outside but soft from inside.  You can have this as a breakfast dish or as a light evening snack.  Kuzhi paniyaram can be prepared quickly if you have the idli batter ready with you.  Also you need to have a paniyaram pan which is readily available in the market.  There are two versions of  paniyaram.. masala paniyaram and sweet paniyaram.  This is the spicy version of  paniyaram.  You can make your version by adding grated carrot or cabbage and make it more healthier.  They are best served with coconut or green chutney or sambar.
Kuzhi paniyaram is a healthy dish like other south indian breakfast dishes like idli, dosa or upma.  Do try kuzhi paniyaram  for a change from normal idli or dosa.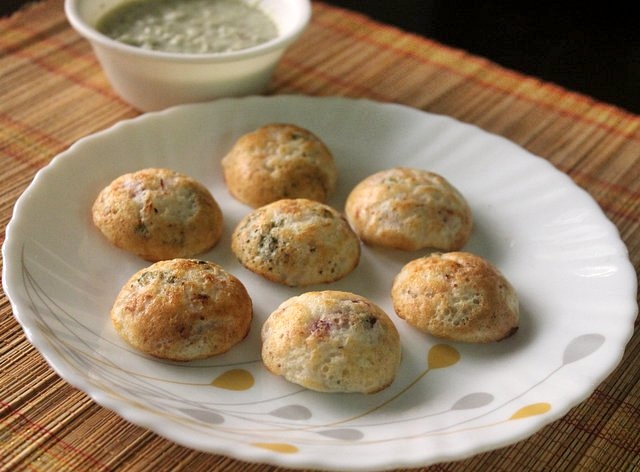 Prep Time :  15 mins
Cook Time :  20 mins
Servings :  2-3 persons
South Indian cuisine
INGREDIENTS
Fermented idli batter – 3 cups
Onion – 1 (chopped finely)
Green chillies -2 (chopped finely)
Grated ginger – 1/2 teaspoon
Freshly grated coconut – 2 tablespoons
Curry leaves – 10 (chopped finely)
Coriander leaves – 2 tablespoons (chopped finely)
Oil for greasing the paniyaram pan
Salt to taste
HOW TO MAKE OR PREPARE PADDU OR MASALA OR SPICY PANIYARAM RECIPE
Take the idli batter to a mixing bowl.  To this batter, add chopped onions, ginger, green chillies, grated coconut, curry leaves, coriander leaves and salt and mix well.
Heat a paniyaran pan on a medium flame. Add 2-3 drops of oil to each mould.  Pour the spiced idli batter to each mould upto 3/4 of the mould.  Cook on the medium flame.  Once the edges turn golden brown, flip the paniyaram on the other side  and cook for another 2 minutes or till golden brown. Add oil on the other side if required.
Once cooked on both the sides, remove the paniyaram from the pan to a serving plate.
Serve masala paniyarams hot or warm with coconut chutney or sambar or tomato chutney.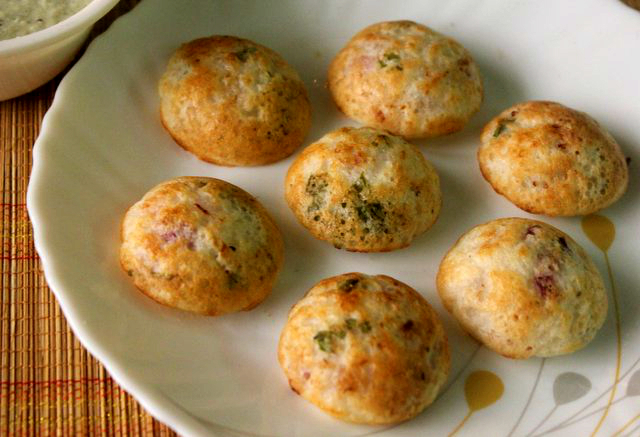 NOTES/TIPS
Ensure the batter is little thick for holding the paniyaram shape.
Use non-stick paniyaram pan for a healthier version, as it requires very little oil.
Add grated carrot or cabbage to the batter to make it more nutritious and healthy.