Homemade pav recipe – How to make ladi pav recipe – eggless bread recipes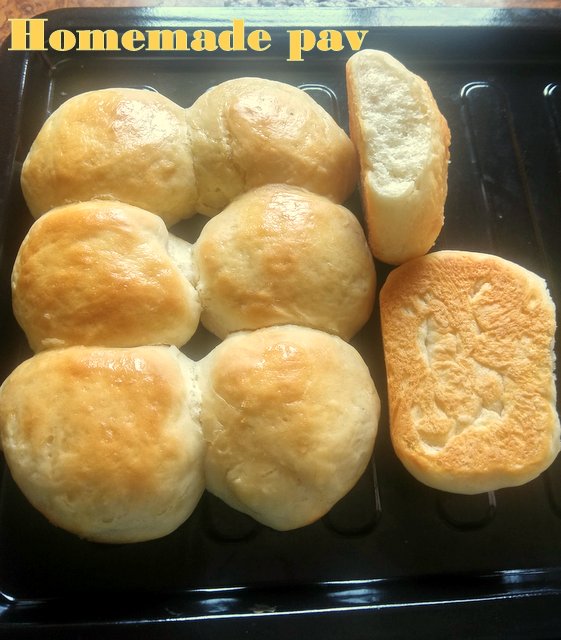 Ladi pavs are baked breads made with all-purpose flour or maida.  You can also use 100% whole wheat flour for making these pavs.  But the wheat roll would be a little dense and not fluffy.  You can use half wheat flour and half all-purpose flour. Pav is like a bread roll made with very few and simple ingredients like flour,  milk, sugar, salt, yeast and water.  This eggless ladi pav bread is a very popular street food, especially in Mumbai.  They are not only easy to make, but tastes delicious too, as they are baked fresh at home.
Ladi pavs are ideally served with pav bhaji, vada pav, dabeli or misal pav.  But ladi pavs can also be had with a spicy vegetable curry.  Here I have used 100 % all-purpose flour as it makes the pavs light and spongy.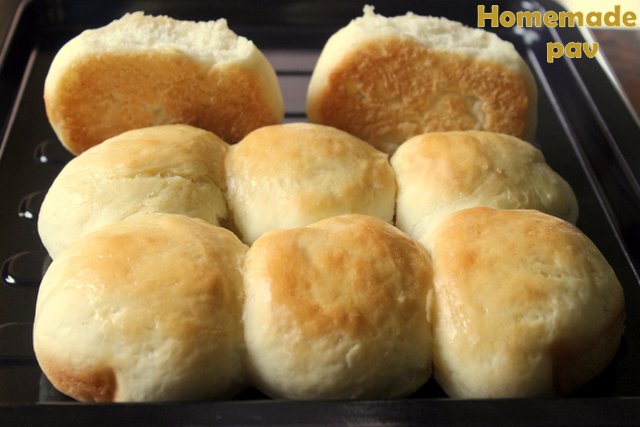 Prep Time :  1 hr 30 mins
Cook Time :  20 mins
Yield :  8 pavs
Indian cuisine
INGREDIENTS
All purpose flour or maida – 250 gms
Milk -100 ml
Salt – 1/2 teaspoon
Oil – 2 tablespoons
Butter for applying on the pavs
Sugar – 1 tablespoon
Active dry yeast – 1  & 1/4 teaspoon (6 gms of yeast)
Warm water – 1/2 cup
HOW TO MAKE OR PREPARE MUMBAI LADI PAV RECIPE
In a small bowl, add 1 tablespoon of sugar and 1/2 cup of water.
Add 1 & 1/4 teaspoon of dry yeast and mix well.
Allow it to rest in warm place for 10-15 minutes until the yeast activates.  Meanwhile take a large mixing bowl.  Add 250 gms of maida and 1/2 tsp of salt (sieve the flour to ensure there are no lumps).
Once the yeast is activated, it will rise up a bit and become thick and frothy.  Add this activated yeast to the flour and mix well.
Combine everything well.  Add 50-100 ml of milk little by little and knead the dough. (add milk as needed to knead the dough).
The dough will turn sticky at first.  Keep kneading the dough for 10-15 minutes. Add little oil or butter and continue to knead. Slowly the dough will become soft and smooth after thorough kneading.  The key to soft pavs is well kneading of the dough.
Grease little oil to the same bowl. Tuck the dough and place it in the bowl.
Smear the dough with little oil on the top and keep it covered for 1 to 2 hours in a warm place.  The dough will rise to double its size.
Knead the dough again slightly  for another 2-3 minutes.  The dough will shrink a bit.
Divide the dough roughly into equal parts.  Make small balls out of them and keep it ready
Meanwhile grease a baking tin or tray with little oil or butter.  You can use round or square tin as desired by you.  Take one ball sized dough and make a smooth ball by tucking it to the back of the ball.
Arrange the pavs in a greased tray and cover it with a lid or a cloth.
Give some space between each dough ball to give some room to spread as they rise.  Keep it aside for 30 minutes.  The balls will expand and fill up the empty space.  It is now ready for baking.
Brush or apply some milk on top of the dough.  Take care not to press too hard.  Preheat the oven and bake at 180 degree celcius for 15-20 minutes or till the pav becomes light golden brown from top.
Once the pavs are baked, they will be slightly hard. So rub with little butter on top and  the pavs stay soft and gets a shiny look.
Allow the pavs to cool down completely.  Homemade pavs are ready to be served with pav bhaji.
NOTES/TIPS
Do not use the inactive yeast.  Always use the active dry yeast.
Brushing milk on the pavs before baking, gives a nice golden colour to the pavs.
Ensure to knead the flour dough well for atleast 10-15 minutes after adding the yeast.  This helps for getting soft pavs.
Allow the kneaded dough to rest for atleast an hour so that it rises and becomes double the size of the dough.
Kneading the dough with milk makes the pavs soft and tastes good.
Adding sugar to the yeast helps to become frothy and speed up the activation process.  Sugar also acts as a preservative and keeps the bread fresh for a long time.