Til ke ladoo or sesame seeds ladoo recipe – How to make til ke laddu or til gul ladoo recipe – Sankranti recipes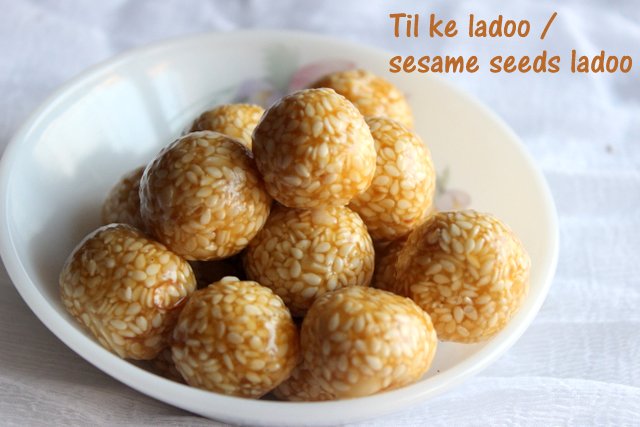 Til ke ladoo or til gul laddu is a very popular Maharastrian sweet dish made during Makar Sankranti which is a Hindu festival celebrated on 14th January every year. This ladoo is made with sesame seeds, jaggery and ghee. It is a tradional winter sweet because it is consumed in winter months as til is known to have heating properties. Til ladoo can be prepared quickly and easily made and stored upto 2 weeks in a tight airtight container.
Sesame seeds are called as ellu in kannada and they are rich in calcium, iron and other nutrients.
This sweet dish is a mixture of sesame seeds (called "Til" in Marathi/Hindi) and jaggery (called "Gul" in Marathi/Hindi) and hence the name. On Sankranti eve, families serve their guests with Tilgul while saying "Tilgul ghya, goad goad bola" which literally means "Take Tilgul and talk sweetly". (info : Wikipedia)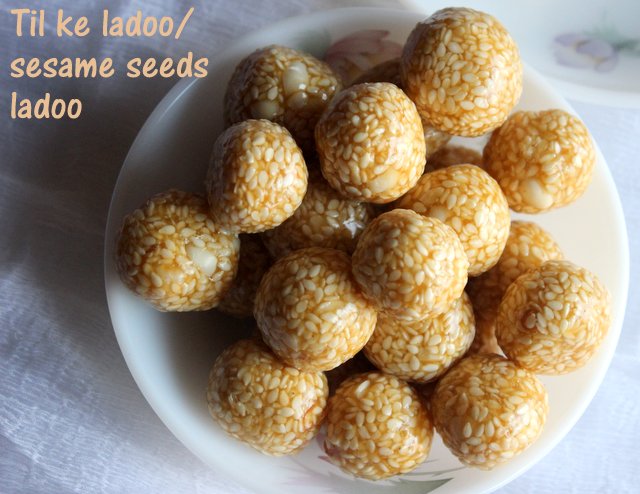 Prep Time :  15 mins
Cook Time : 10  mins
Servings :  15 ladoos
Maharashtrian cuisine
INGREDIENTS
White sesame seeds or til – 1 cup
Powdered or grated jaggery – 1 cup
Peanuts – 1/4 cup
Ghee – 1 tablespoon
HOW TO MAKE OR PREPARE TIL KE LADOO OR SESAME SEEDS LADDU RECIPE
Add the peanuts to a pan and roast for 3-4 minutes. Once cooled down, remove the skin and grind the peanuts into one or two pieces. You can crush the peanuts in a mortar pestle to a coarse powder.
Keep the ground peanuts aside.  Keep little ghee and little water in small cups for greasing and making the ladoos.
To the same pan, add sesame seeds and dry roast on low flame, stirring continuously, till they become light brown. Take care not to over roast or make too brown.  The sesame seeds will pop up a bit and change the colour.  This will take about 4-5 minutes.  Once done,  keep it aside.
To the same pan, heat one tablespoon of ghee in a pan. Add jaggery and keep stirring continuously on a low flame, till the jaggery melts completely.  Add 2 teaspoons of water to it.
Melt the gur on a low flame.  Keep cooking on low flame, till the jaggery is melted completely.  The bubbles will start appearing after some time.
To check if the jaggery is of right consistency, put few drops of melted jaggery into water.  The jaggery will become sticky and form a small ball.  That is the right consistency.
Add the roasted sesame seeds to the jaggery mixture and mix well.  Stir continuously till the mixture binds together and forms a lump.  Switch off the flame.
Remove the mixture to a plate immediately (as it tends to solidify fast if left in the pan).  If it is too hot, wait for few seconds and then start making the ladoos.  Apply little water to your palm and grease with little ghee and then start making ladoos.  You can scoop the mixture with the help of a spoon and make the ladoos.
Til ladoos can be stored in an airtight container for upto 2 weeks.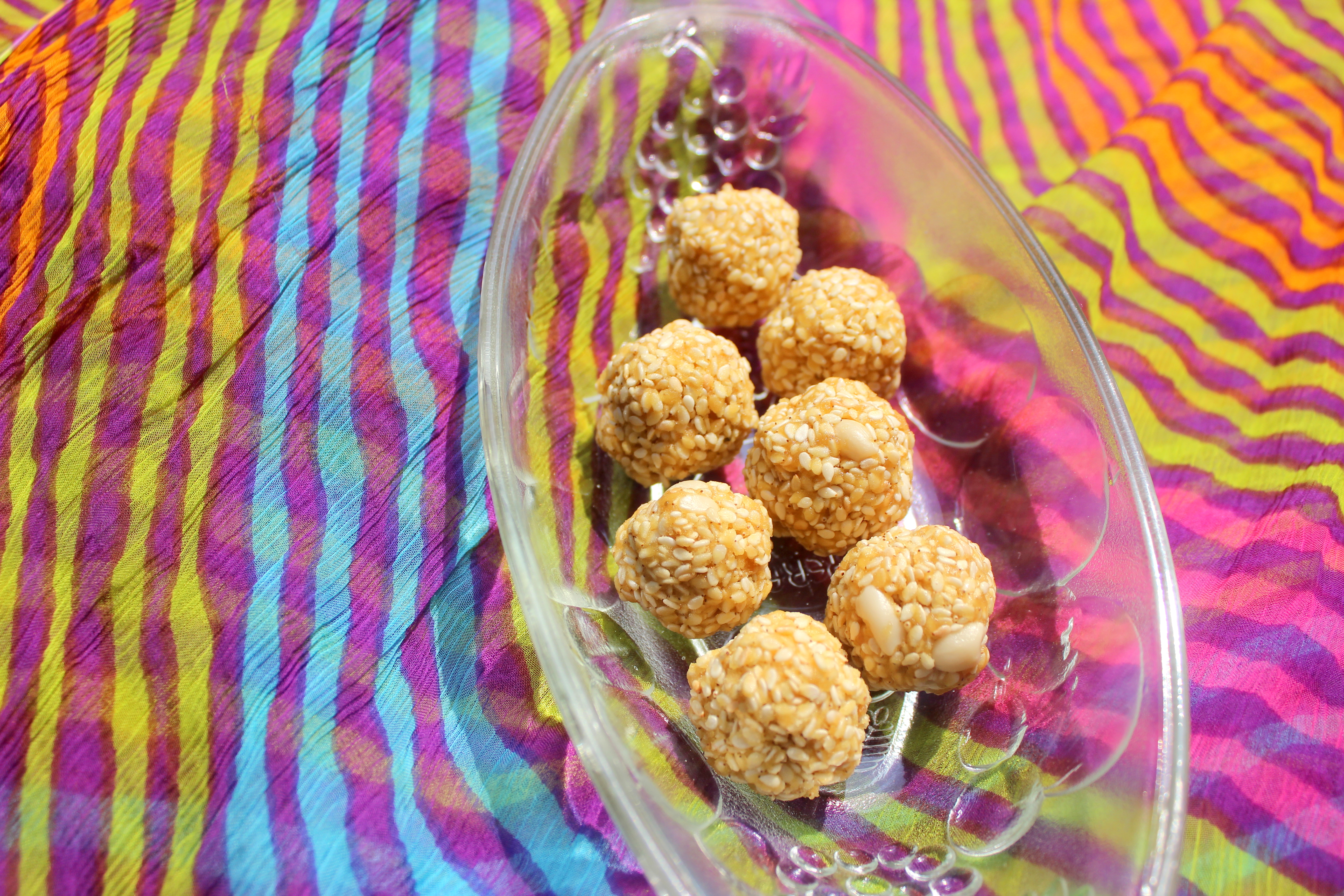 Serve til ke ladoo on Sankranti or serve as a snack.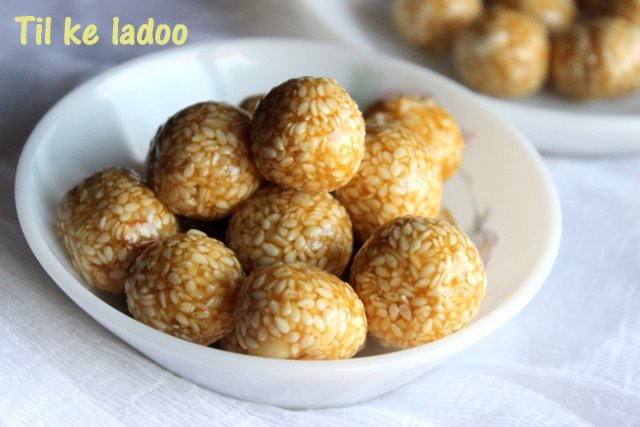 NOTES/TIPS
Make laddus when the mixture is still warm. If the mixture becomes cold, it becomes difficult to make ladoos out of it.
You can add dessicated coconut and cardamom powder for more flavor and taste.
You can also grind the roasted sesame seeds to a coarse powder and then make the ladoos.
The colour of the ladoos depends on the jaggery used for making the ladoos.