Watermelon popsicles – how to make watermelon popsicles – summer recipes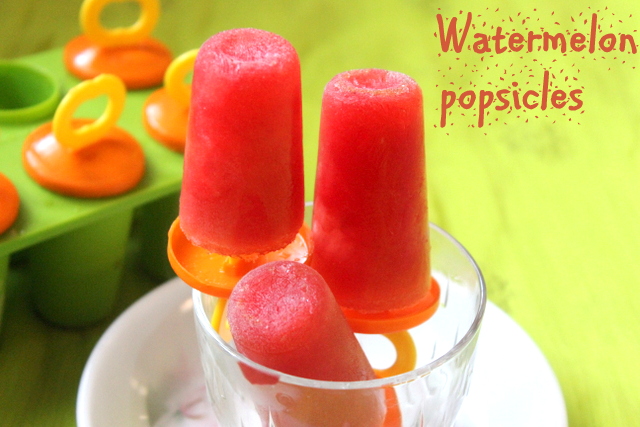 Watermelon popsicles – a delicious and cooling ice pop made with watermelon juice and small chunks of watermelon.  Enjoy this summer with this water based frozen snack made with watermelon.  You can make a variation in popsicles with different fruits and even add few chocolate chips for a chocolatey flavour.  Popsicles are very easy and quick to make – except for the freezing time.  But it is worth the wait to enjoy this fruity and healthy popsicles.
If you are looking for cooling snacks, do check mango ice-cream and chocolate kulfi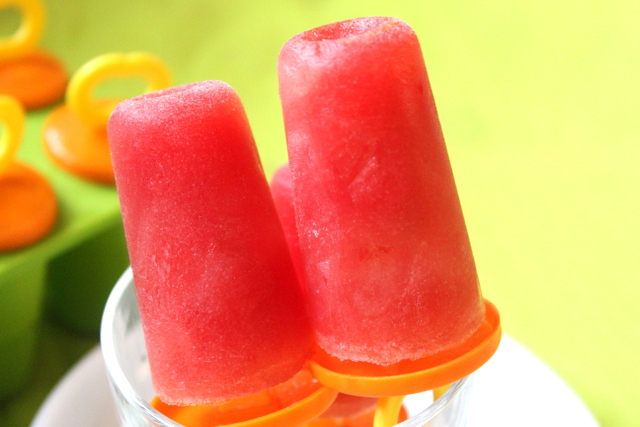 Prep Time : 10  mins
Freezing time :7 to 8 hours or overnight
Makes 6 popsicles 
INGREDIENTS
Chopped watermelon pieces – 1 1/2  to 2 cups
Lemon juice – 1 tablespoon
Sugar – 2 teaspoons (optional)
A pinch of salt
HOW TO MAKE OR PREPARE WATERMELON POPSICLES RECIPE
Chop the watermelon into medium or small pieces.  Discard the seeds.  Take the watermelon pieces to a blender or mixer.  Add lemon juice, sugar and a pinch of salt.
Blend everything well and remove the juice.  You can also remove the juice with the help of a juicer.  With the help of a strainer, pour the mixture into a bowl.  Press the fibrous melon with the back of a spoon to remove the maximum amount of juice.  Discard the pulp.
Pour the watermelon juice into the popsicle moulds.
Drop in few small chunks of watermelon into the moulds.  Close the moulds with its sticks.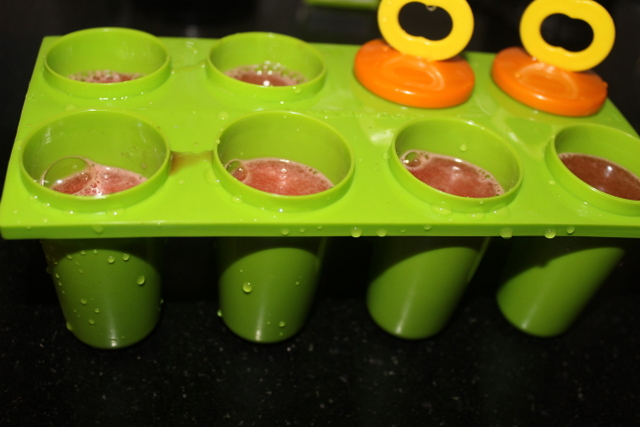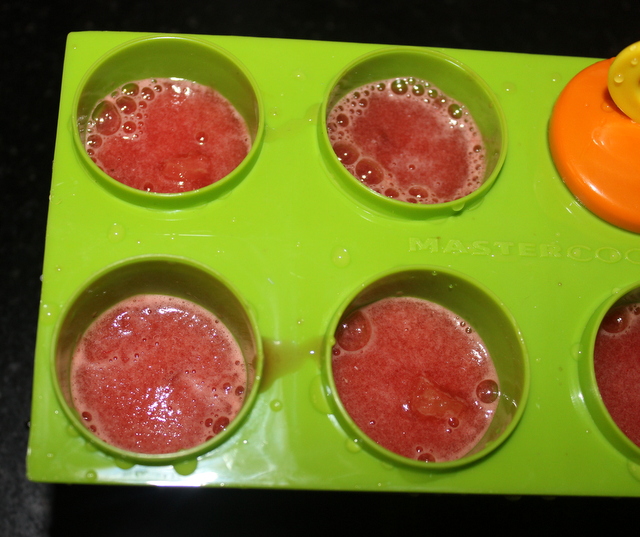 Freeze it for 7-8 hours or till frozen.
Enjoy the chilled popsicles during summer..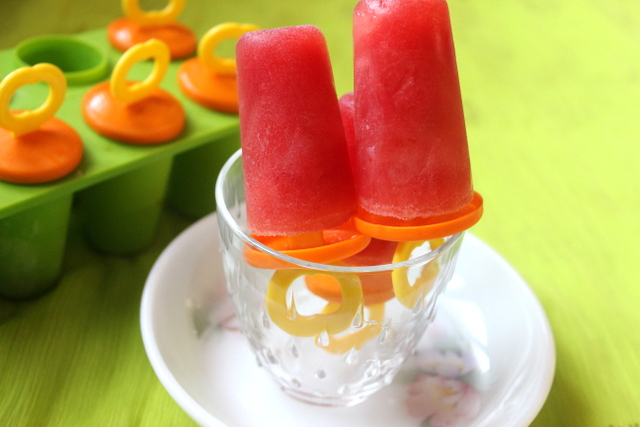 NOTES/TIPS
Lemon juice gives a slight tangy taste and sugar adds to the sweetness to the popsicles.
You can also freeze in ice cube trays and insert the sticks halfway through freezing and then freeze again until solid.