Masala papad recipe – How to make masala papad recipe – Indian recipes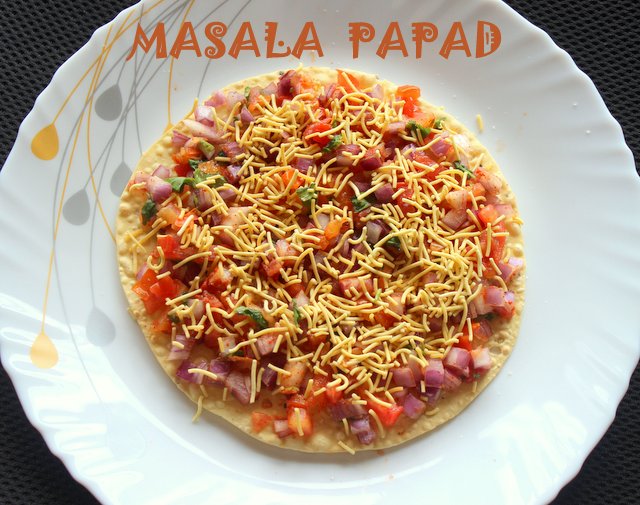 Masala papad – a crispy, tasty and tangy Indian snack made with onion tomato mix and spices.  In this recipe, you can either roast or deep fry the papad for making the masala papad.  Here I have used the Lijjat urad dal papad, but you can use any normal urad dal papad or even jeera or pepper flavoured urad dal papad.  You can either roast the papad in a pan on stove or microwave.
Masala papad is generally served as a starter or as an appetizer in Indian restaurants.  The ingredients required for making masala papad is easily available and can be prepared in a jiffy.  A popular fast food snack in India, this dish is very easy to make too.  Only ensure that the toppings are fresh and consumed immediately after assembled, as they tend to become soggy after some time.  For variation, add grated raw mango or carrot or finely chopped cucumber to make it more healthy and nutritious.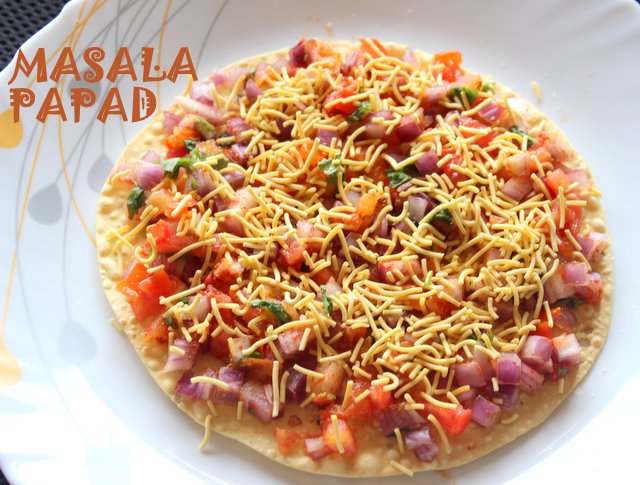 Prep Time : 5 mins
Cook Time :  5 mins
Yield :  2 masala papads
Indian cuisine
INGREDIENTS
Urad dal papads – 2 large ones
Onion – 1 (chopped finely)
Tomato – 1 (chopped finely)
Chat masala -1 teaspoon
Red chilli powder – 1 teaspoon
Fine sev – 1 cup (optional)
Coriander leaves finely chopped – 2 tablespoons
Lemon juice – 1 tablespoon
Salt to taste
HOW TO MAKE OR PREPARE MASALA PAPAD RECIPE
Take a bowl and add chopped onions, tomatoes and coriander leaves.  Then add red chilli powder, salt and chat masala.
Mix all the ingredients well.  Heat a tawa or non-stick pan on medium flame.
Keep all the ingredients ready – onion-tomato-coriander leaves mixture, lemon juice and sev.  Roast the papad with the help of a spatula, by pressing the papad with spatula.
After few seconds, flip the papad and roast on the other side by pressing it with spatula.  Roast the papad till golden brown and crispy.
Keep the roasted papad on a plate.  Spread the onion-tomato-coriander leaves mixture on the papad evenly.  Add the sev evenly.  Lastly squeeze the lemon juice on all the sides of the papad.
Serve masala papad immediately as the papad tends to become soggy.  Have it as a starter or as a snack as well.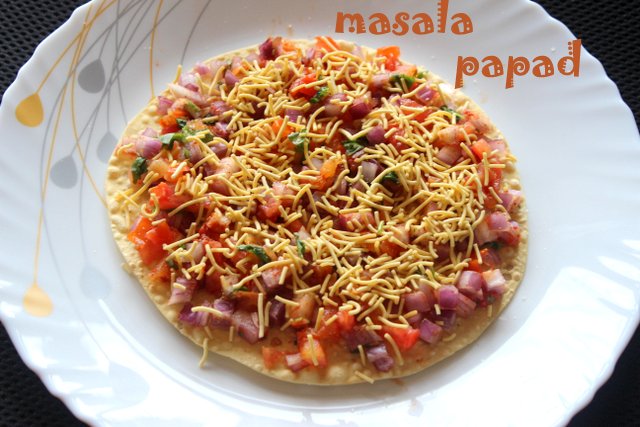 NOTES/TIPS
You can add finely chopped green chillies to make it more spicy.
Urad dal papad tastes best for this masala papad recipe.
You can deep-fry the papad instead of roasting them.
In this recipe, I have used Lijjat urad dal papad.  You can use any pepper or jeera flavour urad dal papad too.