Wheat ladoo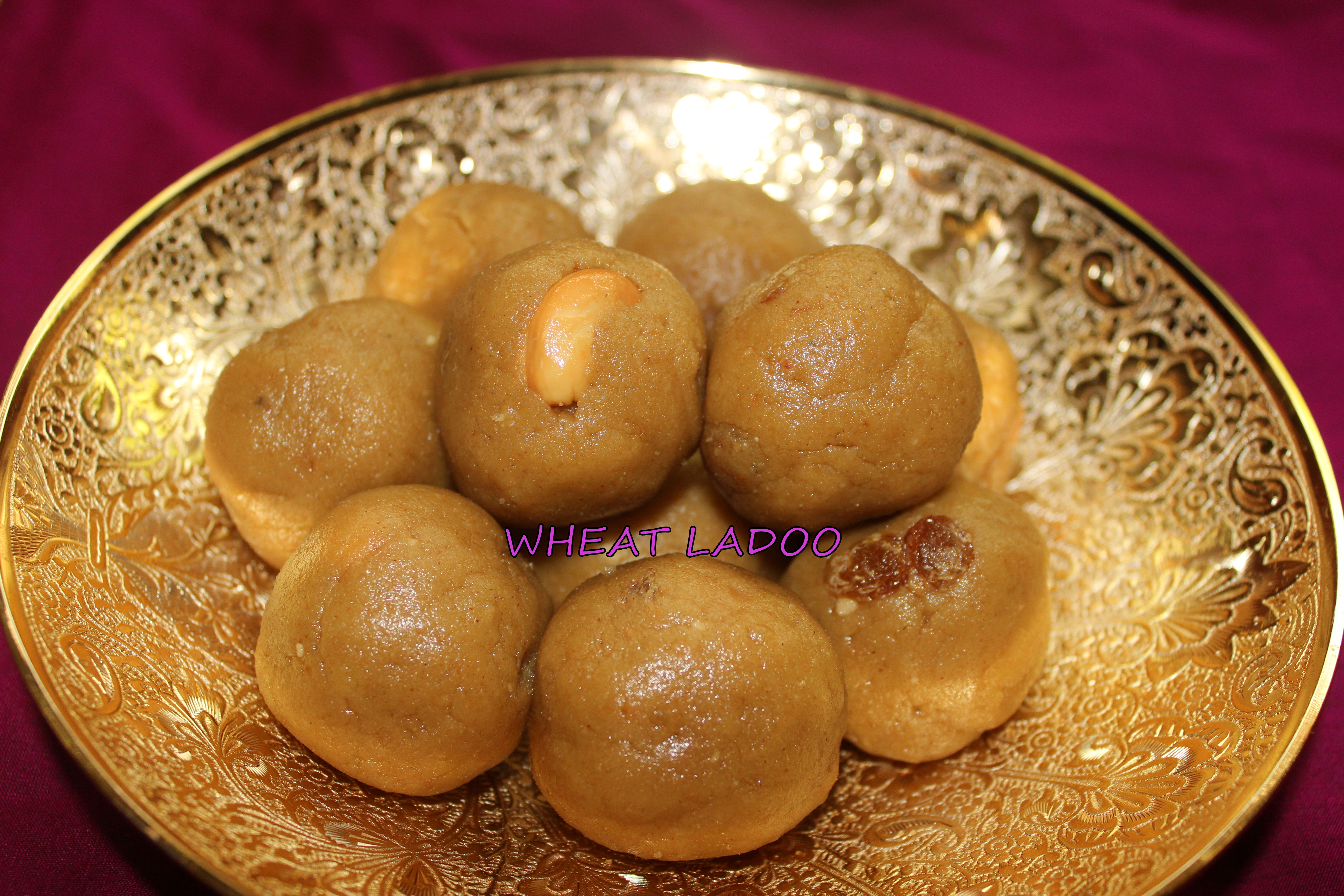 Wheat ladoo or atta ladoo is a popular Indian sweet made of whole wheat flour, jaggery and ghee and mixed with nuts and dry fruits and it can be served on all festive occasions. It is also called as godi hittu unde in Karnataka. It is one of the simplest recipes  and takes less time and effort to prepare.  Wheat flour ladoo is more healthy than any other ladoo as whole wheat flour is a good source of carbohydrates and efficient source of energy to human body.  Adding cashew nuts, almonds makes it even more nutritious as almonds are a good source of proteins.
Ingredients
Wheat flour/atta - 1 cup
Grated jaggery - 3/4 cup
Ghee - 1/4 cup
Cardamom powder - 1/4 teaspoon
Cashewnuts/raisins - for garnishing
Method
Step 1
HOW TO MAKE WHEAT LADOOS OR ATTA LADOOS Heat ghee in a non stick kadai. When it is warm, add wheat flour and stir fry continously for 20 to 25 minutes on a low flame.
Step 2
Stir the wheat flour till you get a nice aroma and the wheat flour changes to light brown colour. Remove the flour in a mixing bowl.
Step 3
Add cardamom powder, cashewnuts and raisins to the roasted flour and mix well. Keep aside
Step 4
In the same kadai, add grated jaggery and 3-4 tablespoons of water and stir continously on a low flame. Heat till the jaggery melts down completely. Take care not to overheat the jaggery otherwise it becomes too sticky.
Step 5
Add the melted jaggery to the wheat flour mixture. Mix well with the help of a spoon as the melted jaggery is very hot.
Step 6
When the mixture cools down and becomes little warm, apply some ghee to your palm and make ladoos of size as desired by you.
Step 7
Garnish the ladoos with cashewnuts.
Step 8
Once cooled down completely, you can store wheat ladoos in an airtight container. It remains good for 4 to 5 days.