Aloo or alu palak curry recipe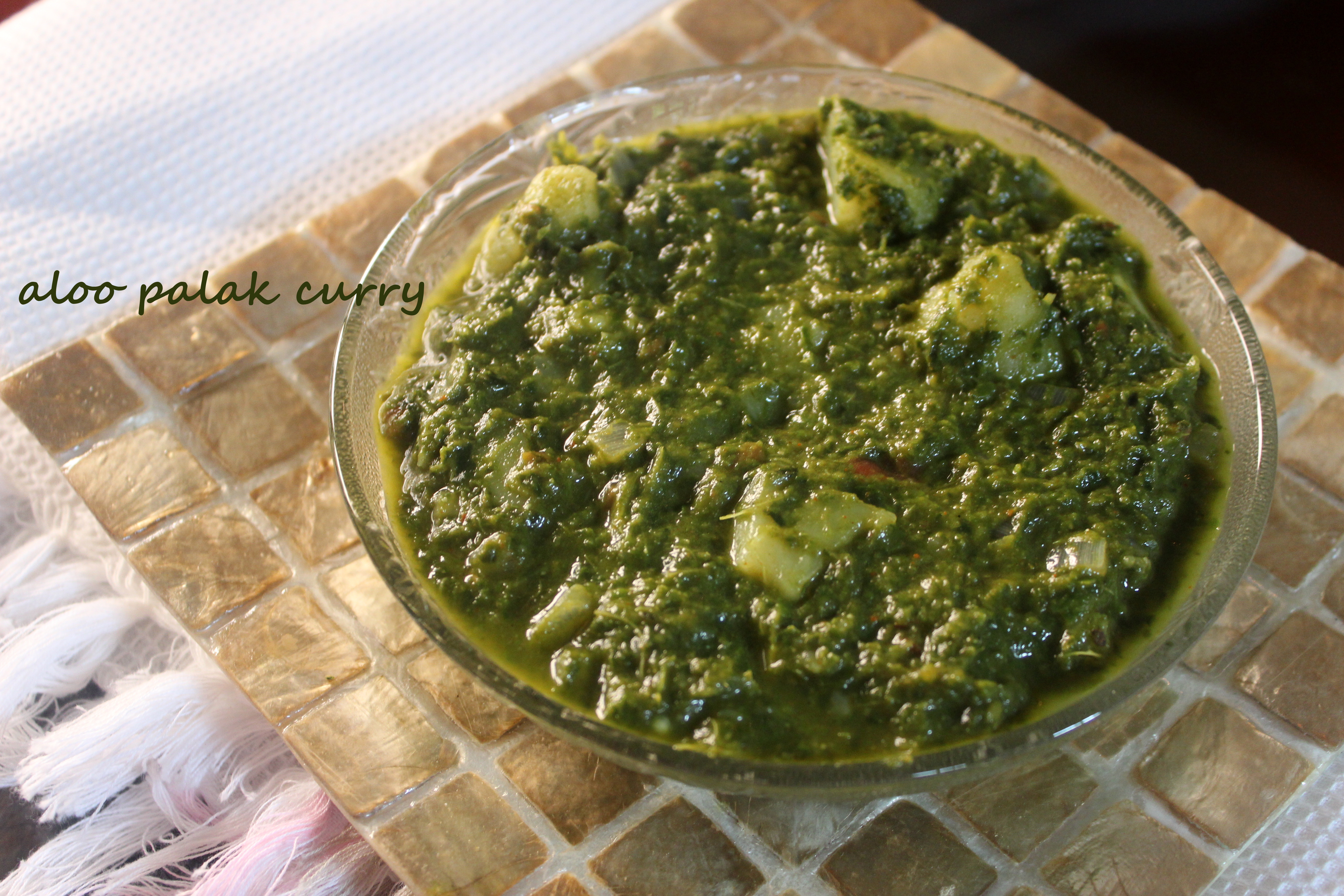 Aloo palak curry is a very healthy and simple curry made with spinach leaves, potatoes and mixed with spices. It is a good combination with rotis, naans or pulao. Aloo palak curry is also nutritious because of spinach leaves which is full of iron and it makes up for a light and healthy curry. Spinach gives a vibrant green color to the dish.
Ingredients
Spinach leaves - 4 cups (chopped)
Onion - 1 (chopped finely)
Tomatoes - 2 (chopped finely)
Potatoes - 2 (medium ones)
Green chillies - 2
Cooking oil - 2 tablespoons
Cumin seeds - 1/2 teaspoon
Bay leaf - 2
Cinnamon - 1 inch small piece
Red chilli powder - 1/2 teaspoon
Coriander powder - 1 teaspoon
Garam masala - 1/2 teaspoon
Kasoori methi - 1 teaspoon
Sugar - 1/2 teaspoon
Ginger-garlic paste - 1 teaspoon
Salt to taste
Method
Step 1
HOW TO MAKE ALOO OR ALU PALAK CURRY RECIPE Pressure cook the potatoes upto 4 whistles or till they are cooked. Once cooked, peel them and cut into medium pieces and set aside.
Step 2
Wash the spinach leaves thoroughly under running water. Chop them into medium pieces.
Step 3
Heat a pan. Add spinach leaves, sugar and green chillies and saute them on medium flame, till they become soft. Switch off the flame. Once cooled down, grind them to make a smooth puree.
Step 4
Alternatively, you can blanch spinach leaves in hot water for 10-15 minutes and then grind them to make a soft paste.
Step 5
Heat oil in a pan. Add cumin seeds, bay leaves, cinnamon and stir fry for few seconds.
Step 6
Add chopped onions and ginger-garlic paste and cook till onions become translucent.
Step 7
Add chopped tomatoes and cook till they become soft.
Step 8
Add red chilli powder, coriander powder and mix well. Cook for another 2 minutes on a low flame.
Step 9
Now add spinach puree and salt and combine together. Let it cook for 4-5 minutes. Add water as required to bring it to medium consistency.
Step 10
Add boiled potato pieces and cook for another 2-3 minutes.
Step 11
Finally add kasoori methi and garam masala and mix well. Cook for a minute and switch off the flame.
Step 12
Serve aloo palak curry hot with rotis or pulao.