Gulab Jamun recipe / how to make khoya gulab jamun recipe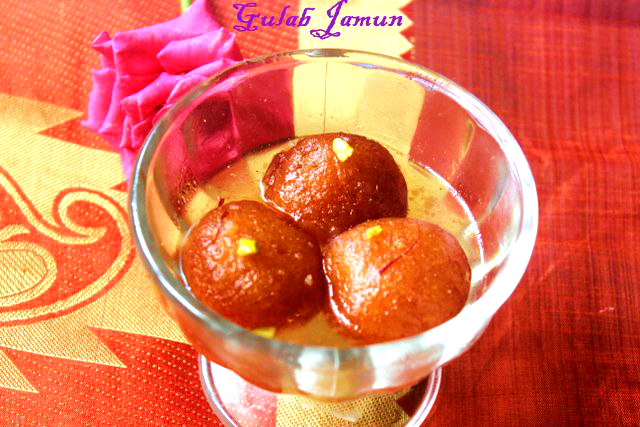 Gulab jamun is a milk-solids based Indian dessert and very popular during festivals, special occasions like weddings or birthday parties.  These milk solids known as khoya or mawa  are kneaded into a dough with little all purpose flour and then shaped into small balls.  They are then deep-fried and then soaked in a sugary syrup flavored with green cardamom and rose essense or saffron.  It gets its name from Gulab and Jaman which means rose for the rose flavored syrup and Jamun which is  the deep fried light or dark brown dumplings. Gulab jamun is best served warm or cold or at room temperature or topped with ice-cream.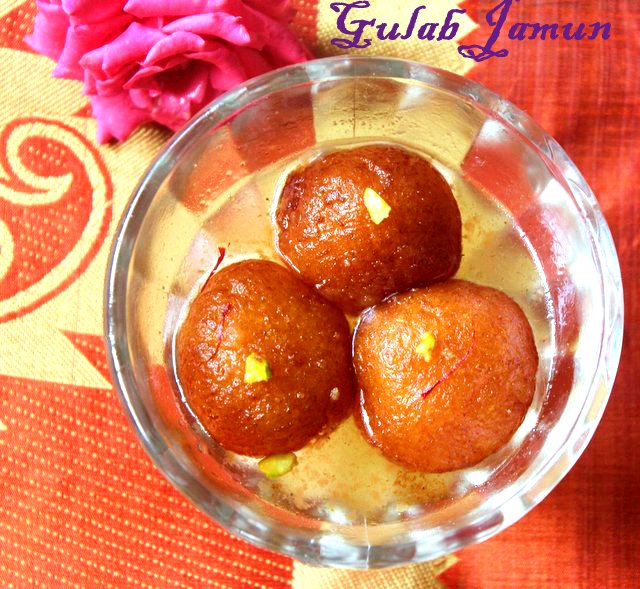 Prep Time :  20 mins
Cook Time : 30  mins
Yield :  20-22 gulab jamuns
Indian cuisine
INGREDIENTS
Khoya – 1 cup
All purpose flour or maida – 3 tablespoons
Cooking soda – 1/4 teaspoon
Oil for deep frying
FOR THE SUGAR SYRUP
Sugar – 1 1/2 cups
Water – 1 1/2 cups
Saffron – 10-12 strands
Rose essence – 3-4 drops
Cardamom powder – 1/4 teaspoon (optional)
HOW TO MAKE OR PREPARE GULAB JAMUN RECIPE
Crumble the khoya thoroughly or mash it well by hand. Ensure there are no lumps or pieces in the khoya.  Take a mixing bowl and add the crumbled khoya.  To this add  maida and cooking soda and mix well.
Add very little water or just sprinkle water to form a  smooth and soft dough.  No need to knead the dough.  Just gather them together to form a dough.  Cover the dough aside for 15-20 minutes.   Roll out gently to make  smooth balls out of the dough.
Heat a heavy bottomed pan on a low flame.  Add sugar, saffron strings and water and heat the sugar solution till the sugar is completely dissolved.   Do not make it too sticky.  Add cardamom powder and mix well. Switch off the flame once the sugar is dissolved fully.  Ensure that it does not reach the one string consistency.
Heat oil in a pan on medium flame.  When it is  medium hot, lower the flame and gently slide the balls into the oil.  Roll the jamuns with a ladle for even cooking and colouring.  Add 3-4 jamuns at a time so that it is evenly cooked.
Remove the fried jamuns into an absorbent paper to remove the excess oil.  Place the hot jamuns into the warm sugar syrup.  Finally add rose essence.  Cover and let it rest for an hour.  This helps the jamuns to absorb the sugar syrup well. They also increase a bit in size.
Serve gulab jamuns hot or warm or garnished with nuts of  your choice.  You can also refrigerate and serve chilled topped with icecream.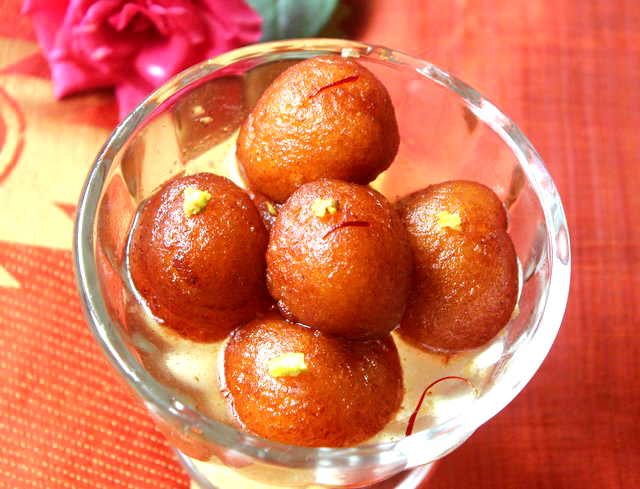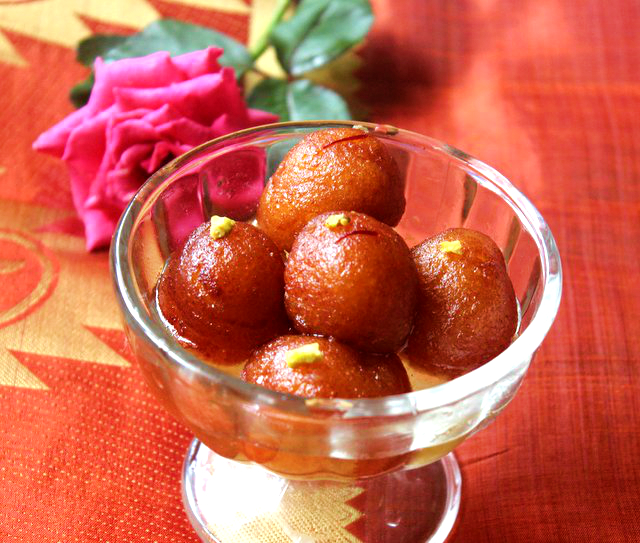 NOTES/TIPS
Dont knead the dough.  Just gently mix and form the balls.  If the  mixture is dry, add few drops of milk or water and then form balls.
Ensure there are no lumps or small bits in the khoya.  You can also grate the khoya.
Ensure there are no cracks in the balls.  Otherwise it might break while frying.
While deep frying, oil should be low hot to ensure even cooking and coloring.  Or else  it gets browned fast.
The sugar syrup should be warm before you add the fried jamuns to the sugar solution.  The syrup should be prepared earlier and kept warm.
If the  oil is too hot, then the gulab jamuns tend to break. Adjust the flame to ensure that the gulab jamuns do not break or cook too quickly.
You can make small balls as they tend to increase in size once it is soaked in sugar syrup.