Cornflour or karachi halwa recipe – easy halwa recipe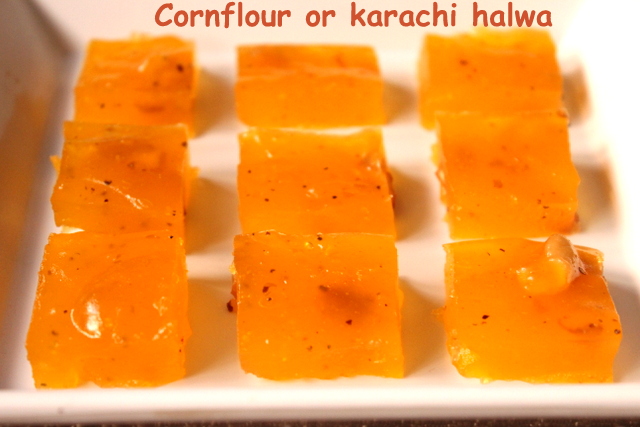 Cornflour or karachi halwa or bombay halwa is a very easy and quick halwa made with cornflour, sugar, ghee, cardamom powder and cashewnuts.  Unlike the other halwa recipes,  cornflour halwa requires very little ghee.  Adding little orange colour gives a bright look to the halwa.  Cornflour halwa is a perfect sweet for Diwali but can also prepare this halwa for any special occasions.
If you are looking for halwa recipes, you can try wheat halwa, chana dal halwa, carrot halwa, apple halwa, mango halwa in my blog.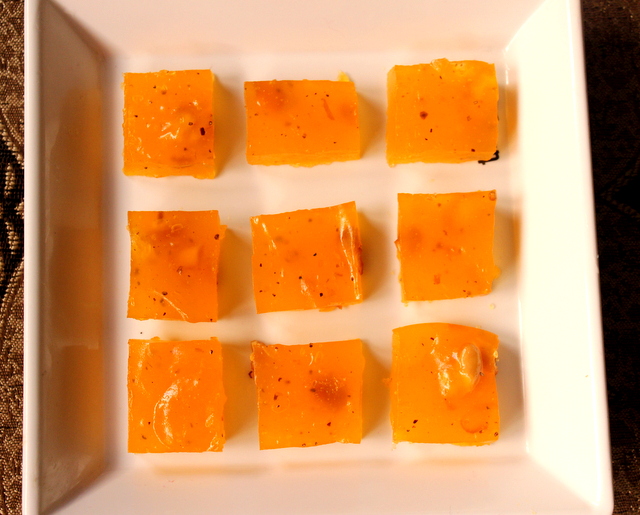 Prep Time : 10  mins
Cook Time : 20  mins
Indian cuisine
INGREDIENTS
Cornflour – 1/2 cup
Sugar – 1 and 1/2 cups
Water – 2 and  1/2 cups
Cardamom powder – 1/4 teaspoon
2  pinches of orange colour
Cashewnuts – few
Ghee – 2 tablespoons
HOW TO MAKE OR PREPARE CORNFLOUR OR KARACHI HALWA RECIPE
PREPARATION
Heat 1 tablespoon of ghee in a pan on a medium flame.  Add cashewnuts and roast till golden brown.  Keep it aside. Grease a plate with little ghee and set aside.
Take a mixing bowl.  Add 2 and 1/2 cups water, 1/2 cup cornflour and 2 pinches of orange colour and mix well. Ensure that no lumps are formed.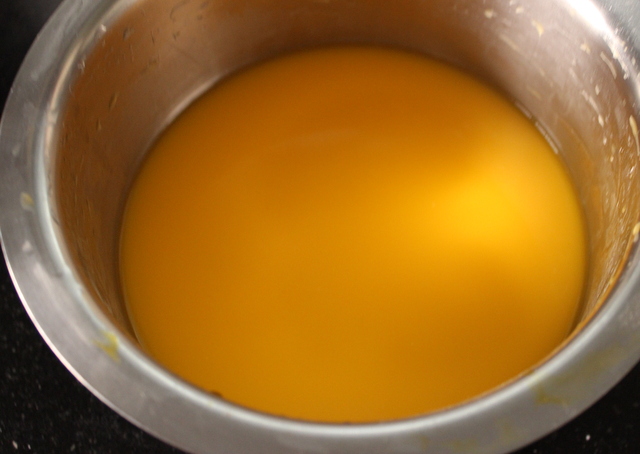 METHOD
Add 1 and 1/2 cups sugar and 1/2 cup of water in a heavy bottomed pan.  Heat the pan on a low to medium flame till the sugar is fully dissolved in the water.  There is no need for one string consistency.  Just ensure the sugar is full dissolved.
Once the sugar mixture starts simmering, add the cornflour mixture to the sugar syrup and keep stirring continuously on a low to medium flame.  Once the mixture starts thickening, add the remaining 1 tablespoon of ghee and keep stirring.  Add the roasted cashewnuts and mix well so that the cashewnuts gets well absorbed in the halwa.
Once the halwa gets glossy and starts leaving the sides of the pan, pour the halwa mixture into the greased plate.  Tap the plate gently so that the halwa mixture is spread evenly.
Leave the plate aside for an hour to cool down.  Once cooled down, cut into square or diamond pieces, as per the shape desired by you.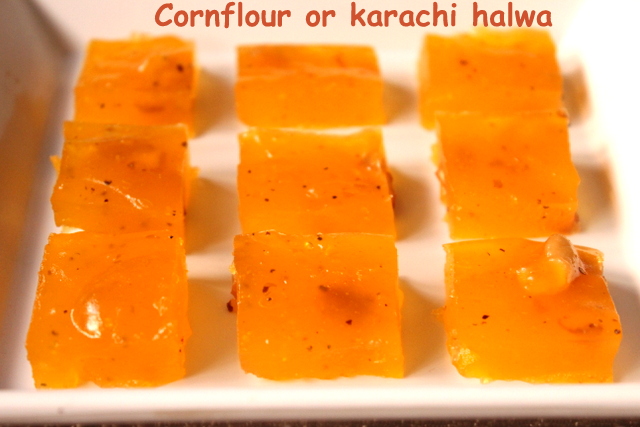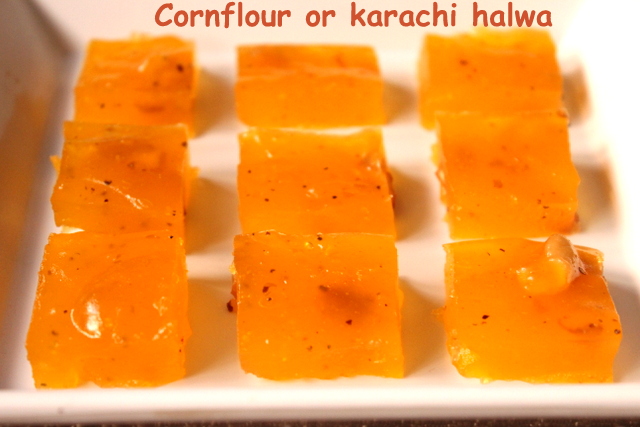 Serve the cornflour or karachi halwa warm or chilled. It tastes better anyways.
NOTES/TIPS
Ensure that the cornflour mixture is without any lumps.
Consume the halwa within 2 days.  It stays good for 3-4 days if  refrigerated.
It is better to use non-stick pan for making the halwa as it gives best results.
After pouring the halwa mixture to the greased plate, tap the plate immediately so that the mixture gets spread evenly and you get even and smooth halwa pieces.