Mango halwa recipe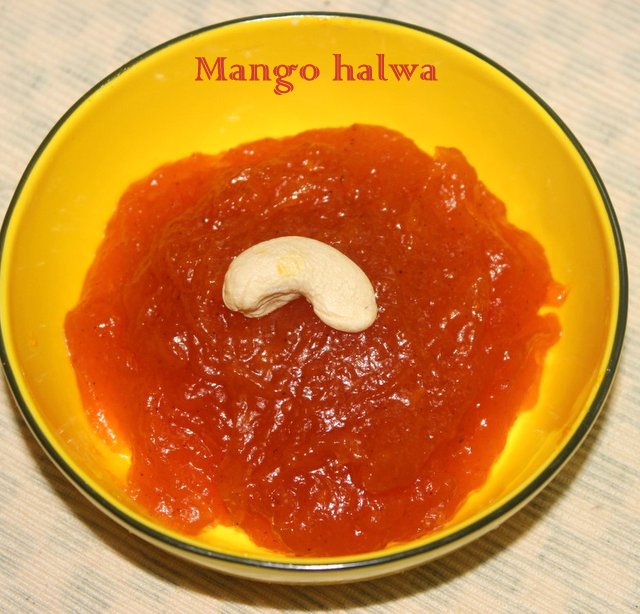 Mango halwa is a very delicious sweet made with fresh mangoes, ghee and sugar and garnished with nuts. It tastes best with alphonso mangoes. Mango halwa is a cherished Indian sweet and with flavour of fresh mangoes is a real treat for mango lovers.
Ingredients
Fresh alphonso mangoes - 2
Sugar - 1/2 cup
Ghee - 2 tablespoons
Cardamom powder - 1/4 teaspoon
Method
Step 1
Wash and remove the pulp out of the mangoes. Grind the mango pulp in a mixer into a fine paste.
Step 2
Heat a pan. Add 2 tablespoons of ghee. Add mango pulp and sugar and mix well.
Step 3
Cook on a low flame for 20 to 25 minutes stirring in between.
Step 4
Once the mixture leaves the sides of the pan and becomes little thick, it means that the halwa is ready. There will be a slight change in the colour.
Step 5
Add cardamom powder and remove from the heat.
Step 6
Grease a plate with ghee. Pour the mango halwa in the plate and allow it to set for 1 1/2 to 2 hours.
Step 7
Serve mango halwa warm or cold. Either way it tastes good.
Step 8
Note : If the mangoes are very sweet, you can reduce the quantity of sugar. No food colour is required to be added as mango has a natural orange colour.