Bottlegourd or Lauki/dudhi halwa or how to make dudhi halwa recipe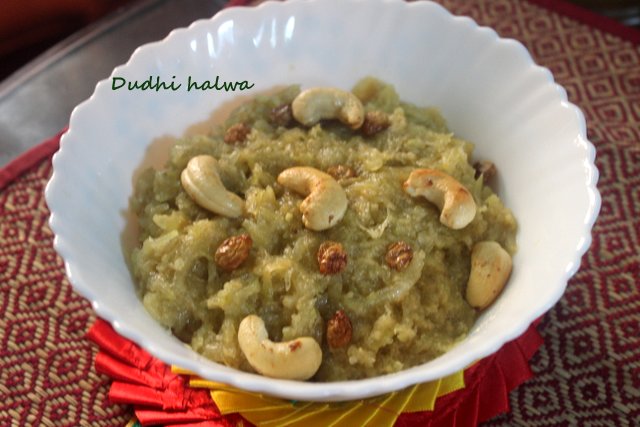 Bottlegourd or lauki/dudhi halwa is a very popular Indian traditional dessert made from bottlegourd, sugar, ghee and nuts. It is more popular during winter time as bottlegourds are easily available during this time and warm desserts are preferred during winter evenings. Dudhi halwa is very easy to prepare and is a sumptuous and rich Indian dessert. One dessert most people look forward to in the winter months is dudhi ka halwa. It is very appetizing and tastes great especially when served warm during winter evenings.
You can try similar sweet recipes in my blog
Ingredients
Bottlegourd or lauki or dudhi - 2 cups (grated)
Sugar - 2 cups
Milk - 2 cups
Mawa or khoya - 1/4 cup
Ghee - 4 tablespoons
Cardamom powder - 1/4 teaspoon
Cashewnuts/raisins - 1 tablespoon (chopped)
Method
Step 1
HOW TO MAKE BOTTLEGOURD OR LAUKI/DUDHI HALWA RECIPE Peel the skin and grate the bottlegourd. Squeeze out the excess water from the grated bottlegourd and keep aside.
Step 2
Heat ghee in a pan. Add chopped cashewnuts and roast till light brown. Remove and then add raisins and fry for few seconds till they puff up. Keep aside
Step 3
In the same pan, add grated bottlegourd or dudhi and stir fry till all the moisture is evaporated and dudhi turns transparent.
Step 4
Add milk and cook with the pan closed on a low flame. Cook for 10-15 minutes till the dudhi is fully cooked.
Step 5
Once the mixture reaches a thick consistency, add sugar and give a good stir. Cook for another 2 minutes till the sugar is fully absorbed by the mixture.
Step 6
Now add cardamom powder and khoya. Combine together and cook on a low flame for few minutes till a desired consistency is reached.
Step 7
Garnish with roasted cashewnuts/raisins and serve dudhi halwa hot or cold as desired.