Apple halwa or seb ka halwa recipe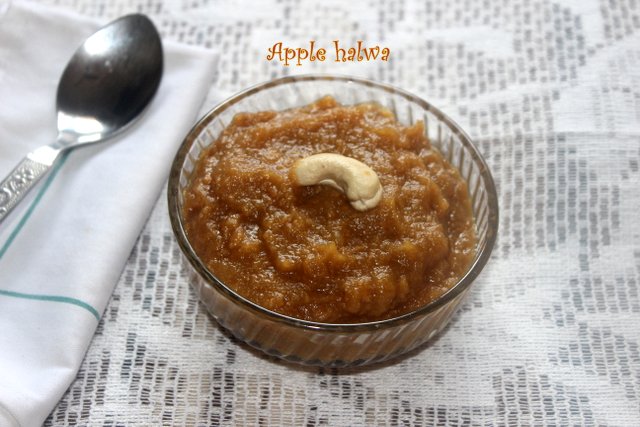 Apple halwa is a very simple and easy dessert made from apples, sugar, ghee, mawa and nuts.  It does not require any special ingredients.  Apple halwa is delicious and nutritious sweet dish and can be made during special occasions and celebrations.  Its amazingly delicious and leaves one longing for more!!   It can be enjoyed warm but tastes divine when chilled.   Now lets learn how to make this easy apple recipe..
Prep Time :  15 mins
Cook Time : 20 mins
Yield : 2-3 persons
Total time – 35 mins
INGREDIENTS
Apples – 4 medium sized
Sugar – 5 tablespoons or as per taste
Mawa or khoya – 1/4 cup
Ghee – 2 tablespoons
Cardamom powder – 1/4 teaspoon
Cashewnuts – 1 tablespoon  for garnishing
HOW TO MAKE APPLE HALWA OR SEB KA HALWA RECIPE
Peel and remove the seeds from the apple and grate them.  You can either grate them or make a puree in a mixer grinder.
Heat 2 tablespoons of ghee in a kadai or pan. Add pureed or grated apples and saute for a minute.  Add sugar and mix well.  Keep stirring on a low to medium flame.  Cook till the sugar is dissolved and apple stops losing its water completely.  This will take upto  7-8 minutes.
Now add mawa  and combine together.  Cook for another 10 minutes on a low flame till it becomes a little thicker consistency.  There will be some change in the colour of the halwa.  It means its now ready.
Then add broken cashewnuts and cardamom powder and mix well. Remove apple halwa in a serving bowl and garnish with cashewnuts.
Enjoy apple halwa warm or chilled as desired by you..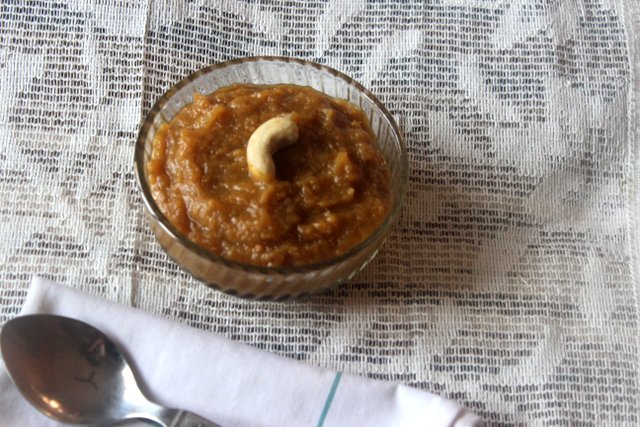 NOTES/TIPS
After peeling and grating the apples, prepare the halwa immediately, otherwise it will start getting black in colour and lose its natural flavour and taste.
Add sugar as per your taste and requirement.
After adding mawa, turn the flame on low heat and stir continuously otherwise it tends to get burnt easily.
Once you get the right consistency and there is a change in the color of the halwa, switch off the flame.