Red poha upma recipe – How to make red poha upma recipe – healthy breakfast recipes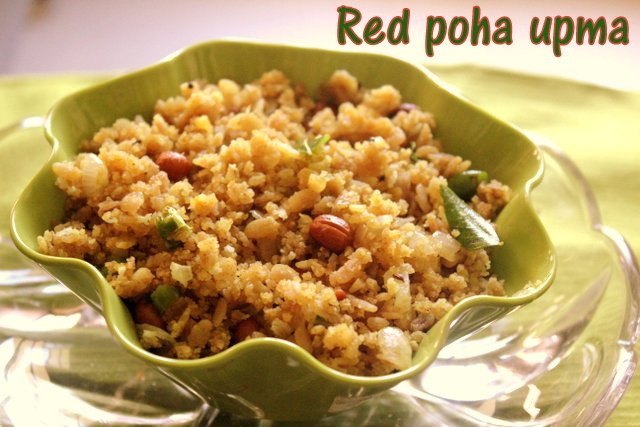 Poha is a popular Maharashtrian breakfast dish made with flattened rice (poha) and onions.  It is also had as a teatime snack.  Poha is a maharashtrian word for flattened rice and kanda for onion.  There is another version also for making poha with onions and potatoes. It is called as kanda batata (potato) poha. This is one of the staple breakfast dish of Maharashtra.  Red poha upma is made with red poha.  Red poha is very similar to white poha, except for the texture. Red poha is little coarser than white poha.  Red poha is made from red rice which has more health benefits than white poha.  Red rice is also enriched with antioxidants that help in fighting free radicals in our body, preventing the risk of diseases like cancer.
Poha is one of the healthy and light dish, which is not only easy to make but can be prepared quickly too.  Roasted peanuts added to poha makes it all the more tasty and adds flavour to it.  South Indians also make poha but they add grated coconut as garnishing which also tastes great.  Poha is rich in iron and hence best served with lime juice. Lime juice helps absorption of iron from poha.
You can check other poha recipes too :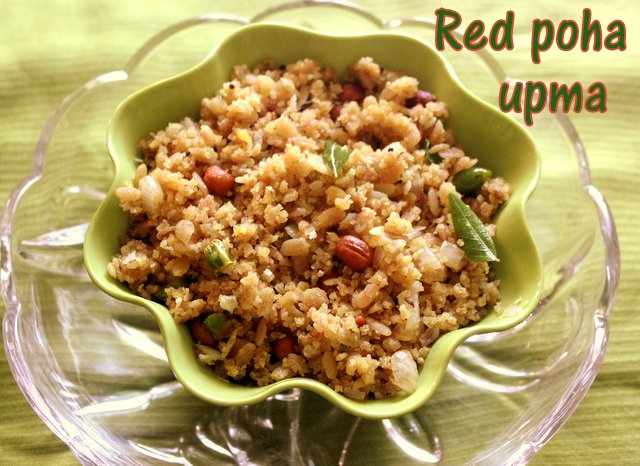 Prep Time :  10 mins
Cook Time : 15 mins
Servings : 4 persons
Indian cuisine
INGREDIENTS
Red poha /aval – 2 cups
Onion – 1 (medium sized) (chopped finely)
Green chillies – 4 (chopped finely)
Few curry leaves
Turmeric powder – 1/4 teaspoon
Ginger – 1/2 teaspoon (grated or chopped finely)
Grated coconut – 3 tablespoons
Lemon juice – 2 teaspoons
Chopped coriander leaves  for garnishing
Sugar – 1/2 teaspoon (optional)
Salt to taste
TO TEMPER/SEASONING
Oil – 2 tablespoons
A pinch of asafoetida/hing
Cumin seeds/jeera – 1/2 teaspoon
Urad dal – 1/2 teaspoon
Peanuts – 1/4 cup
HOW TO MAKE OR PREPARE RED POHA UPMA RECIPE
Rinse the red poha well.  Add water just to cover the poha.  Leave aside for 7-8 minutes.  Water will be absorbed by the poha and make it soft.
Drain the excess water, if any, with the help of a sieve or a colander. (This is an optional step.  Do this only if required to remove any excess water.  This ensures that poha does not become soggy).
Heat oil in a wide pan on medium flame.  Add mustard seeds and allow it to splutter.  Once the seeds starts spluttering, add cumin seeds, urad dal and peanuts and roast well on low flame till the peanuts become crunchy and urad dal turns light brown in colour.  Then  add chopped green chillies, ginger, chopped onions and curry leaves.  Saute till the onions become translucent.
Add the poha and stir well.  Add turmeric powder, salt and sugar.  Mix well.
Cook on low flame for 2-3 minutes.   Once the poha turns soft, switch off the flame.  Add chopped coriander leaves, grated coconut and lemon juice and mix well again.
Tasty red poha upma is ready to be served.  Serve red poha hot with a nice cup of tea or coffee.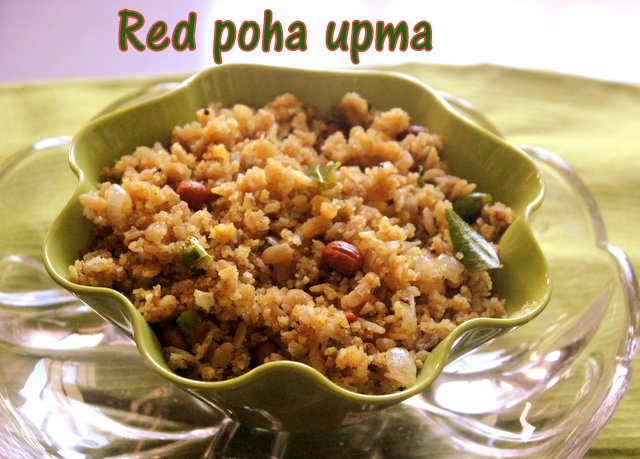 NOTES/TIPS
Add just enough water to cover the poha.  Or else it tends to become too soft or soggy.
You can also garnish with sev to further enhance the taste.
Do not skip roasted peanuts, as it gives a nice crunchy taste.