Brown rice idli recipe – How to make soft brown rice idli recipe – healthy breakfast recipes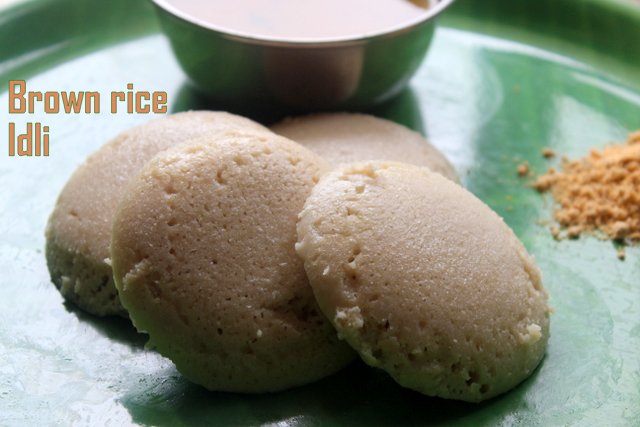 Brown rice is a whole grain rice and more nutritious than white rice.  It has more fibre, protein and other nutrients which aids in healthy digestion and weight management.  These are the "good carbs" that help balance your diet and can fill you up.  Brown rice idli is made from brown rice and urad dal which are the main ingredients.  This dish makes up for a perfect breakfast to start your day with energy.  These idlis are not only soft but very delicious to eat too.  Do try this healthy idli for a change from the regular idlis.
Other brown rice recipes :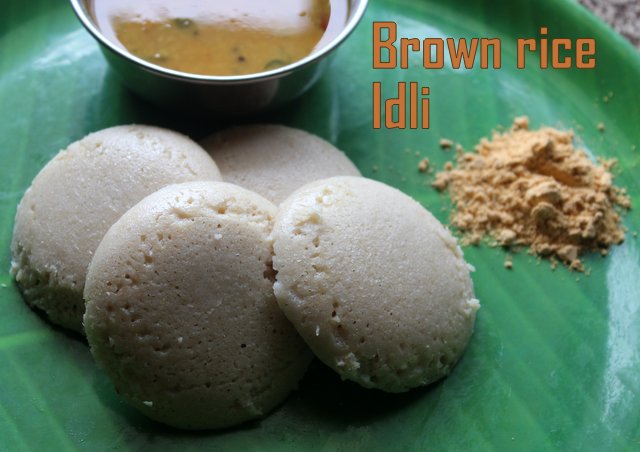 Prep Time : 40  mins plus 8-9 hrs of fermentation time
Cook Time : 10 mins
South Indian cuisine
INGREDIENTS
Brown rice – 2 cups
Whole urad dal – 1/2 cup
Red Poha/aval – 1/2 cup
Methi seeds – 1/2 teaspoon
Salt – 2 teaspoons
HOW TO MAKE OR PREPARE BROWN RICE IDLI RECIPE
Wash and soak  the urad dal, poha and methi seeds in sufficient water for 4-5 hours.  Soak brown rice separately in another vessel with enough water for 4-5 hours.
brown poha pic                                                         brown rice pic
Drain the water from the urad dal, methi seeds and poha.  Add them to the wet grinder.  Add 1/2 cup of water.  Grind to a smooth paste.  Add very little water in regular intervals.  Grind for 20-25 minutes.
Once the batter becomes smooth, remove them to a vessel.  Now add the drained brown rice and grind again for another 20 minutes.
Add water at regular intervals and grind to a smooth paste.   Mix both the batters well in the vessel. Close the vessel with a lid and allow it to ferment for 8-10 hours.
Next day, you will find the batter would have raised well.   Grease the idli mould with some oil and pour batter and steam cook in a idli cooker for 10 to 12 minutes.  If you are using a pressure cooker, keep the idli stand in the pressure cooker and cover the pressure cooker with its lid.  Remove the whistle and steam it for 10-12 minutes.
Let the idlis cool for few minutes before taking them out.  Remove the idli moulds and run a butterknife or a spoon and slid through the idlis.  Keep the idlis in a warm container. Serve brown rice idli hot with sambar or coconut chutney.
NOTES/TIPS
Once the batter is used for making idlis, you can refrigerate the remaining batter for making dosas the next day.
Adding methi seeds, and poha while grinding, makes the idlis turn out soft and fluffy. The idli batter when ground should be of a smooth medium consistency.
If possible, try using idli grinder instead of regular mixer grinder. While grinding, add water accordingly, till you get a smooth batter which is not too thick or too thin. Too thick batter gives very hard idlis.
While grinding make use of spatula to ensure there is no rice stuck on the sides of idli grinder.
Batter well fermented gives soft and fluffy idlis.  Ensure that you buy good quality urad dal.
Keep the batter for fermentation in a warm place in kitchen.
During cold weather, add little baking soda to the batter for better and quick fermentation.
You can add normal poha, if you do not have red poha.