Oats dhokla recipe – How to make oats dhokla recipe – oats recipes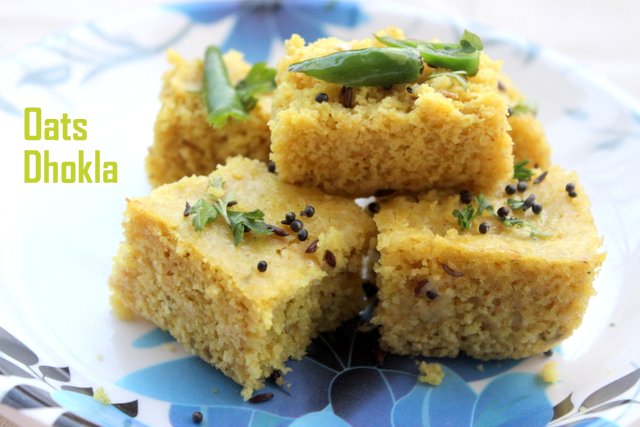 Oats dhokla is a healthy recipe made with powdered oats and little gram flour.  This tasty snack is also easy to make and makes up for a perfect tea-time snack .  Oats helps reduce cholesterol, gives energy to keep you going and helps maintain weight. Oats is a good source of protein and a rich source of dietary fibre.  You can add grated carrot to the batter  and make it more nutritious. It will make for a filling breakfast dish.  Serve oats dhokla with green chutney or tomato sauce or with a cup of tea/coffee.
Other oats recipes :
Oats adai or oats and lentils pancake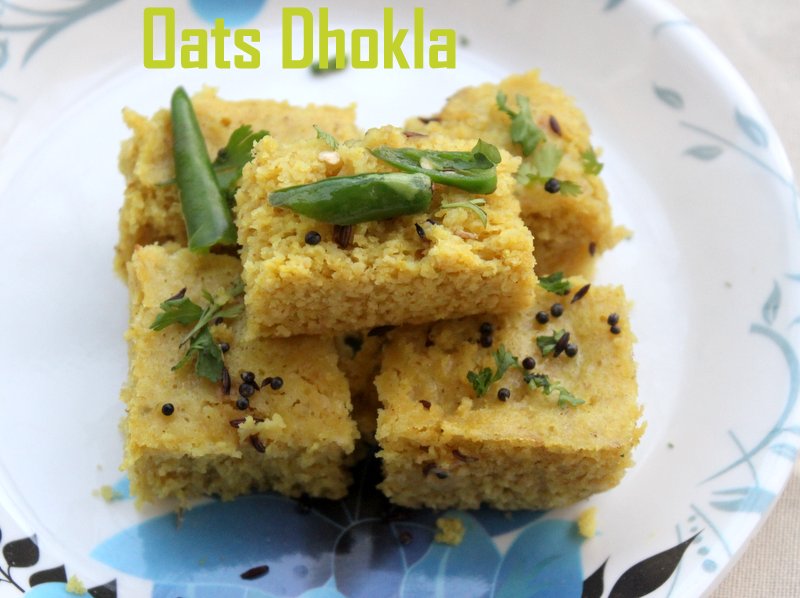 Prep Time :  10 mins
Cook Time : 25 mins
Servings :  2 to 3 persons
Gujarati cuisine
INGREDIENTS
Oats – 1/2 cup
Besan or gram flour – 1/2 cup
Curd – 1/2 cup
Water – 1/2 cup
Lemon juice – 2 tablespoons
Turmeric powder – 1/4 teaspoon
Sugar – 1 teaspoon
Oil – 2 tablespoons
Salt to taste
Eno fruit salt – 1 teaspoon
Green chillies – 3
Ginger – 1 inch small piece
FOR SEASONING/TEMPERING
Oil – 1 tablespoon
Mustard seeds – 1/2 teaspoon
Cumin seeds – 1/2 teaspoon
Green chillies – 4 (slit vertically)
Sugar – 1 teaspoon
Water – 1/4 cup
FOR GARNISHING
Chopped coriander leaves – 3 tablespoons
HOW TO MAKE OR PREPARE OATS DHOKLA RECIPE
PREPARATION
Grind the ginger and green chillies with very litte water, to make a smooth paste.  Set aside.
METHOD
Dry roast the oats in a pan on low flame for 1-2 minutes.  Do not make it brown.  Once cooled down, take it  to a grinder or blender and make a powder out of it.
Take a mixing bowl.  Add powdered oats, gram flour, ginger-green chilli paste, turmeric powder, lemon juice, oil, sugar and salt.  Then add curd and water.  Make a smooth batter and let it rest for 10 minutes.
Take a plate/pan and grease it with little oil.  Prepare the steamer by adding little water to it and let it come to a nice boil. ( I have used Tupperware 'steam it' for making the dhoklas).
Meanwhile add eno salt to the batter.  It will start to bubble up.  Stir the batter immediately.  Keep the pan/plate in a steamer.
Close the steamer and steam it for 10-15 minutes or till cooked.  Insert a knife into the dhokla and if it comes out clean, then it is ready.  Once done, let it cool down for 10 minutes.
Heat oil in a tadka pan on medium flame.  Add mustard seeds, cumin seeds and green chillies and allow them to splutter.  Add sugar and water and cook till sugar melts.
Pour the syrup over the dhokla.  Set aside till the syrup is full absorbed by the dhokla.  Cut into square or desired shapes.  Garnish with chopped coriander leaves.  Serve hot or warm with green chutney or tomato ketchup.
NOTES/TIPS
After adding eno salt, do not whip the batter too much.  Just mix it and stir well.
You can make dhoklas in a pressure cooker too.  In that case, do not use the whistle.  Steam the batter on high flame for 10-12 minutes or till cooked.