Schezwan dosa recipe – How to make schezwan dosa recipe – dosa recipes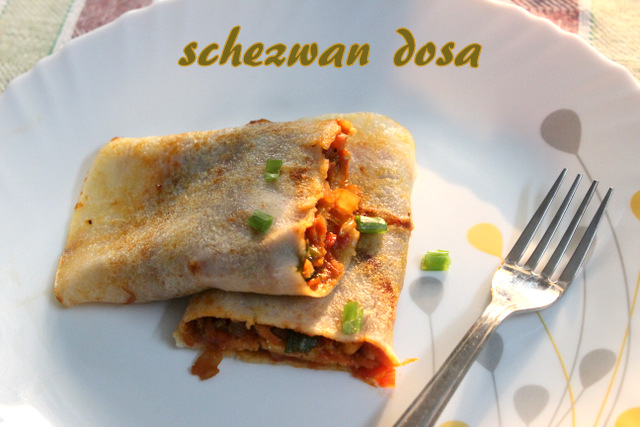 Schezwan dosa is a very tasty and spicy dosa and a fusion of the south indian and indo chinese cuisine. It is very easy to make and simple too as the dosa is filled with stir fried vegetables and schezwan sauce.  This dosa is also filling and healthy with the goodness of vegetables added to it.  Amongst the variety of dosas available in hotels/restaurants, schezwan dosa is one among them. Schezwan dosa has now become a popular street food in India, especially in Mumbai streets.
For more dosa recipes, please click on the following link :
http://charuscuisine.com/dosa-recipes-collection-of-14-dosa-recipes-south-indian-dosa-recipes/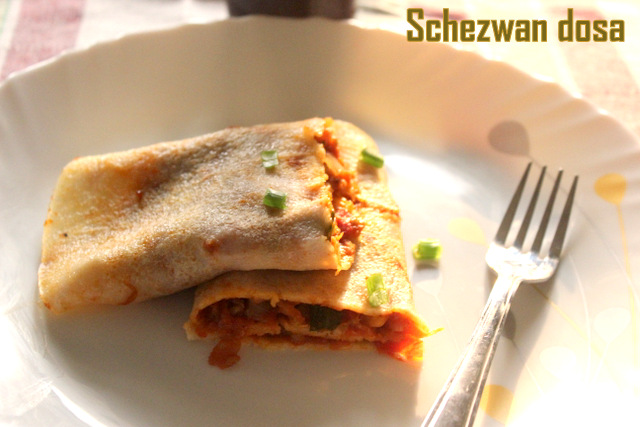 Prep Time : 15 mins
Cook Time :  20 mins
Servings : 4  persons
Indian street food
INGREDIENTS
Dosa batter – 3 cups
Spring onion whites – 1/4 cup (chopped)
Spring onion greens – 1/4 cup (chopped)
Grated carrot – 1/2 cup
Onions – 1/3 cup (chopped finely)
Tomatoes – 1/4 cup (chopped finely)
Green chillies – 2 (chopped finely)
Grated cabbage – 1/2 cup
Schezwan sauce – as required
Soya sauce – 1 teaspoon
Ginger-garlic paste – 1 teaspoon
Butter or oil – as required
Salt to taste
HOW TO MAKE OR PREPARE SCHEZWAN DOSA RECIPE
Keep all the chopped vegetables ready in a plate.  Heat 1 tablespoon of oil in a pan.  Add the onions, chopped spring onions and green chillies.  Add sprinkle little salt and saute for few seconds on medium flame.
Add ginger-garlic paste and mix well.  Add the rest of the vegetables – tomatoes, cabbage, carrot and spring greens.  Toss the vegetables on low flame.
Cook for 2-3 minutes and ensure to maintain the crunchiness of the vegetables.  Add schezwan sauce and soya sauce and mix well. Cook for a minute.  Then switch off the flame.
Heat a tawa on medium flame. Spread oil on the tawa. Pour a ladle ul of dosa batter and spread to make a round dosa. Drizzle oil around the dosa.  Cook the dosa on a low to medium flame.
When the top side of the dosa is cooked, add little butter or oil and spread on the dosa.  Then add schezwan sauce and spread again on the dosa.
Add the cooked vegetable mixture and with the help of a spatula, spread the mixture evenly on the dosa.  Cook the dosa until crisp and base of the dosa turns slightly brown in colour.  Once cooked, fold the dosa on the tawa.
Cut the rolled dosa into 2 to 3 parts and serve it hot immediately.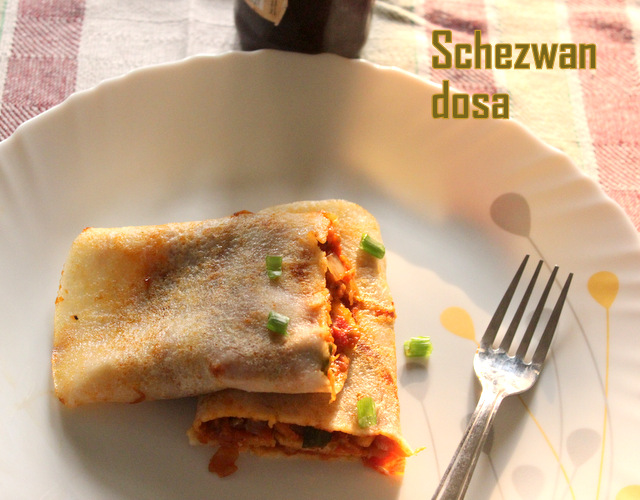 NOTES/TIPS
Ensure not to overcook the vegetables to get better taste.
Schezwan dosa does not need any side dish and is best served hot or warm.
Add little black pepper powder for little spicy and enhanced taste.
You can spread butter generously on the dosa to get rich colour, crispy texture and taste to the dosa.