Green peas dosa recipe – How to make green peas dosa recipe – dosa recipes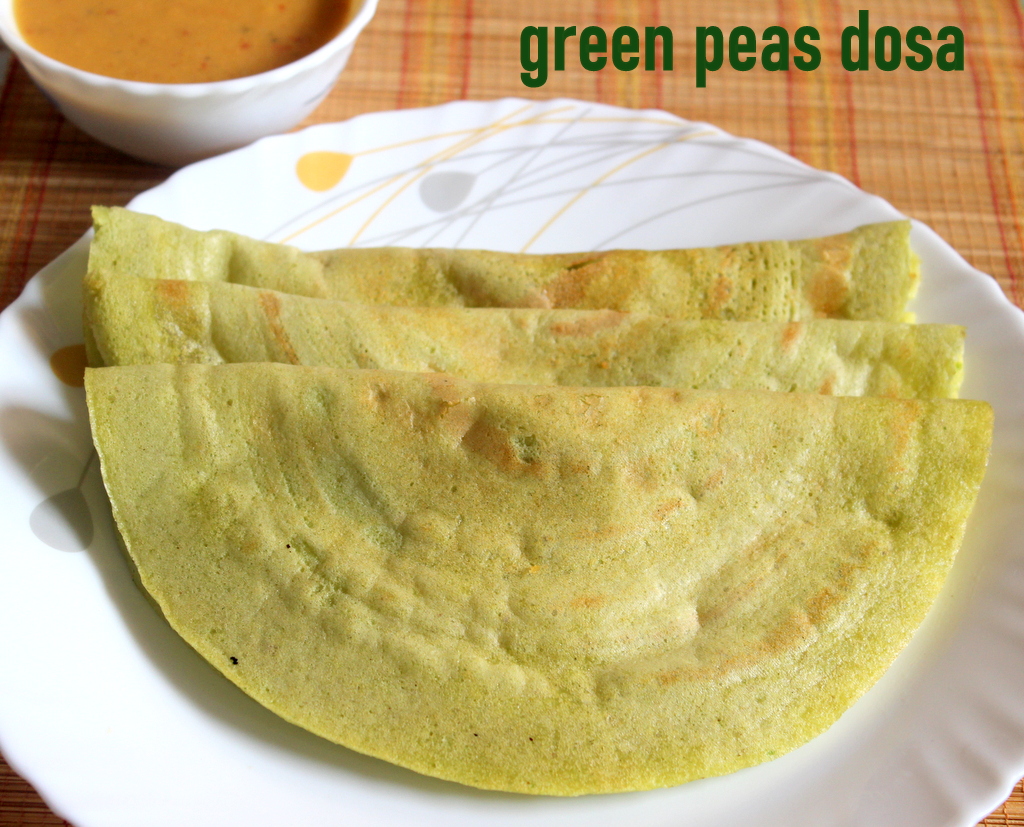 Dosa is a pancake made from a fermented batter of rice and urad dal.  It is a part and parcel of  South Indian diet, but nowadays it is popular all over India.  Dosa is best served hot with sambar or chutney or idli podi.  Dosa is high in carbohydrates and also a good source of protein, due to use of urad dal and rice.
In this dosa recipe, I have used split moong dal instead of urad dal and added green peas to make it protein rich.  Adding split moong dal  makes the dosa  crispier and also gives a good taste to the dosa.  Green peas dosa is also a nutritious and low fat dosa that requires no fermentation at all.  Except for the soaking time of 4 to 5 hours,  this dosa can be prepared immediately.  Serve these dosas with sambar or coconut chutney and enjoy as a breakfast dish or an evening snack.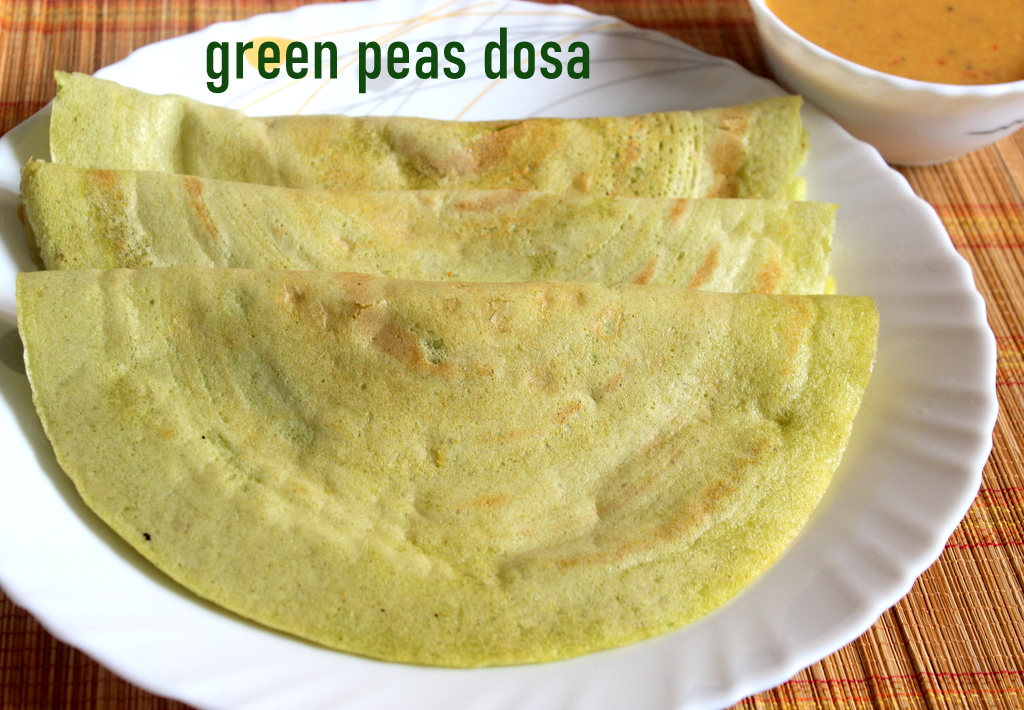 Prep Time : 15 mins
Soaking Time – 4 to 5 hrs
Cook Time :  20-25 mins
Servings :  4-5 persons
South Indian cuisine
INGREDIENTS
Dosa rice – 1 cup
Split yellow moong dal – 1 cup
Green peas – 1 cup
Green chillies – 2 nos
Ginger or adrak – 1 teaspoon (chopped roughly)
Chopped coriander leaves – 2 tablespoons
Cumin seeds or jeera  – 1 teaspoon
Salt to taste
Oil for making dosas
For video link of the recipe :
HOW TO MAKE OR PREPARE GREEN PEAS DOSA RECIPE
In a wide bowl, add 1 cup of dosa rice and 1 cup of split moong dal.  Wash both the rice and dal thoroughly with water.  Then add sufficient fresh water and soak them for 4-5 hours.
Take 1 cup of green peas and boil them till fully cooked.  Keep it aside.
After 4-5 hours, drain the water from the soaked rice and dal.  To the soaked rice and dal, add 1 cup boiled green peas, 2 green chillies, 1 tsp ginger and 1 tsp cumin seeds.  Take them to a mixer grinder.
Add little water to make a smooth paste.  Transfer the ground batter to a bowl or vessel.  The batter should be of medium dosa consistency.  
Add salt and mix well.
Heat a griddle or a non-stick tawa or plain dosa tawa on  a low to medium flame.  Pour a ladle of batter into the centre of the tawa and quickly spread the batter evenly into a round shape, starting at the inside of the circle and working towards the outside.  Drizzle a few drops of oil along the edges.
Once the  corners starts lifting up and the underside is golden colour, flip to the other side and drizzle another 1/2 teaspoon of oil along the edges.  Once both the sides are cooked, transfer the dosa to a serving plate.  Healthy and tasty green peas dosa is ready to be served.  Serve with sambar and coconut chutney.
NOTES/TIPS
This dosa is best served hot or warm.
Ensure to heat tawa on medium flame for even cooking of dosas.  If cooked on high flame, dosas gets dark in colour and remains partially uncooked.
As no fermentation is required,  you can immediately make the dosas.
Leftover batter can be refrigerated for 2-3 days and used later for making dosas.