Pesarattu dosa or moong dal dosa recipe – breakfast recipe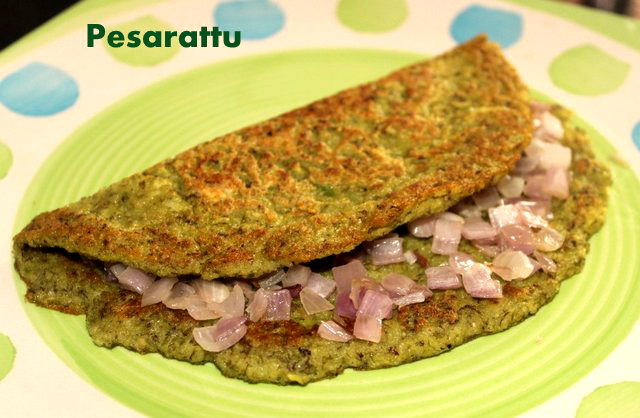 Pesarattu is a healthy and nutritious breakfast and very similar to  dosa.  But unlike a dosa,  it does not contain urad dal.  It is made with a batter of  green moong and very little rice.  It is a Andhra speciality and is best served with coconut chutney or  ginger chutney.  Similar variations are found in North Indian cuisine like Moong Daal Ka Cheela, or Besan Ka Cheela. Pesarattu is also served with upma and a delicacy in Andhra Pradesh.  Other varieties of dosa in India are raw banana dosa, ragi dosa and poha  or aval dosa.
Ingredients
Whole green gram (green moong) - 1 cup
Raw rice - 2 tablespoons
Green chillies - 3 to 4
Ginger - 1 inch piece
Cumin seeds - 1 teaspoon
Grated coconut - 2 tablespoons
Coriander leaves - 2 tablespoons
Salt to taste
Oil for dosa
FOR THE TOPPING
Ghee - 1 tablespoon
Chopped onions - 1 cup
Method
Step 1
HOW TO MAKE PESARATTU DOSA RECIPE Soak whole green moong and raw rice with sufficient water overnight.
Step 2
Next day, grind soaked green moong and rice along with green chillies, ginger, cumin seeds, grated coconut, coriander leaves and salt with little water to a smooth paste and bring it to a thick consistency.
Step 3
Heat a non stick tawa. Smear with oil all over and spread the batter thick and round. Put oil on all the sides of the batter. When it is cooked brown, cook on the other side by adding oil around all sides till the dosa becomes crisp.
Step 4
For the topping, heat ghee in a pan. Add chopped onions and stir fry till they become translucent and set aside. Divide the topping mixture into small equal portions.
Step 5
Spread one portion of topping mixture on pesarattu. Close it and serve hot with ginger chutney or coconut chutney.