Padwal subzi/padavalakai palya/snakegourd stir-fry recipe – snakegourd recipes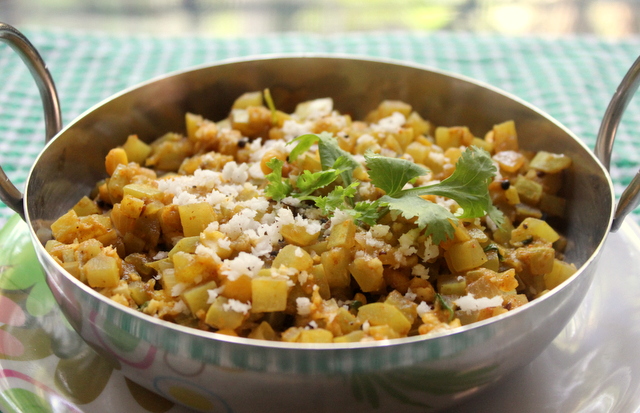 Padwal bhaji or padavalakai palya is a very nutritious and healthy curry made with snakegourd and chana dal and mixed with coconut and spices.  It goes well with steamed rice.  Snakegourd is also called as padwal in Maharashtra, pudalangai in Tamil nadu and padavalakai in Karnataka.  It contains a rich variety of nutrients, vitamins and minerals that are essential for human health.  Some of the health benefits include  its ability to improve the strength of the immune system, reduce fevers, detoxify the body, improve the digestive processes of the body, increase hydration in the body, treat diabetes, boost the strength and quality of the hair, and aid in weight loss.  Do try this simple snakegourd stir-fry vegetable with this easy recipe..
Other side-dish recipes for steamed rice: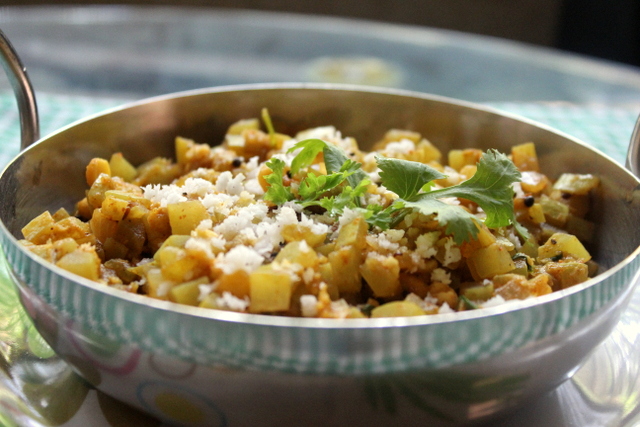 Prep Time : 15  mins
Cook Time : 15 mins
Servings :  3-4persons
Indian cuisine
INGREDIENTS
Snakegourd/padwal/padavalakai – 2 nos (medium sized)
Chana dal – 2 tablespoons
Oil – 2 tablespoons
Mustard seeds/rai – 1/2 teaspoon
Cumin seeds/jeera – 1/2 teaspoon
Onion -1 (chopped finely)
Curry leaves – 7-8
Ginger-garlic paste – 1 teaspoon
Red chilli powder – 1 teaspoon
Turmeric powder – 1/4 teaspoon
Garam masala – 1/2 teaspoon
Grated coconut – 1/4 cup
Chopped coriander leaves for garnishing
Salt to taste
HOW TO MAKE OR PREPARE PADAVALAKAI PALYA/PADWAL BHAJI OR SUBZI RECIPE
PREPARATION
Wash and chop the snakegourd lengthwise.  Remove the seeds and white like fibre from inside and discard them.  Then chop the vegetable into small pieces.  Pressure cook the chopped snakegourd pieces for upto 3 whistles till just cooked.
Soak the chana dal for half an hour to 45 minutes.
METHOD
Heat oil in a pan on medium flame. Add mustard seeds and when it splutters add cumin seeds. Saute the seeds till light brown.  Add chopped onions, curry leaves and ginger-garlic paste.  Cook on a low flame till the onions become translucent and raw smell of the ginger-garlic goes away.
Once the onions turn translucent, add red chilli powder, turmeric powder and garam masala.  Mix well.  Add little  water and saute for 2 minutes.
Add the cooked vegetable and soaked chana dal and combine together.  Add salt and mix well.
Add little water and cook on medium flame with the lid closed.  Cook till the water is well absorbed by the vegetable.
Once the vegetable is well cooked, switch off the flame.  Add chopped coriander leaves and grated coconut and mix well.
Padvalakayi palya or padwal bhaji is ready to be served.  Remove the vegetable in a serving bowl and serve hot with steamed rice or sambar rice or rasam rice.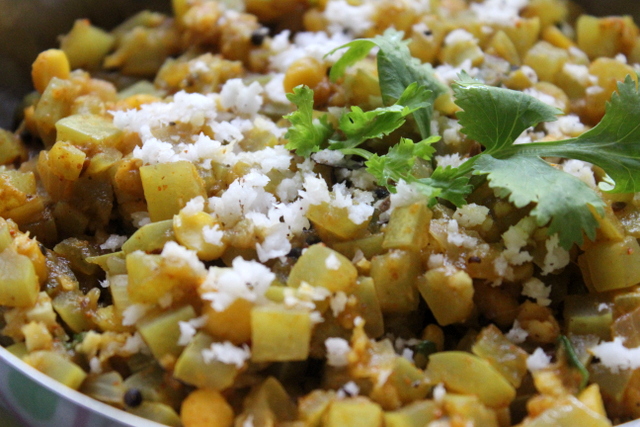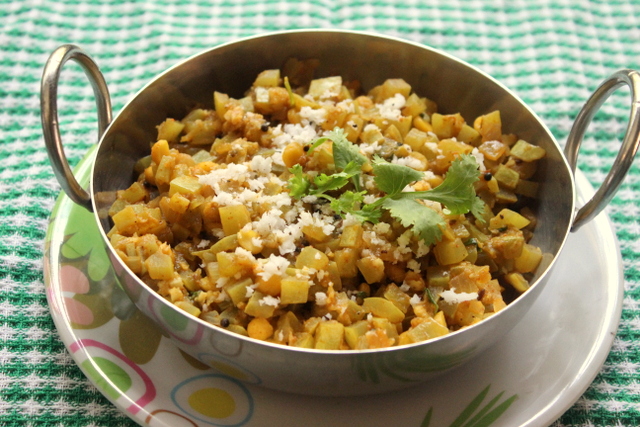 NOTES/TIPS
Ensure to pressure cook the snakegourd till just cooked and not too mushy.