Karida kadubu or fried modak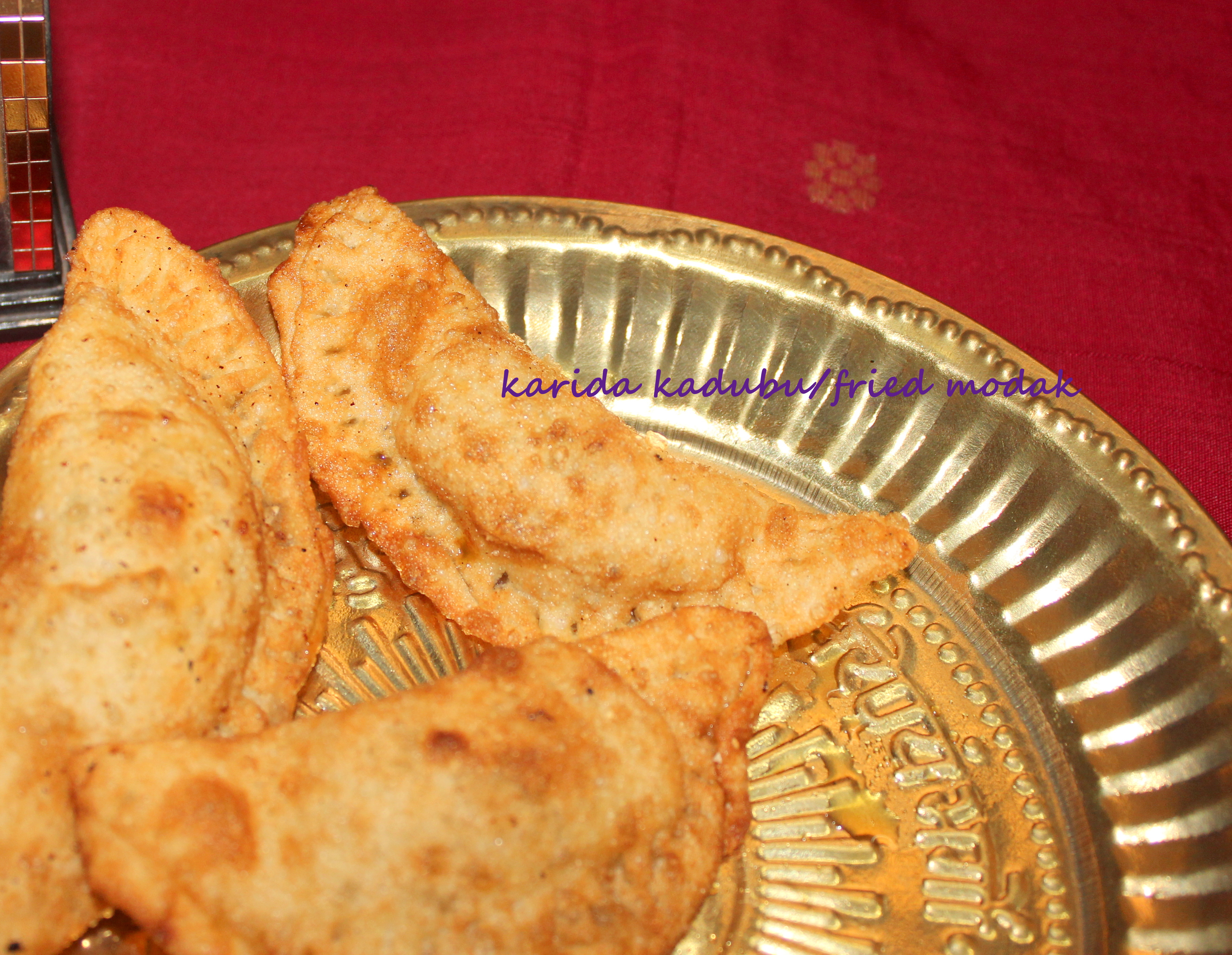 Fried modak is a sweet deep fried dumpling stuffed with jaggery and coconut filling. Karida kadubu or fried modak is also called as karanji in Maharashtra.  It is very popular and common in Karnataka and Maharashtra during Ganesh Chaturthi. The outer cover is made with all purpose flour and semolina and the inner filling is made with a mixture of grated coconut and jaggery.
Ingredients
All purpose flour/Maida - 1 cup
Fine rava/semolina or chiroti rava - 1/4 cup
Grated Jaggery - 1 cup
Freshly grated coconut - 1 cup
Cardamom powder/elaichi - 1/4 teaspoon
Khus khus/roasted poppy seeds - 1 tablespoon (optional)
Ghee - 1 tablespoon
Oil for deep frying
Method
Step 1
HOW TO MAKE KARIDA KADUBU OR FRIED MODAK FOR COCONUT FILLING Heat ghee in a pan. Add grated jaggery and coconut.
Step 2
Cook on a medium flame, till the jaggery is melted and mixed well with the coconut.
Step 3
Add poppy seeds and cardamom powder and mix well. Remove from heat.
Step 4
Allow the coconut mixture to cool down and set aside.
Step 5
FOR THE COVER In a bowl add maida, rava, 1 tsp of oil and little water. Knead into a smooth but stiff dough. Keep it covered with a damp cloth for half an hour.
Step 6
Take a small dough and roll into a 3 inch diameter circle. Keep a spoonful of coconut mixture in the centre.
Step 7
Wet the edges of the circle with little water and close it to the other side forming a half moon shape. Take a fork and give impressions on the edges by pressing with back of the fork. ( Alternatively, you can also use the mould for giving shape to the kadubus)
Step 8
Heat sufficient oil in a heavy bottomed kadai. Deep fry the kadubus on both the sides till golden brown. Drop 2-3 kadubus at a time and deep fry on medium heat. Drain them on absorbent paper to remove excess oil. Kadubus are crispy when served hot.
Step 9
Serve kadubus hot or warm.
Step 10
NOTES: You can use sugar instead of jaggery to make kadubus. Also the outer layer can be prepared by using wheat flour instead of maida.