Misal pav recipe – Maharashtrian style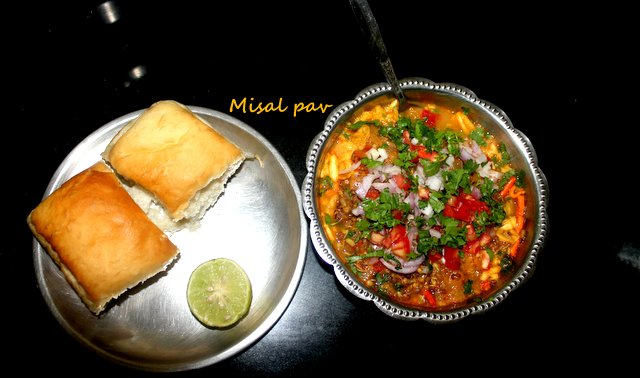 Misal pav is a tradional and popular Maharashtrian dish. It consists of spicy curry made from sprouted moth beans (matki) called as ussal. There are other variations of ussal like chana ussal, green peas ussal , val ussal and chawli ussal. This dish is finally topped with farsan or sev (Indian noodles), onions, chopped coriander leaves and lemon juice. Misal is served with pav or Indian bread. There are different versions of Misal pav such as Kolhapuri misal, Puneri misal and Nagpuri misal. Also there are various types of misal like sev misal and dahi (yoghurt) misal. Misal pav can be had as a breakfast dish or simply enjoyed as a snack. It is a delicious dish and makes up for a wholesome meal. Other snacks you can try in my blog..
Ingredients
Sprouted moth beans - 3 cups (boiled sprouted matki or green moong)
Onions - 2 (chopped finely)
Tomatoes - 2 (chopped finely)
Green chillies - 3 to 4 (chopped finely) and Red chilli powder - 1/2 teaspoon
Ginger-garlic paste - 1 tablespoon
Cooking oil - 2 tablespoons
Mustard seeds - 1/2 teaspoon
Cumin seeds (jeera) - 1 teaspoon
Turmeric powder - 1/4 teaspoon
Coriander powder - 1 teaspoon
Goda masala - 1 tablespoon
Tamarind water - 1/2 cup
Salt as required
1 string of curry leaves
FOR THE MISAL PAV
Pav or Indian bread buns - 10 pieces
Onions - 1 cup (chopped finely)
Tomatoes - 1 cup (chopped finely)
Sev or mixed farsan (fried snack mixture) - 1 cup
Chopped coriander leaves - 1/2 cup
Lemon - 2 (diced into half or quarter)
Method
Step 1
HOW TO MAKE MISAL PAV RECIPE MAHARASHTRIAN STYLE FOR THE MISAL/USSAL Rinse the sprouted beans thoroughly in running water. Drain the excess water and pressure cook with sufficient water upto 3 whistles or until cooked.
Step 2
Soak a small ball sized tamarind (2 tablespoons of tamarind) in hot water for half an hour. Squeeze the pulp out of it and make a half cup of tamarind pulp and keep this ready
Step 3
Heat oil in a pan. Add mustard seeds. Once the seeds stops spluttering, add cumin seeds and stir fry for few seconds. Once the cumin seeds turn light brown, add chopped onions and saute till they become translucent
Step 4
Add ginger-garlic paste, curry leaves and green chillies and cook till the raw smell of ginger-garlic goes away.
Step 5
Add turmeric powder, red chilli powder, coriander powder and goda masala and mix well. Cook for 2 minutes.
Step 6
Add tamarind pulp and cook till the raw smell of tamarind goes away.
Step 7
Add boiled sprouts and salt and combine together. Add little water as required and simmer on a low flame for 10-12 minutes till you get a little thicker or medium consistency gravy.
Step 8
Lastly garnish with chopped coriander leaves. Switch off the flame
Step 9
HOW TO SERVE MISAL PAV In a small bowl or plate, add steaming ussal. Add mixed farsan evenly over it. Then add chopped onions and chopped tomatoes. Top the ussal with chopped coriander leaves. Finally sprinkle few drops lemon juice over it.
Step 10
In a separate plate, arrange the pavs or Indian bread and few slice of lemon and mixed farsan.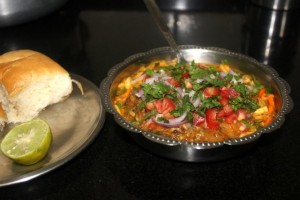 Step 11
Serve misal pav hot and enjoy.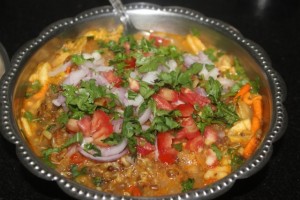 Step 12
NOTES : You can use green moong sprouts, matki sprouts or mixed beans sprouts too for making misal pav.