Spinach (palak) dhokla recipe – Spinach with arhar (toor) dal dhoklas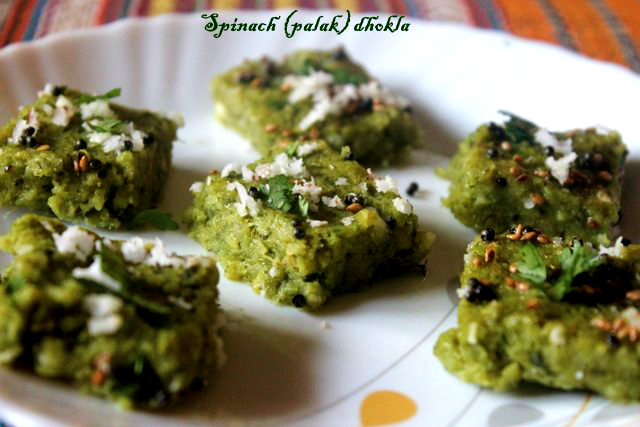 Spinach (palak) dhokla is a very healthy, simple and tasty snack prepared with spinach leaves and tur dal as the main ingredients.  It is a delicious steamed lentil and spinach puree cake recipe which requires minimum oil and a good way to include green leafy vegetables in your daily diet.  Spinach dhokla is best enjoyed as a breakfast dish or as an evening snack.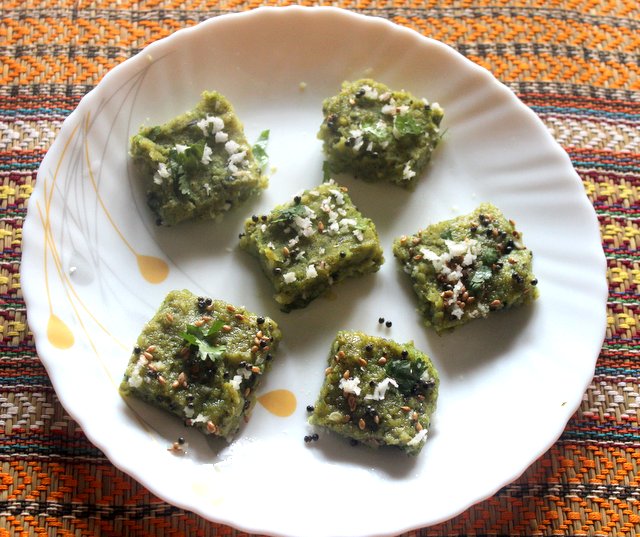 Prep Time :  10 mins plus 5-6 hours of soaking time
Cook Time : 25  mins
Servings :  2-3 persons
North Indian cuisine 
INGREDIENTS
Spinach (palak) blanched and pureed – 1 cup (Two small bunches of spinach)
Tur/Arhar dal – 1/2 cup
Curd/yoghurt  1/2 cup
Green chilli-ginger paste – 1 teaspoon
Oil – 2 tablespoons
Lemon juice – 1 tablespoon
Sugar – 1/2 teaspoon
Eno fruit salt – 1 teaspoon
Salt to taste
FOR GREASING THE DHOKLA PLATE
Oil – 2 teaspoons
FOR TEMPERING
Oil – 2 teaspoons
Mustard seeds – 1/2 teaspoon
White sesame seeds – 1/2 teaspoon
Water – 2 tablespoons
FOR GARNISHING
Chopped coriander leaves
Freshly grated coconut
HOW TO MAKE OR PREPARE PALAK (SPINACH) DHOKLA RECIPE
Take 2 bunches of spinach and wash them thoroughly.   Blanch the spinach leaves along with the stalk and make 1 cup of puree.   Keep aside.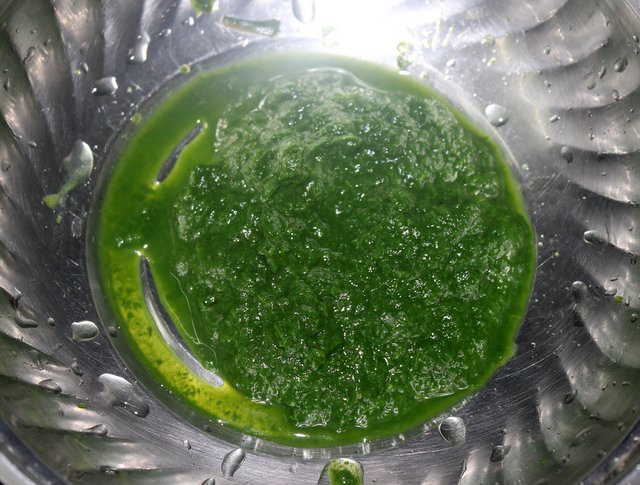 Grease the dhokla plate with the oil and keep it ready.
Wash and soak the tur dal for 5-6 hours in sufficient water.  Drain the water and grind the tur dal with yoghurt and make a thick smooth paste/batter of it.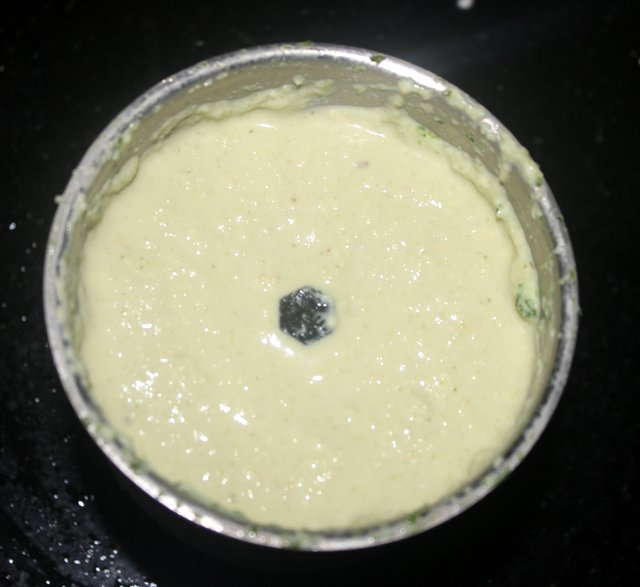 Remove the tur dal paste/batter in a bowl.  Add spinach puree, green chilli ginger paste, salt, sugar, oil and lemon juice and mix well.  Lastly add eno salt and give a final mix.
 Immediately pour the batter into the greased dhokla plate.
Heat sufficient water in a steamer pot.  Place the dhokla plate/stand in the steamer.  Close the lid and steam on high for 15 minutes or till done.  Once cooled down, remove the dhokla plate.
Heat oil in a tadka pan.  Add mustard seeds and sesame seeds and allow it to crackle.  Switch off the flame and add 2 tablespoons of water to the seasoning.  (This helps the keep the dhoklas moist and soft).  Take care as the oil will start spluttering.
Pour this seasoning over the dhoklas and garnish with chopped coriander leaves and grated coconut. Cut in desired shapes and enjoy the dhoklas.
Serve palak dhoklas warm with green chutney or tomato ketchup or as it is.
NOTES/TIPS
Once eno salt is added to the batter, steam the batter immediately in the steamer pot.
You can also add chopped green chillies to the batter for a more spicy flavor.
Ensure that the batter is of a smooth and little thick consistency.