Palak paneer recipe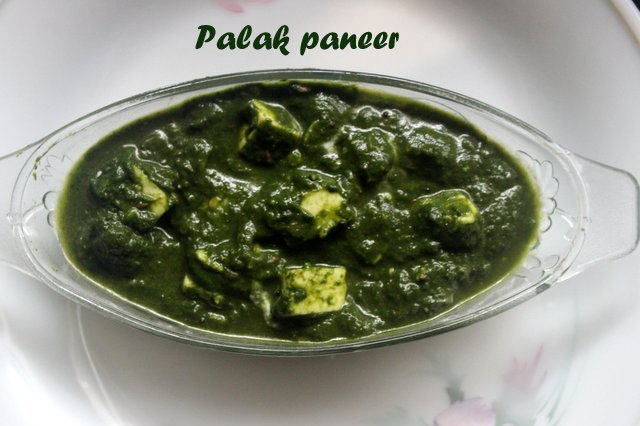 Palak paneer is a North Indian cuisine dish prepared from spinach and cottage cheese in a thick smooth curry of pureed spinach, green chillies and garlic cloves.  It is best served with roti, naan or steamed rice or even jeera rice or biryani.  Palak paneer is a popular vegetarian dish in North India. It is not only simple and easy to make but also very nutritious.  This recipe does not require too many spice powders and hence gravy retains the bright green color.  You can add milk cream at the end to garnish the palak paneer and give a rich taste to the dish. Paneer cubes can be little stir fried light brown, before adding to the gravy.  But if you want a healthy dish, you can skip milk cream and add paneer cubes without frying them.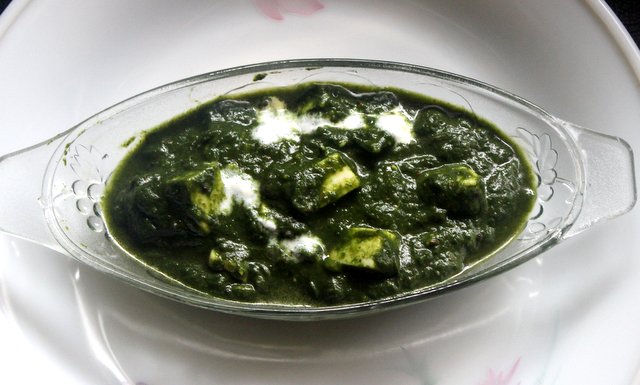 Prep Time : 20 mins
Cook Time : 15 mins
Servings :  4 persons
Total time – 35 mins
North Indian cuisine
INGREDIENTS
Fresh spinach leaves or palak – 250 gms
Cottage cheese or paneer – 200 gms
Green chillies – 2
Garlic cloves – 2 ( to add while preparing spinach puree)
Chopped garlic cloves – 2-3
Onion – 1 (medium sized chopped finely)
Tomatoes – 2 (chopped finely)
Cooking oil or ghee or butter – 2 tablespoons
Cumin seeds or jeera – 1/2 teaspoon
Red chilli powder – 1/2 teaspoon (optional)
Garam masala – 1/2 teaspoon (optional)
Lemon juice – 1 tablespoon
Milk cream – 2 tablespoons
Salt as required
HOW TO MAKE OR PREPARE PALAK PANEER RECIPE
Wash the spinach leaves thoroughly under running water.  Remove the stems.
Boil 3 to 4 cups of water in a pan and add 1/4 teaspoon of salt to it.  Add the spinach leaves to the hot water and close the pan with a lid.  Blanch them in salted boiling water for 2-3 minutes.  Strain the palak leaves and immediately refresh or put them in chilled  or cold water for 2 minutes.
Then drain the cold water and put the blanched spinach leaves in a mixer grinder alongwith 2 green chillies and 2 garlic cloves and grind to a smooth paste.  Grind without adding water and keep the spinach puree aside.
Heat oil or ghee or butter in a pan.  Add cumin seeds.  When they begin to change colour, add chopped garlic cloves and saute for half a minute.   Add chopped onions and stir fry till they become golden brown.  Then add chopped tomatoes and saute till they become soft.  Add red chilli powder and mix well.
Now add the spinach puree and combine together.  Add water if required and stir well.  Add salt and simmer the gravy on a low flame for 5-6 minutes till they become little thick.  Add garam masala and mix well.
Add paneer cubes and simmer on a low flame for a minute or two till the paneer pieces become little soft.
Finally add fresh cream and switch off the flame.
Serve palak paneer hot with rotis, naan or steamed rice.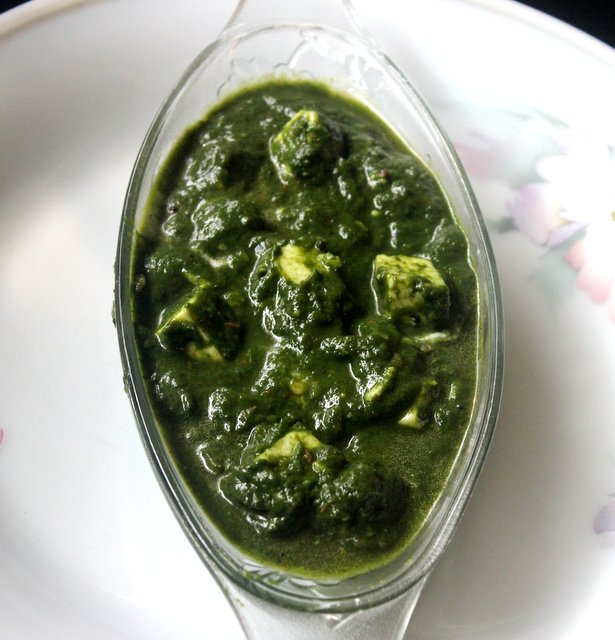 NOTES/TIPS
Do not overcook spinach  as overcooking affects the bright green color of  spinach but also the taste.
Palak paneer tastes best without too many spices added to it.