Peanut rice – How to make peanut rice or groundnut masala rice – rice recipes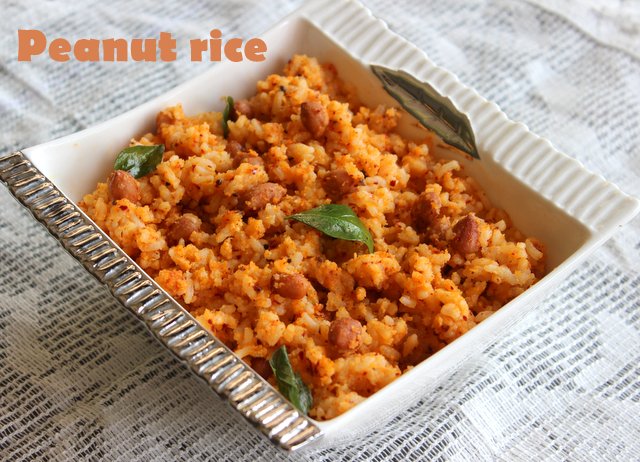 Peanut rice is a tasty south indian rice (also called as verkadalai sadam) prepared with rice, roasted peanuts and spices.  It is an ideal lunch box recipe for both kids and elders as well.  Peanut rice is very easy and quick to make too.  Dals like urad dal, chana dal and sesame seeds, coconut added to it gives a unique flavor to this dish.  At the time of grinding the masala powder, do not grind it too fine, as the peanuts release oil and the powder becomes too soft and pasty.  Peanut rice can be served as a main course.  It goes well with raita or papads.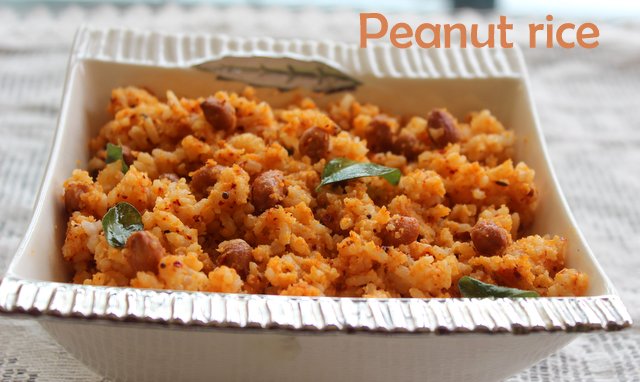 Prep Time : 10  mins
Cook Time : 10 mins
Servings :  2 persons
South Indian cuisine
INGREDIENTS
Cooked rice – 2 cups
Peanuts or groundnuts – 2 tablespoons
Mustard seeds/rai – 1/2 teaspoon
Oil – 2 tablespoons
Few curry leaves
Salt to taste
FOR THE MASALA POWDER
Peanuts/groundnuts – 2 tablespoons
Oil – 1 teaspoon
Urad dal – 1 teaspoon
Chana dal – 1 teaspoon
Cumin seeds/jeera – 1/2 teaspoon
White sesame seeds – 1/2 teaspoon
Grated coconut – 1/4 cup
Kashmiri red chillies – 3 to 4
HOW TO MAKE OR PREPARE PEANUT RICE RECIPE
Heat 1 teaspoon of oil in a pan on medium flame.  Add cumin seeds, urad dal, chana dal, white sesame seeds, red chillies and peanuts.  Saute all the ingredients on a medium flame till the spices gives a nice aroma and the dals turn light brown in colour.  Switch off the flame.  Add the grated coconut and fry for half a minute to the same heat.
Remove the roasted ingredients to a separate plate and let it cool down.  Once cooled down, grind the roasted ingredients to a fine powder in a mixer grinder or blender without adding water.
Keep the ground powder aside.  Heat another 2 tablespoons of oil to the same pan or kadai.  Add mustard seeds and allow it to splutter.  Then add curry leaves and peanuts and roast till they become crunchy.
Then add 2 cups of cooked rice and mix well.  Add the ground powder and salt. Mix again.
Cook on a low flame for upto 2 minutes till the masala gets fully absorbed by the rice.  Then switch off the flame.  Delicious peanut rice is ready to be served.  Serve it along with raita or papad or as it is plain.
NOTES/TIPS
Don't make the rice too mushy.  Mine turned out to be little mushy as you can see in the pics.  Yet it tasted very good.
Use ghee instead of oil for better taste and flavor.
Add cashew nuts along with peanuts to make it more tasty.
You can also use leftover cooked rice for this recipe.  But if you are using freshly cooked rice, allow it cool down completely and then use for making peanut rice.
Do not add water while grinding the masala.
You can make the peanut dry masala powder beforehand and store it in an airtight container.  Use it as and when you want to make peanut rice.