Puri bhaji recipe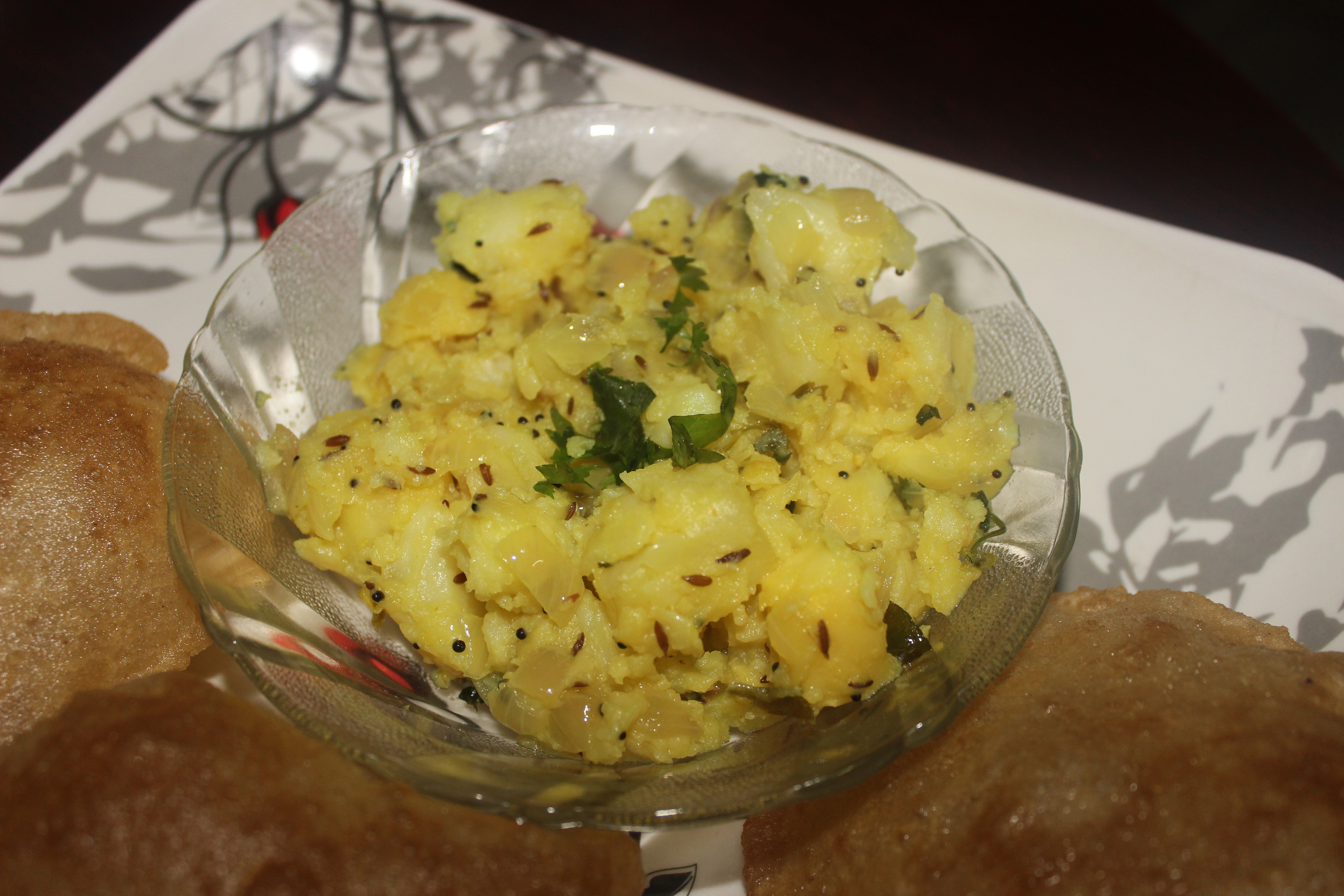 Puri bhaji is a traditional breakfast dish made up of puri and aloo bhaji.  Puris are made up of flat rounds of wheat flour which are deep fried and is served with spiced potato vegetable. It is simple recipe to make but also a very delicious snack.
Ingredients
Potatoes - 5
Onions - 2 (chopped finely)
Cooking oil - 2 tablespoons
A pinch of asafoetida
Mustard seeds - 1/2 teaspoon
Cumin (jeera) seeds - 1/2 teaspoon
Green chillies - 3 (finely chopped)
1 string of curry leaves
Chopped coriander leaves - 1 tablespoon
Lime juice - 2 teaspoons
Salt to taste
FOR PURIS
Wheat flour - 2 cups
Cumin (jeera) seeds - 1 teaspoon
Salt to taste
Water to knead
Oil for frying
Method
Step 1
HOW TO MAKE PURI BHAJI Boil the potatoes with sufficient water till tender. Peel the potatoes and cut them into medium pieces.
Step 2
Heat oil in a pan. Add asafoetida,mustard seeds and cumin seeds. Once the seeds start spluttering, add chopped onions, green chillies,curry leaves, ginger-garlic paste and stir fry till onions turn translucent.
Step 3
Add salt, turmeric powder and lemon juice and mix well. Saute for a minute.
Step 4
Add boiled potatoes and little water and combine together. Allow it to simmer on low flame for 5 minutes. Remove from heat.
Step 5
Transfer the bhaji to a serving bowl. Garnish with chopped coriander leaves.
Step 6
Serve puri bhaji hot with puris.
Step 7
HOW TO MAKE PURIS In a bowl, add wheat flour, cumin seeds and salt and mix together.
Step 8
Add water and knead the dough to a reasonably stiff dough. Stiff dough helps the puris to absorb less oil while deep frying and makes the puris non greasy after deep fried. Keep aside the dough for half an hour.
Step 9
Divide the dough into 10 or 12 equal small balls. Roll each ball into small round about 3 inch with the help of oil.
Step 10
Heat sufficient oil in a deep frying pan which is enough for submerging the puris. When the oil is hot enough, slide gently the puris and deep fry on both sides till light brown.
Step 11
Remove the puris in an absorbent paper to remove the excess oil.
Step 12
Serve the puris hot with bhaji.
Step 13
NOTE : While heating the oil for deep frying puris, ensure the oil is not too hot. If the oil is too hot, puris will not puff up and become flat and brown. Similarly if the oil is not hot enough, puris will become very oily and not puff up.