Matar mushroom recipe – How to make peas mushroom masala recipe – mushroom recipes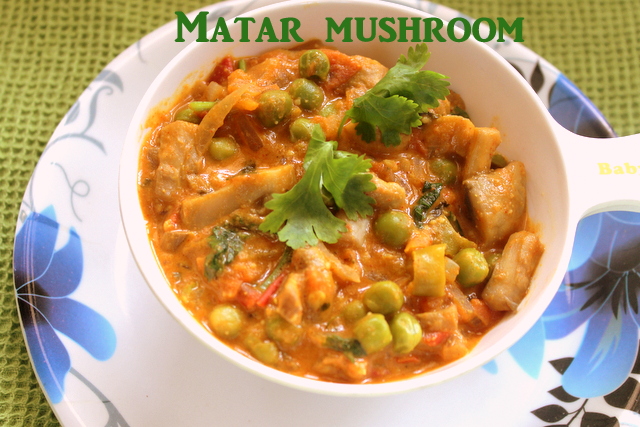 Matar mushroom is a spicy masala made with white button mushrooms and green peas and cooked in onion-tomato gravy enriched with cashewnut paste. Mushrooms has got lot of nutrition and health benefits.  They help to strengthen the immune system, regulate blood pressure and also helps in weight loss.   Mushrooms contain two types of dietary fibers which increase satiety and reduce appetite, making you feel fuller longer and thereby lowering your overall calorie intake.  It is a semi-dry curry which goes well with rotis, phulkas as well as plain rice and pulaos.  Do try to include mushrooms in your diet for their health benefits.
Other mushroom recipes :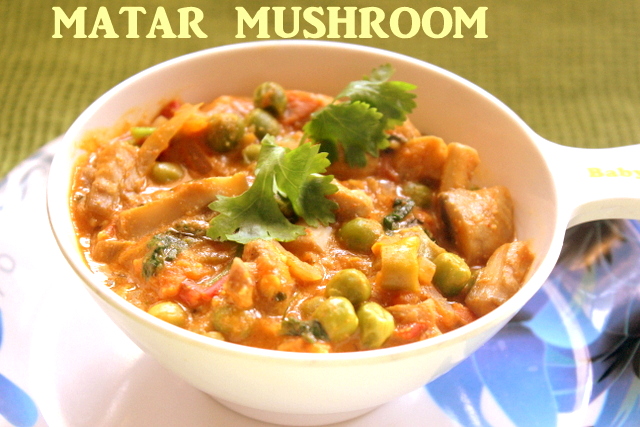 Prep Time :  20 mins
Cook Time :  15 mins
Servings :  4 persons
North Indian cuisine
INGREDIENTS
White button mushrooms – 200 gms
Green peas (matar) – 1 cup
Cashewnuts (kaju) – 10
Onions – 1 ( medium sized chopped finely)
Tomatoes – 3 (chopped finely)
Cooking oil – 2 tablespoons
Cumin seeds (jeera) – 1/2 teaspoon
Cloves – 1
Cardamom – 1
Bay leaf or tejpatta – 1
Dalchini or cinnamon – 1 small stick
Green chillies -2 (chopped finely)
Ginger-garlic paste – 1 teaspoon
Turmeric powder – 1/4 teaspoon
Red chilli powder – 1/2 teaspoon
Coriander powder – 1 teaspoon
Garam masala – 1/2 teaspoon
Kasoori methi leaves – 1 tablespoon (crushed)
Chopped coriander leaves for garnishing
Salt to taste
HOW TO MAKE MATAR MUSHROOM OR PEAS MUSHROOM CURRY RECIPE
Soak the cashew nuts in 1/2 cup of warm  water for 10-15 minutes.  Then drain the water and grind the cashewnuts with very little water to a smooth paste.  Keep it aside.  Wash and cut the mushrooms into medium sized pieces and set aside.
Heat 2 tablespoons of oil in a pan on medium flame.  Add cumin seeds, tejpatta, cloves, cardamom and cinnamon stick and saute for 30 seconds till you get a nice aroma.  Then add onions, ginger-garlic paste and green chillies and stir fry till the onions become little soft and translucent.
Add chopped tomatoes and saute till they become slightly soft.  Then add turmeric powder, red chilli powder and coriander powder and mix well.  Cook on a low flame for upto 2 minutes.
Once the onion-tomato mixture is cooked, add cashewnut paste and mix well.  Cook for another 2 minutes on a low flame.
Add green peas and mushrooms and combine together.
Add 1/2 cup of water and close the pan with its lid.  Cook the curry on a low flame and bring it  to a nice boil, till the peas and mushrooms are well cooked.  Let the gravy simmer for 8-10 minutes on a low flame.
Once the gravy becomes little thick, add garam masala and mix well.  Add chopped coriander leaves and kasuri methi and mix.  Switch off the flame.
Delicious matar mushroom is ready to be served.  Serve peas mushroom masala hot with rotis or naans or steamed rice.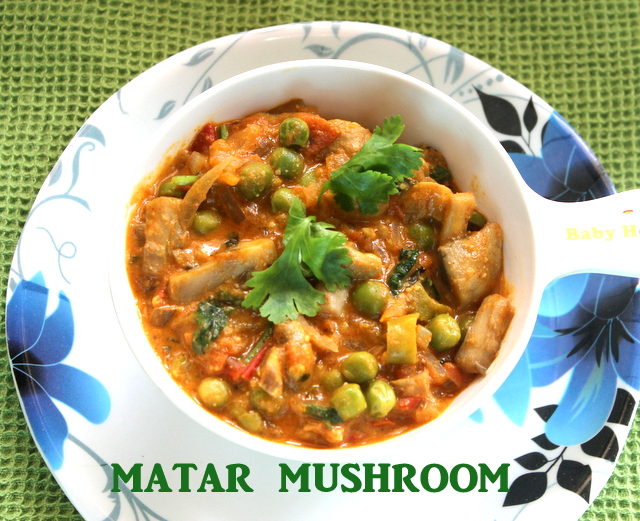 NOTES/TIPS
Cashewnut paste when added gives a richness to the gravy.  You can also add milk cream instead of cashewnut paste.  Only take care to cook on low flame after adding the milk cream.
Ensure to cook fresh mushrooms on the same day itself, as they tend to get stinky after few days.
If you don't have fresh green peas, you can also use frozen peas.
You can precook the green peas and mushrooms and then add to the gravy.
You can replace with mushrooms with paneer.  If adding paneer, add towards the end, once the peas are cooked.