Soya Chunks Pulao recipe – How to make Soya chunks rice recipe – rice recipes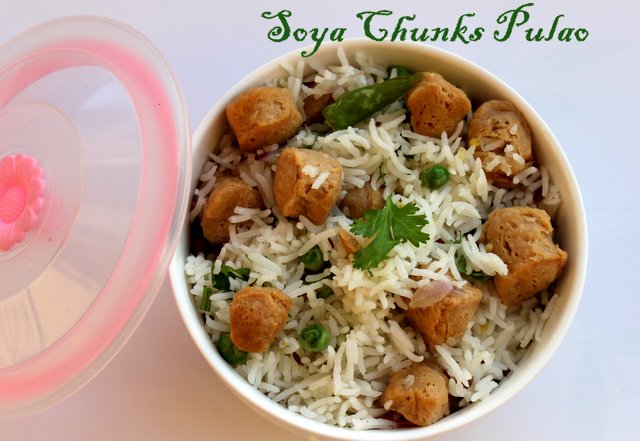 Soya chunks pulao – a simple and nutritious pulao recipe made with basmati rice and soya chunks with an aromatic flavor from the whole spices.  
Soya chunks or nuggets are full of proteins and rich in vitamins, minerals and other nutrients proven to help lower cholesterol and loss of bone mass.  It is a  vegetarian high quality protein source and great for growing children, as it provides critical vitamins, minerals, fibre and protein.  The nuggets when boiled turn spongy and ready to absorb any flavours you cook them in and hence makes up for a delightful dish.
This pulao tastes good when served with curd or papad or any masala gravy curry.  It can be served as a wholesome meal  or a lunch dish and can be served on any occasion.
Other soya chunks recipes from my blog :
Soya chunks manchurian recipe – How to make soya manchurian recipe – soya chunks recipes
Soya chunks cutlet recipe – How to make soya chunks patties/cutlets/meal maker cutlet recipe – easy evening snacks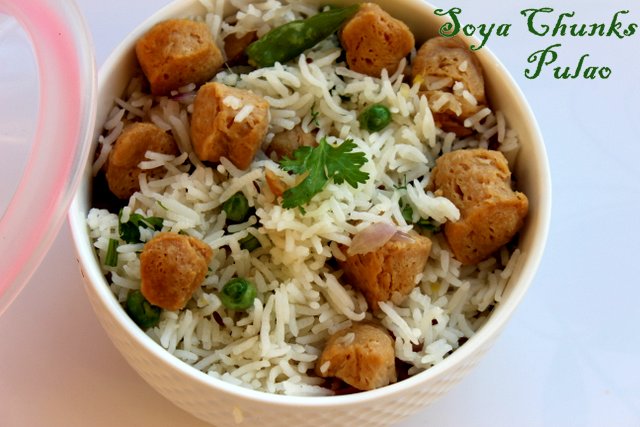 Prep Time : 15 mins
Cook Time :  40 mins
Servings : 4 persons
Indian cuisine
INGREDIENTS
Basmati rice or long grain rice – 1 cup
Soya chunks – 1 cup
Onion – 1 (chopped finely)
Boiled green peas – 1/4 cup (optional)
Green chillies – 2 (slit lengthwise)
Ghee or oil – 2 tablespoons
Garlic cloves – 5 to 6 (chopped finely)
Ginger – 1 inch size (grated or chopped finely)
Water – 2 cups
Salt to taste
Lemon juice – 1 teaspoon
Chopped coriander leaves for garnishing
WHOLE SPICES
Cumin seeds – 1/2 teaspoon
Cinnamon or dalchini – 1 small
Star anise – 1
Black cloves – 2
Tejpatta or bay leaf – 1
Green cardamoms – 2
HOW TO MAKE OR PREPARE SOYA CHUNKS PULAO RECIPE
Wash and soak basmati rice in 2 cups of water for half an hour. After half an hour, add few drops of oil and 1 teaspoon of lemon juice to it
Microwave at 100 degree celcius on high power for 15 minutes or till cooked.  Keep the cooked rice aside.  Heat a pan with 2 cups of water and bring it a nice boil.
Add 1/4 teaspoon of salt and soya chunks to the boiling water.  Cook for 2 minutes and switch off the flame.  Close the pan with a lid.  Leave it for 15-20 minutes.
Drain the water with the help of a colander.  Press the cooked soya chunks gently with the back of a ladle to remove the excess water.  You can squeeze as much water as you can, with your hands.  Ensure that the soya chunks do not contain water.
Heat 2 tablespoons of ghee in a pan on medium flame.  Add cumin seeds and saute till light brown in colour.   Add tejpatta, star anise, cardamoms, cloves and dalchini and saute for half a minute on low flame.
Add green chillies, chopped garlic and ginger.  Mix well.  Add chopped onions and saute till the onions become transparent.
Add cooked green peas and soya chunks.  Mix everything well and saute for 2-3 minutes on medium flame.  The add cooked basmati rice and give a good mix.
Add salt if required.  Lastly garnish with chopped coriander leaves.  Transfer the pulao to a serving bowl.
Serve soya chunks pulao hot or warm with plain yoghurt or cucumber raita or any gravy of your choice.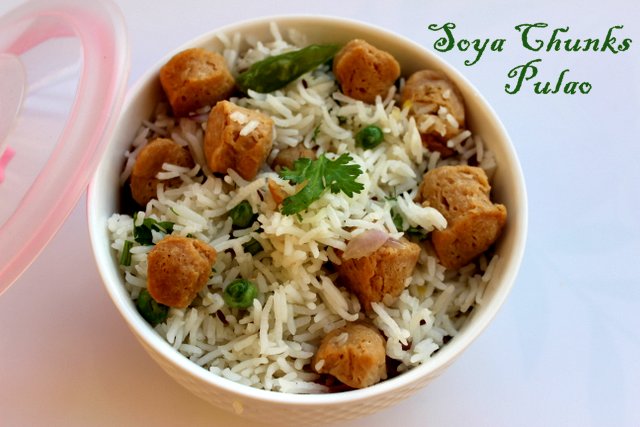 NOTES/TIPS
You can add your own choice of vegetables like carrots, capsicum or cabbage to make this pulao.
You can also cook the rice separately in a pressure cooker. In that case, once the pressure is cooled down, spread the rice in a plate and allow it to cool. This way the rice grains do to not stick to each other and remain separate. Add the cooked rice after the seasoning and vegetables are fully cooked in a pan.
Use ghee as it gives a nice aroma and taste to the pulao.
Lemon juice gives a good white colour to the pulao.
Oil when added to the rice while cooking, helps to keep the rice grains separate from each other.