Cauliflower masala pulao recipe – How to make cauliflower pulao recipe – pulao recipes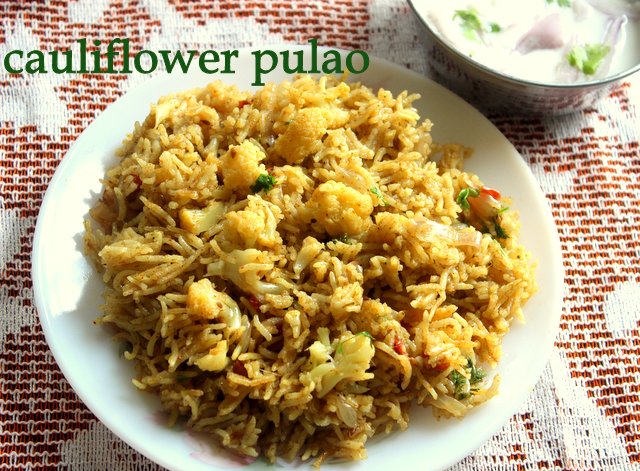 Pulao is a one pot rice dish prepared with aromatic basmati rice, vegetables and mild spices.  Some of the most popular pulaos are peas pulao, tawa pulao, kashmiri pulao and vegetable pulao.  Amongst the pulaos, veg pulao is one of the most common rice dish in India.
Cauliflower is a cruciferous vegetable which is high in fiber and B-vitamins.  It helps to strenthen bones, boost the cardiovascular system and prevents cancer.  It also strenthens the immune system and it has anti-oxidant and anti inflammatory properties.
Cauliflower pulao is a flavourful and tasty rice pulao using cauliflower, onions, tomatoes and spices.  You can also add green peas and chopped potatoes to this pulao to enhance to a complete meal. I have prepared this pulao in small pressure cooker.  Alternatively, you can also make this pulao in an open pan.
Cauliflower masala pulao is very easy and quick to make too and makes up for an ideal kids lunch box. It is best served with yoghurt or raita or plain papad.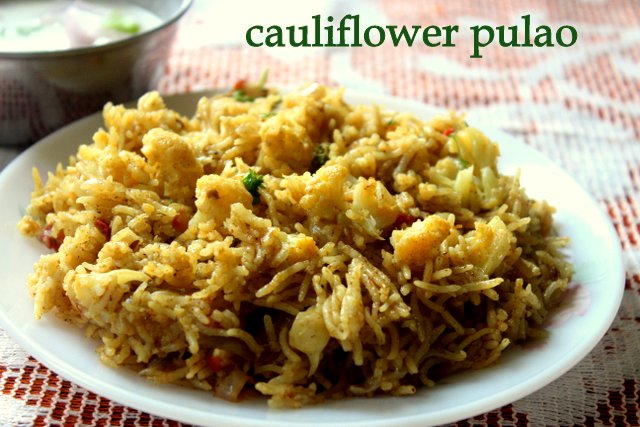 Prep Time : 20 mins
Cook Time : 20 mins
Indian cuisine
INGREDIENTS
Cauliflower florets – 1 cup (chopped into medium pieces)
Basmati rice – 1 cup
Onion – 1 large (chopped vertically)
Tomatoes – 2  (chopped finely)
Ghee or oil – 2 tablespoons
Cumin seeds or jeera – 1/2 tsp
Bay leaf or tejpatta – 1
Cloves – 2
Cinnamon stick – 1 small
Green cardamoms – 2
Ginger-garlic paste – 1 tsp
Coriander leaves-mint leaves paste – 2 tablespoons
Curd/yoghurt – 2 tablespoons
Green chillies – 2 (slit vertically)
Red chili powder – 1/2 tsp
Turmeric powder  – 1/4 tsp
Coriander powder – 1 tsp
Garam masala – 1 tsp
Salt to taste
Chopped coriander leaves for garnishing
Video link given below :
HOW TO MAKE OR PREPARE CAULIFLOWER MASALA PULAO RECIPE
PREPARATION
Wash the basmati rice thoroughly and soak the rice in enough water for half an hour.
METHOD
Heat 2 tablespoons of oil or ghee on medium flame in a small pressure cooker.   Add cumin seeds, bay leaf, cardamom pods, cinnamon stick and cloves.  Stir fry for a minute till you get a nice aroma.  Then add 1 chopped onion.  Saute till the onions become translucent.
Then add chopped tomatoes, green chillies and ginger-garlic paste and mix well.  Saute for half a minute till the tomatoes become slightly mushy.  Then add 2 tablespoons of coriander leaves-mint leaves paste.  Mix again.
Then add turmeric powder, red chilli powder, coriander powder and garam masala.  Add 2 tablesspoons of curd and give a good mix.  Cook on a low flame for 2-3 minutes, till the oil oozes from the sides of the pan.
Add 1 cup of cauliflower florets and mix well with the masala.  Add salt accordingly.
Add the soaked 1 cup of basmati rice.  Mix gently.
Add 2 cups of water and close the pressure cooker with its lid.  Pressure cook on a medium flame for 2 whistles.
Let the pressure come down naturally.  Then open the lid and gently fluff the rice.  Serve nutritious and flavourful cauliflower rice hot or warm with plain yoghurt, raita or papad.
NOTES/TIPS
You can use brown rice instead of white rice for a healthier version.
Add chopped nuts like almonds, cashewnuts or raisins to enhance the taste of the pulao.
You can  include veggies like  green peas, potatoes and carrots to make it more nutritious.
Do add coriander leaves – mint leaves paste, as it gives a nice flavour to the pulao.