Appam dosa recipe – How to make appam dosa recipe – Breakfast dishes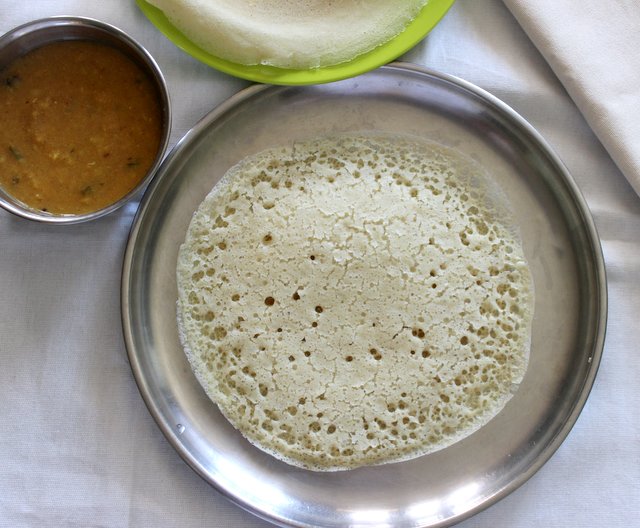 Appam is a healthy and traditional dish from Kerala State in  South India.  It is a soft and spongy dosa  and done without much use of oil.  Appam is best served with vegetable stew or kadala curry.  It can be had as a breakfast dish or as a brunch recipe.  The batter has to be well fermented before making appam dosa.  Here I have added cooked rice and soaked poha to give a smooth texture to the appams.  Traditionally appams are done in a iron skillet called appa  chatti.  But you can make it any non-stick pan with lid.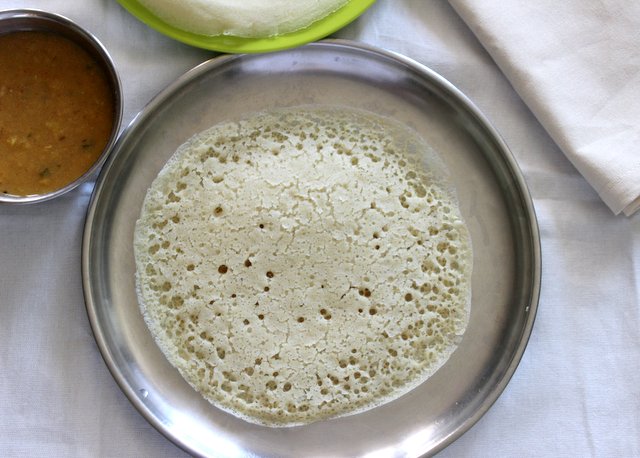 Prep Time :  15 mins plus 4-5 hours of soaking time
Cook Time : 2 mins per appam
South Indian cuisine
INGREDIENTS
Raw rice – 2 cups
Methi seeds – 1 teaspoon
Cooking soda – 1/4 teaspoon
Salt as per taste
Oil for greasing
Appam pan
TO GRIND TO A SMOOTH PASTE
Grated coconut – 1/2 cup
Thick poha – 1/4 cup
Cooked rice – 1/4 cup
HOW TO MAKE OR PREPARE APPAM DOSA RECIPE
Soak the raw rice and methi seeds with sufficient water for 4 to 5 hours.  Soak the poha for 20 minutes.  Then drain the water and keep it aside.  Soak the poha just before grinding.
Take a mixer grinder.  Add the soaked poha, grated coconut and cooked rice.  Grind to a smooth paste by adding very little water.  Keep it aside.
Drain the soaked raw rice and add to a grinder.  Also add the ground paste.  Now grind everything to a smooth paste by adding water little by little.  I used the ultra stone grinder.  You can also use the normal mixer grinder.
Remove the batter to a mixing bowl.  The consistency of the  batter should be thinner than the dosa batter. Add salt and mix the batter well.  Cover the batter with a lid. Leave it to ferment for 10 hours or overnight.  The batter will double up and would have raised up nicely.  Before making appams, add cooking soda and leave it aside for 10 minutes.
Take a appam pan and heat on medium flame.  Add few drops of oil and smear on the pan.  Wipe it all over with a cloth.  Add a ladle of batter in the middle of the pan and rotate the pan in such a manner that the batter spreads in a round shape.  Keep the flame on  a low to medium flame.
Close the pan with its lid.  Cook till the appam is cooked and edges become light brown in colour.  Remove the appam from the pan and transfer to a serving plate.  Serve appam dosa hot with coconut chutney, sambar or vegetable stew.
NOTES/TIPS
If you are using non-stick kadai, then no need to smear oil.
You can add eno fruit salt instead of cooking soda.
Ensure that the pan is not too hot before making dosas.