Sprouted moong salad or moong sprouts salad recipe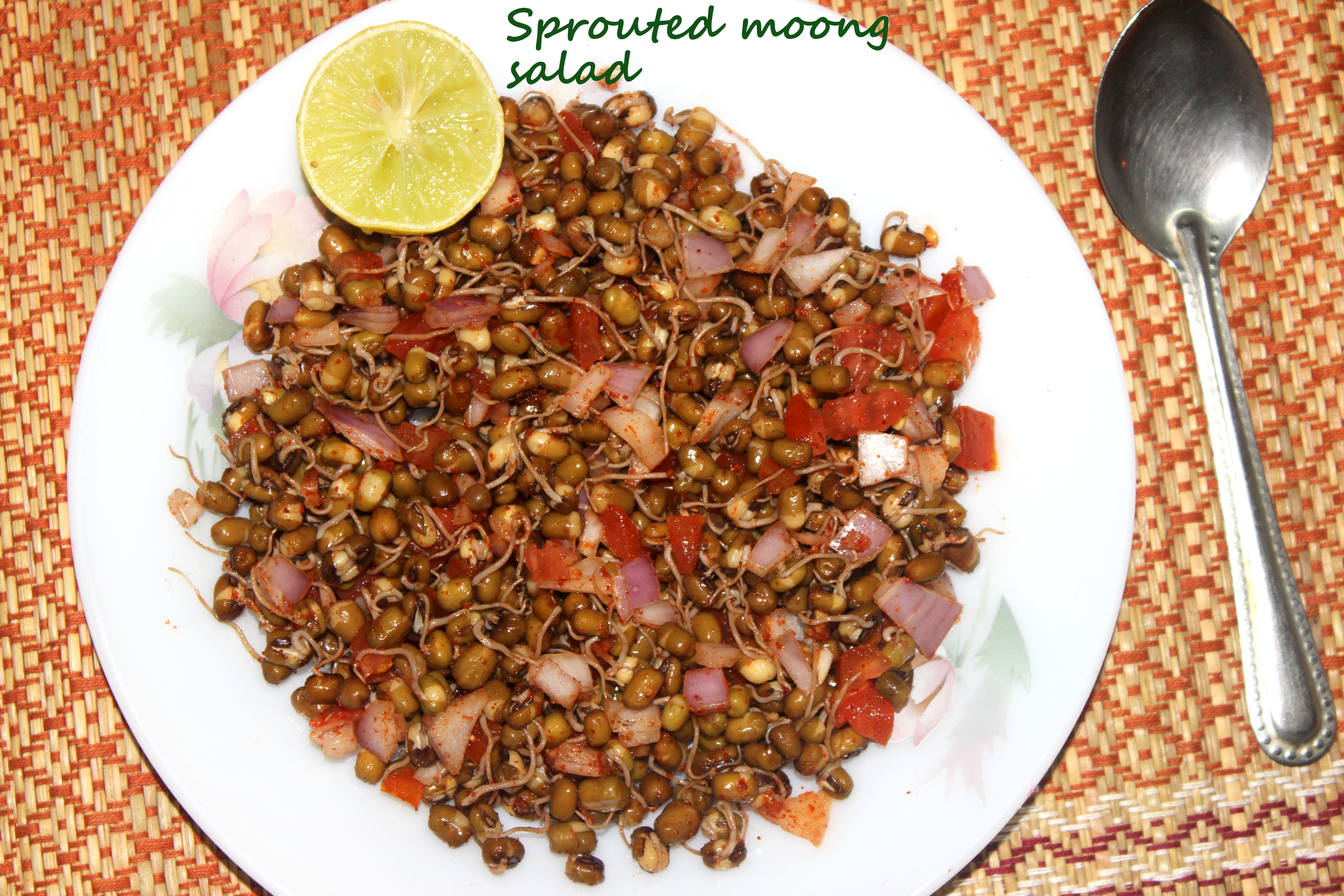 Moong sprouts salad is a very healthy and refreshing salad made with sprouted moong, onions, tomatoes and chaat masala. You can use the readily available moong sprouts available in the market or can easily sprout the moong at home itself. To sprout moong beans at home, wash and soak the moong beans with sufficient overnight or for 8-10 hours. Next day, drain all the water out with a strainer. Now cover the bowl with damp towel and place the bowl in a warm dark place. Just ensure that there is enough moisture by checking periodically. Second day you can see the sprouts coming out. You can use these now as raw in salads or boil it or have it plain or use for making a chaat.
Moong sprouts salad can be served as a starter or as a mid-day snack.
Ingredients
Sprouted moong sprouts (whole green gram) - 2 cups
Onion - 1 (chopped finely) (medium)
Tomato - 1 (chopped finely) (medium)
Red chilli powder - 1/4 teaspoon
Chaat masala - 3/4 teaspoon
Lemon juice- 1 teaspoon
Chopped coriander leaves for garnishing
Black salt as per taste
Method
Step 1
HOW TO MAKE MOONG SPROUTS SALAD RECIPE Rinse the moong sprouts thoroughly and boil or steam them till they are fully cooked.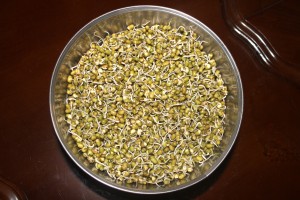 Step 2
Once cooked, strain the cooked sprouts of excess water and keep it aside.
Step 3
In a mixing bowl, add moong sprouts, chopped onion, chopped tomato, red chilli powder, chaat masala, salt and coriander leaves and mix well.
Step 4
At the time of serving, sprinkle lime juice and serve immediately.
Step 5
NOTES: You can add chopped green chillies too if you want a little spicy salad. You can add raw mango pieces or pomegranate to further enhance the taste. Salads taste best when served fresh and immediately after preparing it. If you want the salad to taste crunchy, you can parboil or half cook the moong sprouts