Rava murukku recipe – How to make rava chakli recipe – Diwali snacks | Murukku recipes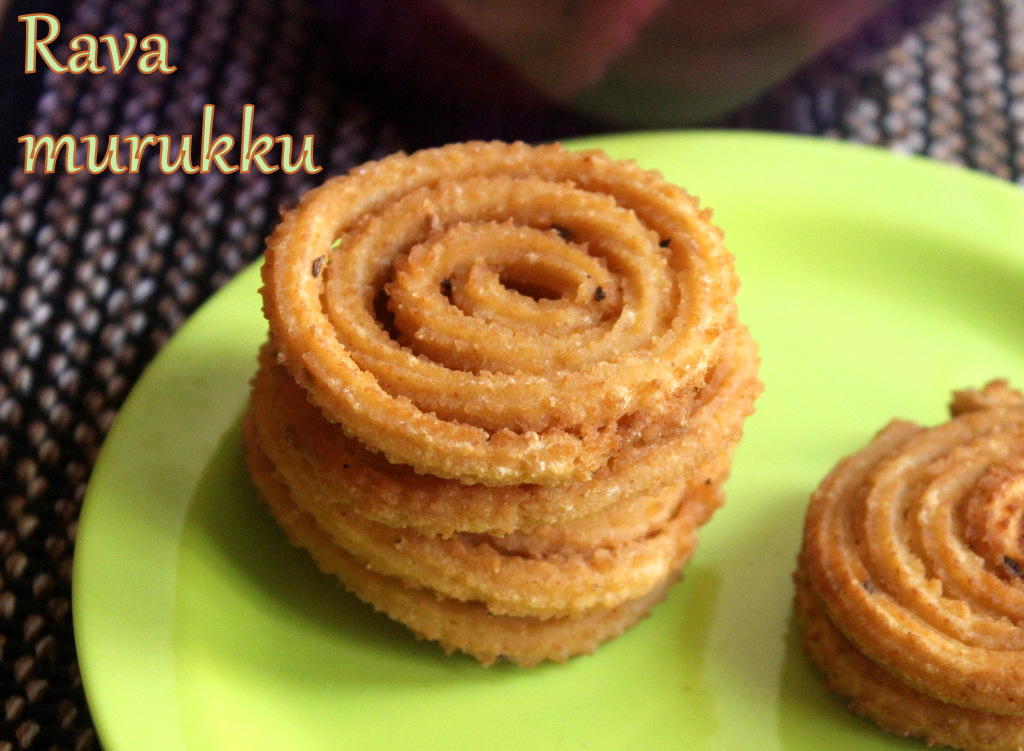 Rava murukku is a easy and quick murukku recipe made with rava and rice flour, which can had as a Diwali snack or as a teatime snack.  This murukku or chakli can be done within 30 minutes, as this is an instant verstion of chakli/murukku recipe  done by using readymade rice flour.  You can also use the homemade rice flour for making this murukku.  They are very crispy and needs minimum ingredients to make.  Do try this yummy murukku this Diwali season and enjoy !!
Other murukku/chakli recipes :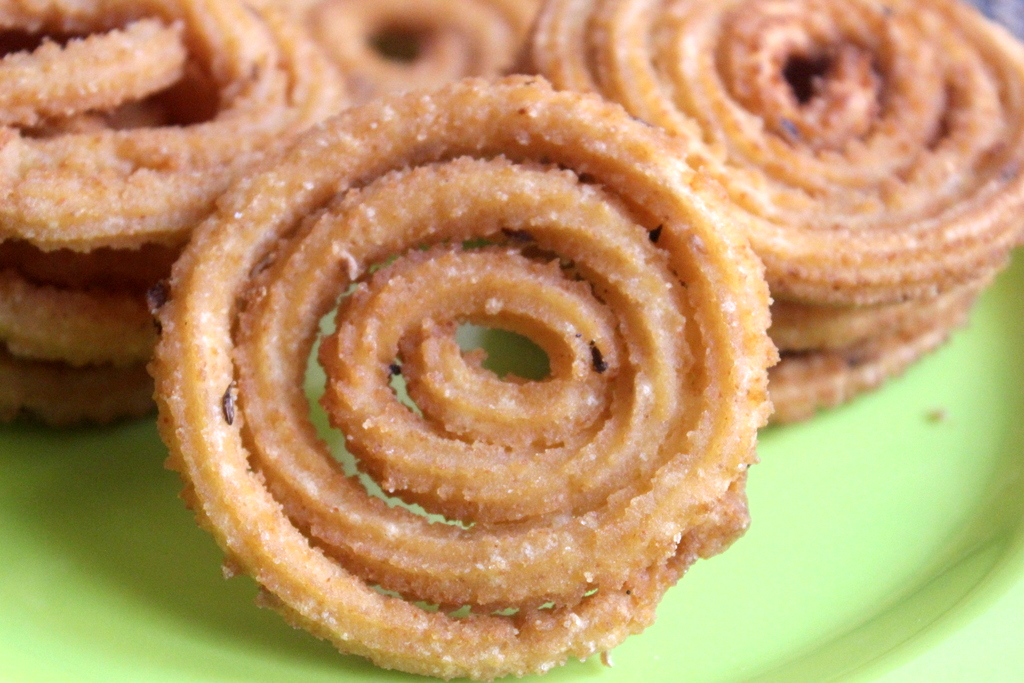 Prep Time : 20  mins
Cook Time : 15 mins
Servings :  12 murukkus
INGREDIENTS
Fine rava/semolina/sooji – 1/4 cup
Rice flour – 1/2 cup
White sesame seeds – 1/4 teaspoon
Cumin seeds/jeera – 1/4 teaspoon
Red chilli powder – 1/4 teaspoon
Butter – 1 teaspoon
A pinch of asafoetida or hing
Water – 1 cup
Oil for deep-frying
Salt to taste
HOW TO MAKE OR PREPARE RAVA MURUKKU RECIPE
Grind or pulse the rava for few seconds to a fine powder (if using normal rava).  Heat 1 cup of water and bring it to a nice boil.
Then lower the flame and add powdered rava.  Stir well till the rava is well cooked.  Switch off the flame. Allow the cooked rava to cool down completely. On cooling, the cooked rava will tend to thicken.
Take a mixing bowl and add the rice flour, cooked rava, red chili powder, hing, butter, sesame seeds, cumin seeds and salt.  Mix all the ingredients well by hand.
Add 2 teaspoons of hot oil and knead to a soft but firm dough.  The dough should not be too thick nor too thin consistency.  The cooked rava has enough water content to make the dough. Hence no need to add water.  (Add water only if required.)
Take a little dough and place it in the chakli mould.  Press the dough a bit inside the mould and tighten the lid.   Press the chakli mould in rounds, to get a spiral shaped chaklis on a butter paper or flat plate, so that it is easy to remove them. You can also directly squeeze the chaklis into the oil.  But if you are not able to handle the heat of the oil, you can squeeze the chakli on the back of greased ladle and then gently flip them into the oil.  (pic shown below).
Heat sufficient oil in a deep bottomed kadai.  The oil should be just hot enough to fry the chaklis. Once the oil is hot enough, deep fry the chaklis till light golden brown.
Remove it in a tissue paper to remove the excess oil. Once the chaklis come to room temperature, store them in an airtight container or jar.
Enjoy the crispy and tasty rava murukkus as a Diwali snack or teatime snack or any time snack.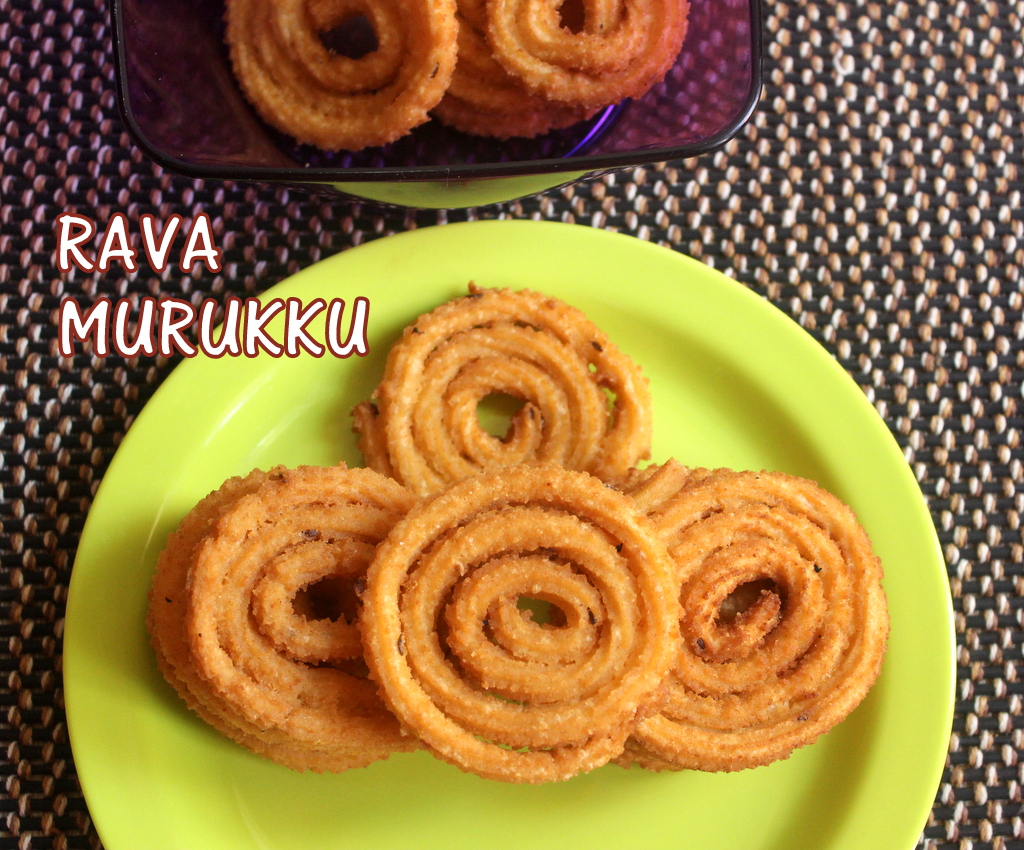 NOTES/TIPS
If you are using chiroti or fine rava, you can skip grinding the rava.
You can skip red chilli powder, if you prefer white murukkus.
If the dough is too loose, add more rice flour and then knead to a dough.