Beetroot halwa recipe – How to make beetroot halwa recipe – halwa recipes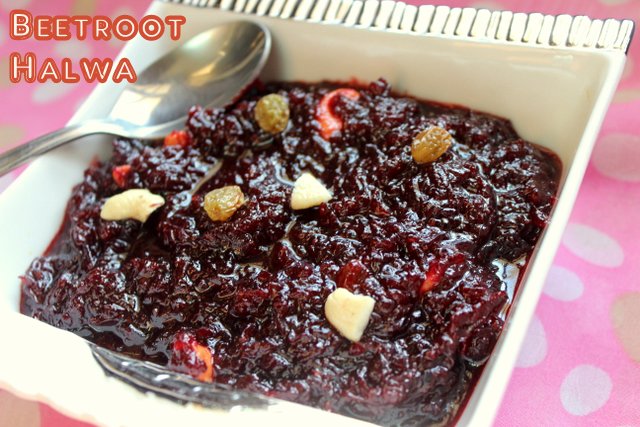 Beetroot halwa is a delicious sweet dish made with beetroots, milk, sugar and nuts.  The recipe of making beetroot halwa is very similar to that of making carrot halwa.   Beetroots gives a nice colour and taste to the halwa.  The halwa is made aromatic by adding the cardamom powder.  You can also add condensed milk to give a rice taste to the halwa.
Beetroot is low in fat, full of vitamins and minerals and packed with powerful antioxidants.  It helps lower cholesterol.  Due to its high iron content, it is good for people with anemia and fatigue.  Typically a rich purple colour, beetroot is delicious when eaten raw but is more typically cooked.  Try to include beetroot in your daily diet for a more healthier life.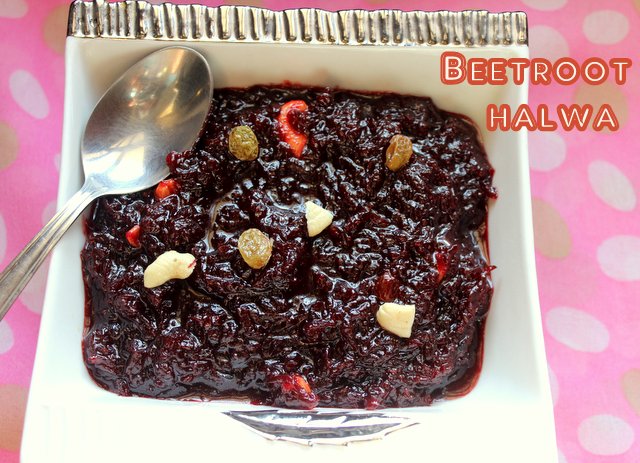 Prep Time : 15  mins
Cook Time :  50 mins
Servings : 5 persons
Indian cuisine
INGREDIENTS
Beetroot – 4 cups
Milk – 1 and 1/2 cups
Sugar – 1 and 1/4 cups or  as required by you
Milk cream – 2 tablespoons (optional)
Ghee – 4 tablespoons
Cardamom powder – 1/4 teaspoon
Cashewnuts –  10
Raisins – 10
HOW TO MAKE OR PREPARE BEETROOT HALWA RECIPE
PREPARATION
Wash the beetroots thoroughly under running water.  Peel the skin of the beetroots.  Grate them with the help of a grater and keep it aside.
METHOD
Heat a non-stick thick bottomed pan. Add 2 tablespoons of ghee and roast the cashewnuts till light brown.  Add raisins and saute till they puff up.  Keep aside. To the same pan, add the  grated beetroots.
Saute them for 4-5 minutes on a low flame, till you get a nice aroma of beetroots.  Add milk and stir them well.
Cook on a low to medium flame for 20-25 minutes till the beetroots are well cooked in the milk and all the milk is well evaporated.   Close the pan with its lid and cook on a low to medium flame.
When the beetroots are well cooked and the mixture becomes slightly thick, add sugar.
The sugar will start melting and the mixture will become runny.  Keep cooking on a medium flame, by stirring occasionally.
Once the mixture become slightly thicker, add milk cream and 2 tablespoons of ghee.  Mix well.  Add cardamom powder and roasted nuts.  Mix everything well.
Cook for another 2-3 minutes flame, till all the moisture dries up and comes to a halwa consistency.  Switch off the flame
Yummy beetroot halwa is ready to be served.  Garnish with nuts and serve either hot, warm or chilled.  Enjoy anytime of the day.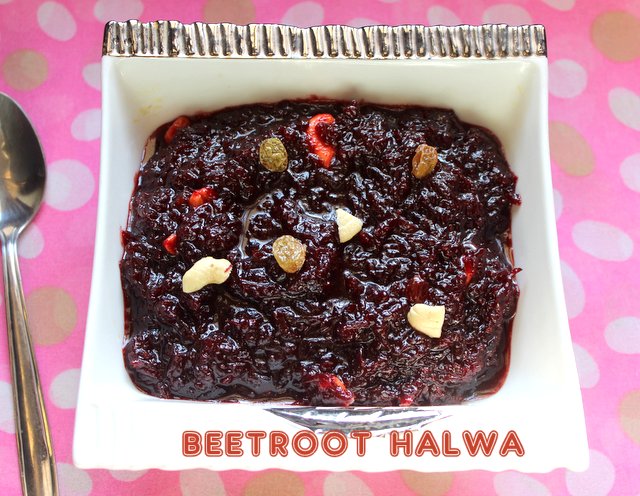 NOTES/TIPS
You can also add khoya/mawa for a more creamier and rich taste.
Always use full fat milk for making halwa.
Cook the beetroots till the all milk is fully absorbed, for best results.
It stays good for upto a week when stored in the refrigerator.  At the time of serving, just warm the halwa and serve.