Baby potato fry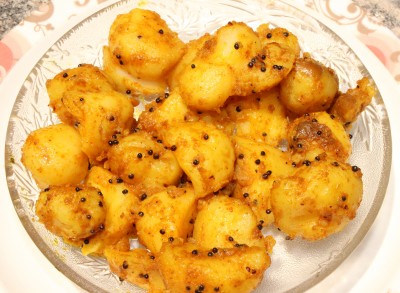 Baby potato fry is a popular North Indian dish made with baby potatoes and tossed with spices. It is a very simple and quick dish to make.  Baby potatoes stir fried  and mixed with spices makes an excellent side dish for rotis.
Ingredients
Baby potatoes - 250 grams
Mustard seeds - 1/2 teaspoon
Cumin seeds - 1/2 teaspoon
Red chilli powder - 1 teaspoon
Turmeric powder - 1/2 teaspoon
Coriander powder - 1/2 teaspoon
Cumin powder - 1/2 teaspoon
Garam masala powder -1 teaspoon
Salt to taste
Oil - 4 tablespoons
Method
Step 1
HOW TO MAKE BABY POTATO FRY RECIPE Boil the potatoes with sufficient water in a big vessel. Peel the potatoes and keep it aside.
Step 2
Heat oil in a kadai. Add mustard seeds, cumin seeds and allow it to splutter.
Step 3
Then add red chilli powder, turmeric powder, coriander powder, cumin powder, garam masala powder and salt and fry for 15 to 20 seconds on a low flame.
Step 4
Add boiled potatoes and mix thoroughly till the potatoes are fully coated with the masala powder and stir fry for 8 to 10 minutes on a low flame.
Step 5
Cook the potatoes till you get the perfect consistency.
Step 6
Serve baby potato fry hot with rotis or rice.