Gond or gaund ke ladoo (edible gum ladoo) (with wheat flour) recipe – healthy winter sweet recipes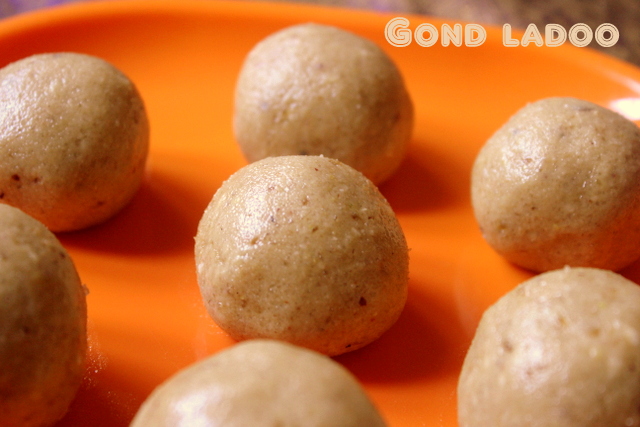 Gaund or gond is an edible gum extracted from the bark of a tree.  It is a kind of edible resin and is available in supermarkets as gum resin. It looks like lightweight, transparent crystals and are roasted in ghee  before use.  It gives warmth to the body when consumed during winter.  One of the best ways to consume gaund is to prepare delicious ladoos from it.  Traditionally, it is had in the morning as breakfast along with a glass of milk.    They are very popular in North India especially Rajasthan where winter is very severe.  It is specially prepared during winter months as it gives heat and energy to the body.  Gaund ke ladoo is prepared with wheat flour, gaund, sugar, dry fruits, cardamom powder and ghee.  You can make these laddus from both jaggery and sugar.  Gond ladoos makes up for a great dessert too.
Other ladoo recipes :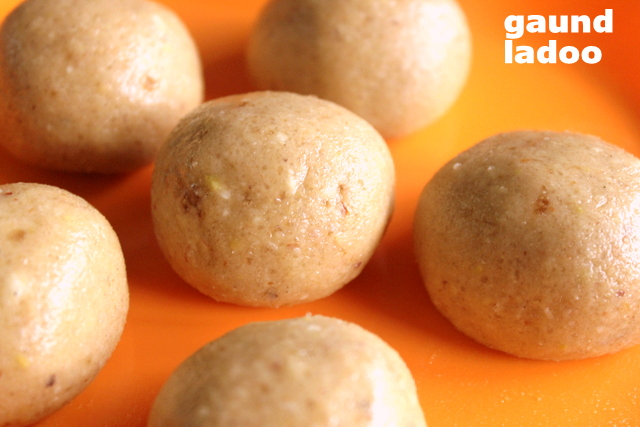 Prep Time : 10  mins
Cook Time :  20 mins
Servings :  12-15 ladoos
North Indian cuisine
INGREDIENTS
Whole wheat flour (gehun ka atta)  – 1 1/4 cups
Gond (edible gum) – 1/2 cup
Powdered sugar – 3/4 cup
Dessicated or powdered coconut – 1 tablespoon
Cardamom powder – 1/4 teaspoon
Ghee – 5 tablespoons
Dry fruits (almonds, cashewnuts and pistachios) – 1/4 cup
HOW TO MAKE OR PREPARE WHEAT FLOUR AND GOND LADDO RECIPE
Coarsely grind the almonds, cashewnuts and pistachios to a powder.  Keep it aside.
Heat ghee in a broad non-stick pan on medium flame.  Deep-fry the gaund till they puff up.  Drain in an absorbent paper.  Set aside to cool down completely.  Then crush them with your hand or grind it to a coarse powder in a mixer.
In the same pan, add wheat flour and stir-fry for 5-6 minutes on a low to medium flame.  Fry till it leaves a nice aroma and slightly changes it colour.  Switch off the flame and remove the roasted wheat flour to a mixing bowl.  Let the roasted wheat flour cool down a bit.  When it becomes lightly warm, add crushed gaund and mix well.  Then add dessicated coconut and   cardamom powder and combine together.
Lastly add powdered sugar and mix everything well.
Add chopped dry fruits and mix well.  Add 1 tablespoon of ghee and mix again.
 Shape into laddus, when the mixture is still warm.  Store them in an airtight container.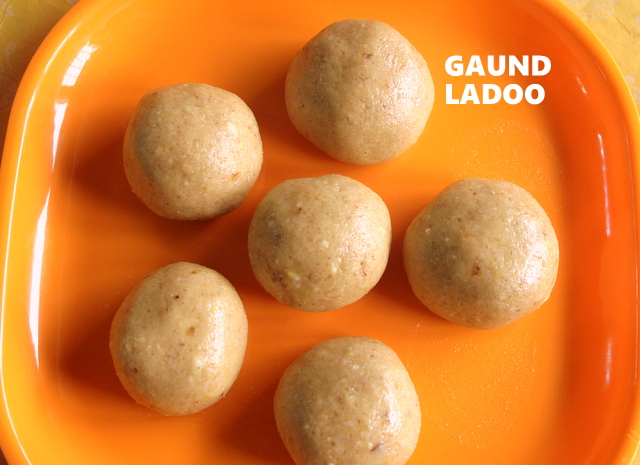 NOTES/TIPS
Gond laddus stays fresh for a long time since there is no water content or milk added to it.
You can also roast gond and wheat flour with less amount of ghee to cut the unwanted calories.